Our Anaheim Wyndham Garden Grove room tour gives you a glimpse into one of our most popular hotel options. With great amenities and spacious rooms, you'll want to save this location for your next Disneyland trip.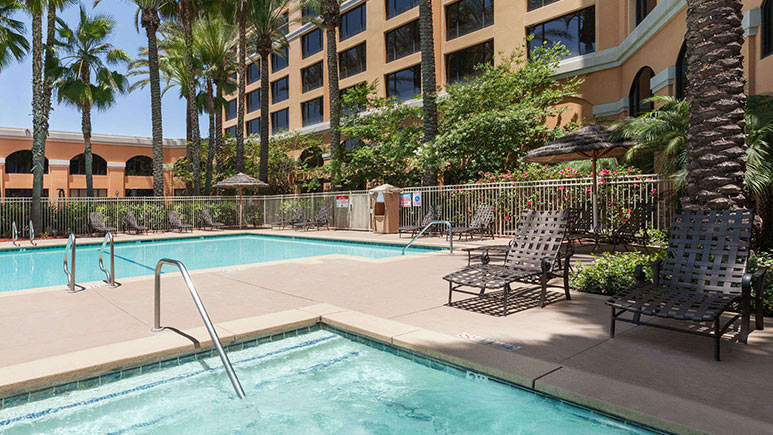 Offering great hotels in the Anaheim area is one of Get Away Today's specialties. We love finding properties that offer our guests the most on their Disneyland vacations. One such hotel is the Anaheim Wyndham Garden Grove. You can check out our review of the Wyndham here and then watch our Wyndham Garden Grove room tour below:
We're ready to pack our bags for the Wyndham Garden Grove right now! Here's an overview of the features we listed in the Wyndham Garden Grove room tour:
Bathrooms with modern amenities. The Wyndham Garden Grove's bathrooms provide enough space and offer modern amenities for every guest. And they still offer tubs in each room, which is great for families with little ones.

Two queen or one king rooms. Whether you're visiting as a couple or as a family, you'll love the comfy beds at the Wyndham. The pillow top mattresses and soft linens will make sure you get a good night's rest so you'll be ready for each day of park fun.

Adjoining rooms available. Traveling with a larger family? You can request adjoining rooms so you won't have to split the family up. Just remember that these are by request and not guaranteed. However, the Wyndham does their best to make sure that all families get as close to each other as requested.

Flat-screen HDTV and mini-refrigerator. As you can see in our Wyndham Garden Grove room tour, each room has a TV and mini-refrigerator. The TV is great if you want to spend a day relaxing or come back to the room to take a break. And the mini-refrigerator is perfect if you need to store things like formula, allergen-friendly foods or snacks to help you stick to a budget.
Room to work. The spacious rooms at the Wyndham provide families a desk to work, if needed. We think vacations are best when work is left at home, but know that's not always possible. Which is why it's nice that hotels like the Wyndham make sure to include desk space!

Hotel amenities. If you've stayed at the Wyndham Garden Grove before, you already know why its amenities are so great. If you haven't, here's a quick look. Your shuttle to and from Disneyland, your parking and a hot breakfast every morning are all included in your stay when you book with Get Away Today. You also pay a reduced resort fee ($15 versus the usual $20) with us. If you're traveling to the Wyndham in 2018, you can get even more excited about the amenities because the Wyndham will no longer be charging a resort fee to Get Away Today guests. Talk about saving a bunch!

Upcoming renovation. Lastly, the hotel is about to begin room renovations. While we love the Wyndham as is, the recent renovation in the lobby has us excited to see the new rooms. The lobby's renovation included brightening up the space and focusing on new, modern decor and colors. We can't wait to see how that renovation reflects in the new rooms! Make sure to check our Wyndham Garden Grove hotel page for any updates and rate information.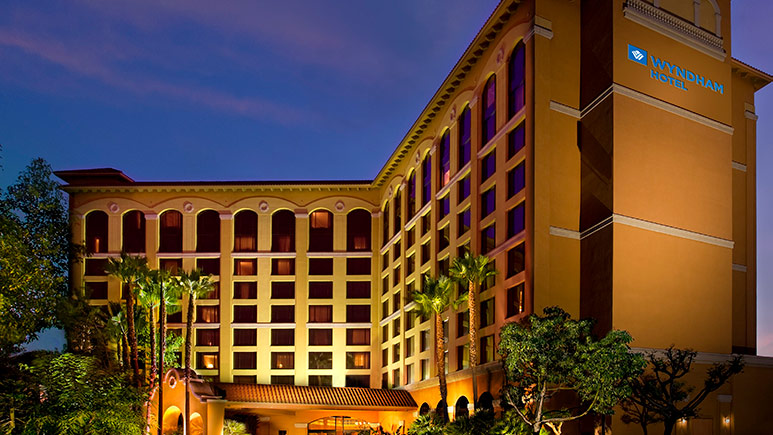 You'll save the most on your stay at the Wyndham Garden Grove when you book with us. On top of those Get Away Today-exclusive amenities we mentioned above, you'll also get reduced rates and deals like our 4th Night Free Special. Combine those savings with our discount Disneyland tickets and you'll be on your way to an affordable trip in no time. Book online now or give our Disney experts a call at 855-GET-AWAY.