Aquatica San Diego is so much more than a water park. It's SeaWorld San Diego's sister park and today we're going to give you the details on everything you need to know.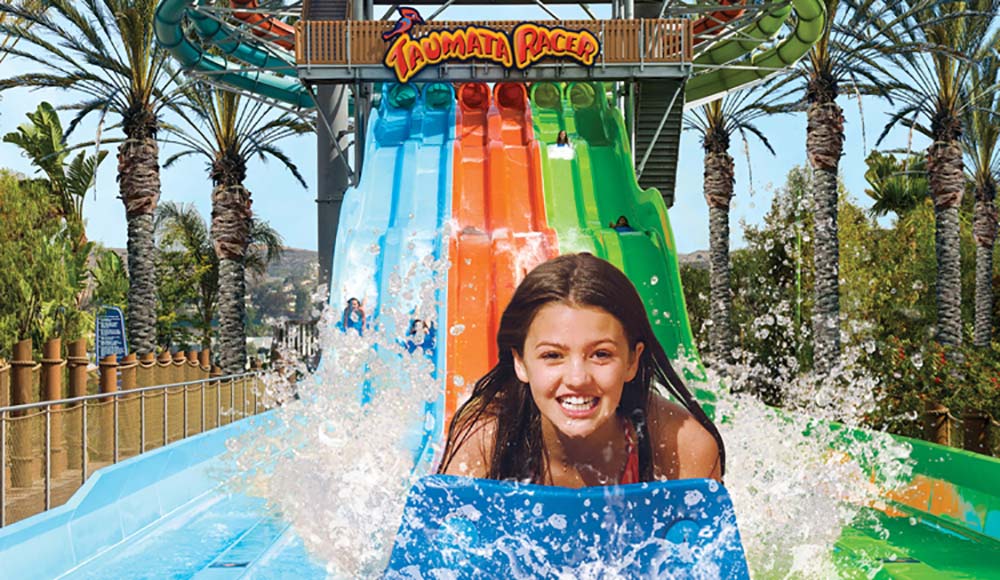 Photo courtesy of Aquatica San Diego
Aquatica San Diego
We are so excited to share everything you need to know about this one-of-a-kind water park, a sister park to SeaWorld San Diego. We'll go deep into the pools, slides and even animals you can find at Aquatica San Diego. We'll also answer all of your questions like where it's located, when it's open and of course, where to get your tickets. So get ready to make a splash at one of our favorite Southern California water parks!

What is Aquatica San Diego?
If you haven't already guessed, Aquatica San Diego is a water park. But, it's more than that. You'll of course find pools and water slides, but you'll also find animals, all well taken care of by SeaWorld San Diego. There's so much to see and do, that we've broken it all down for you below:
Aquatica San Diego Pools/Attractions
There are four main pools and water play areas in the park, and they're all heated between 78 - 82 degrees Farenheight.
Big Surf Shores - Not only is this one of the largest wave pools in Southern California, it has a sandy beach!
Walkabout Waters - This is a four-story interactive play area with slides, geysers, jets and a 500-gallon bucket.
Photo courtesy of Aquatica San Diego
Slippity Dippity - Little kids love this water play area just for them.
Loggerhead Lane - Every good water park has a lazy river, but Aquatica San Diego's lazy river has fountains and real flamingos!
Aquatica San Diego Slides/Rides
You'll find the perfect ride and slide for everyone in your group, from the mild to the wild. Here are the rides you can expect to find at the water park:
Tassie's Twister - This crazy water slide will have you plunge 75-foot on a multi- person raft before swirling around and down a six-story funnel.
Taumata Racer - Racers make their way down a 375-foot slide with tunnels and turns to see who will win.
Whanau Way - Pick from one of six slides, four enclosed and two open-air, all 60 feet up in the air.
HooRoo Run - Take your pick of on of four 80-foot water slides, two enclosed and two open-air.
Woohoo Falls - There are three twisty 60-foot tall water slides, including one that's dark for the thrill seekers.
Kiwi Curl - Choose from one of three 60-foot tall water slides - including an option to slide in the dark for those looking for something really intense.
Walhalla Wave - The whole family can ride in a giant tube together! Just be aware all riders must be at least 42" to ride.

Photo courtesy of Aquatica San Diego
Aquatica San Diego Animal Exhibits
Flamingos - You can find over a dozen of Caribbean flamingos lounging along side guests floating down the lazy river. You'll feel like you're floating in the Caribbean and get an up-close view of the wild life.
Turtles - See how many different species of fresh water turtles in the exhibit with both above and under water viewing areas.

Food Options at Aquatica San Diego
There are a ton of food options at Aquatica San Diego. Small snacks (individual bags of chips, crackers, fruit snacks) and one bottle of water per person are allowed. If you have specific dietary needs, just let the ambassador know as you're going through security. If you'd like to have a picnic, there is a picnic area right outside the water park. Just make sure you get your hand stamped if you leave and would like to return.
If you'd like to eat inside the park, there's no shortage of food options. Here's a quick overview of what you'll find to eat and drink at Aquatica San Diego:
Mango Market - Pizza, pasta, etc.
Big Surf Snacks - Chicken tenders, funnel cakes, other snacks
Waterstone Grill - Burgers, salads, etc.
Rockwater Oasis - Margaritas, beer and other alchoholic beverages (21 years and older)
Taumata Cart - Grab-and-go wraps, Italian ice, craft beer (21 years and older)
Photo courtesy of Aquatica San Diego
Where is Aquatica San Diego?
Aquatica San Diego is located in Chula Vista, about a 30 minute drive from SeaWorld San Diego. The best way to get there is to drive and standard parking is $17 If you don't have a car, or just don't want to deal with driving and parking, you can easily take a ride share service.

When is Aquatica San Diego open?
Aquatica San Diego is a seasonal park that typically opens around Memorial Day weekend and stays open on select days through early October. Aquatica is open daily in 2019 from June 1 - September 2, and then open on weekends September 2 - October 6. On days when the park is open, it typically opens mid-morning, around 10 - 10:30am and stays open until 5 or 6pm. On busier weekends, the park may stay open as late as 7pm. Be sure to check the official calendar before making any solid plans for visiting the water park.
How do I get Aquatica San Diego tickets?
The best way to purchase your tickets is to go through Get Away Today. We have tons of Aquatica ticket options for you to choose from. Our top recommendation are either our Kids Free tickets or our multi-day combo ticket that also includes admission to SeaWorld San Diego.
For shorter stays, we recommend the Kids Free ticket if you have kids ages 3- 9. Just be aware it's one free child per paying adult.
Photo courtesy of Aquatica San Diego
If you're staying in San Diego a little bit longer, which is absolutely what we recommend, go with the length of stay ticket. The length of stay combo ticket allows unlimited admission to both SeaWorld San Diego and Aquatica San Diego for up to sevens consecutive days. It is by far the most flexible way to experience both parks and enjoy a relaxing vacation.
Booking your Aquatica San Diego vacation
When you're ready to book your vacation to San Diego, we'd love to help. We will always help you get the best deal on park tickets. We'll also make sure that we help you find the perfect hotel foro your vacation. Our vacation experts tour our San Diego hotels and visit the attractions so we can give you first hand recommendations for your vacation. You can view all of our San Diego packages online, or call our agents at 855-GET-AWAY. Either way, we can't wait to help you book your Aquatica San Diego vacation!