Today our Bahia Resort Hotel room tour gives you an inside look at the studio suites. Find out exactly what it's like to stay in one of these rooms right on Mission Bay.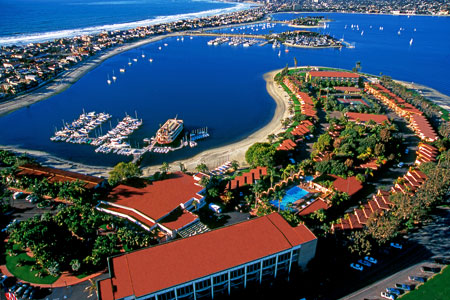 One of our favorite hotels in San Diego is the Bahia Resort. It is located right on Mission Bay and has so much to offer. The location and grounds can't be beat. One of the most convenient things about the Bahia Resort Hotel is that they have a wide variety of room types. There's a room type for everyone from honeymooners to families.
I recently stayed in one of the bay view studio suites at the Bahia Resort with my family. There were five of us total including my husband and our three little kids, ages four and younger. The bay view studio suite at the Bahia was a perfect fit for us. Watch the video to see the layout and get a feel for the room. Plus, you can get an idea of the views that await at the Bahia Resort. Enjoy:
As you can see, we loved everything about our room at the Bahia in San Diego. It was just the right amount of space for our family. We felt like we could spread out and there was plenty of storage space for our stuff. We loved having a full kitchen. It was perfect for keeping chocolate milk and leftovers handy for the kids. And that view though...
As a quick overview, I wanted to highlight the different amenities offered in each of the room types:
Bahia Resort Hotel Standard Room
Two queen beds
Mini-fridge
Sleeps up to four
Bahia Resort Hotel Studio Suite with Kitchenette
Either one king or two double beds
Sofa bed
Sleeps up to six
Mini kitchen with fridge, microwave, stove, oven, sink and kitchen tools/dishes
Bahia Resort Hotel Suite
Either one king or two queen beds
Sofa bed
Sleeps up to six
Mini fridge and microwave
View of the bay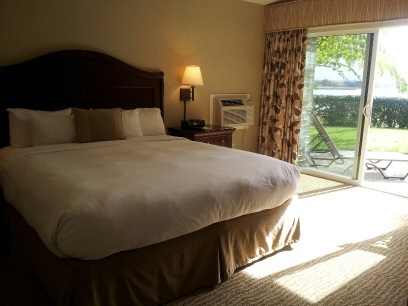 I hope this first of all helps you decide to stay at the Bahia Resort Hotel for your trip to San Diego. And secondly, I hope this helps you narrow down which room type is best for your stay at the Bahia.
No matter which room type you are staying in at the Bahia Resort Hotel, you have access to all of the on-property amenities. Their outdoor swimming pool is gorgeous, heated and has extended hours. You can also reserve a tennis time and get free equipment rentals from the concierge desk. Don't forget to visit the resident seals and take a night bay cruise aboard the Bahia Belle.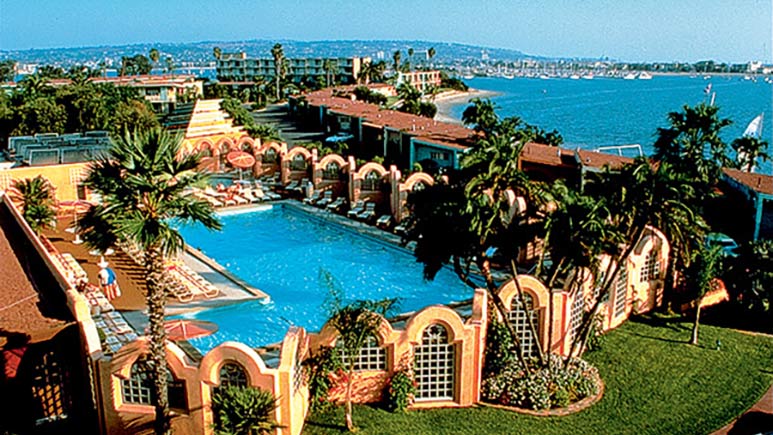 When you're ready to book your San Diego vacation, we'd love to help. You can check out our packages for the Bahia Resort Hotel online, or you can call our agents at 855-GET-AWAY. Either way, you're getting the lowest price for your vacation. Then, once you've picked your hotel, be sure to add our discounted tickets to SeaWorld San Diego, the San Diego Zoo, LEGOLAND California and so much more. We can't wait to help you make vacation memories in San Diego!

Check out these other great hotel room tours: