Have you ever noticed how seasons have flavors? It's true. Summer owns watermelon and root beer floats. Fall has pumpkin and apple. Winter gets peppermint and hot chocolate. And Spring? Spring gets coconut and pineapple. By the time Spring Break rolls along we are all ready to liven things up with sunshine and flavors from the tropics! Give your taste buds a wake up call with these fruity recipes. The coconut cream cupcakes are seriously amazing. Trust me. I made sure to sample a few for quality control purposes. Combine this delicious recipe with these adorable Beach Day Cupcake toppers and your family will be ready to hit the beach for some Spring Break fun.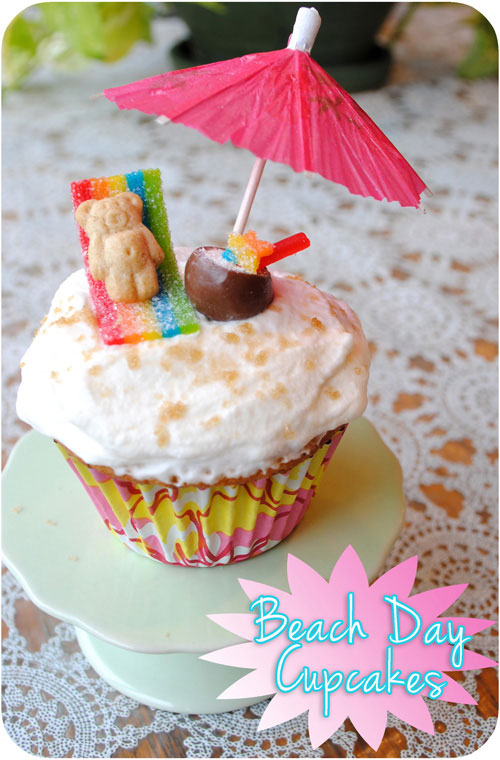 Coconut Cream Cupcakes
Vanilla Cake Mix or Yellow Cake Mix
2 Eggs
1 cup Milk
1 Stick of Butter
2 tsp Coconut Extract
1/4 cup Cream of Coconut
1 Pint Heavy Whipping Cream

The real secret to making a great cake is to start with quality ingredients. If you are lucky enough to have a Trader Joes grocery store nearby, purchase the Vanilla Cake Mix there. This cake mix is by far the best mix available anywhere. My husband used to bring them home to me as souvenirs from his business trips. He knows me well. If you can't get the Vanilla Cake mix, don't fret. A regular yellow cake mix will work just fine.




Follow the instructions on the box to prepare your cupcakes. If you are using a regular cake mix from the grocery store, substitute milk instead of water and melted butter instead of vegetable oil. You will be amazed at how using these richer ingredients will dress up the flavor of your cake.

Add in 1 tsp of Coconut Extract to the batter. You can find coconut extract in the baking isle near the vanilla extract.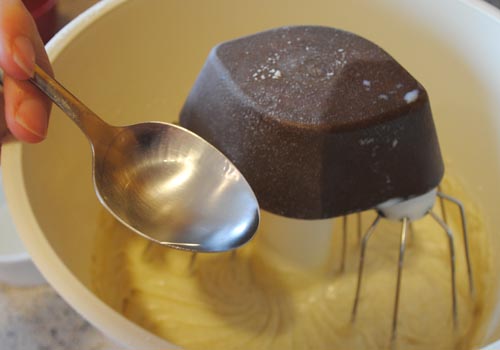 Bake cupcakes. While they are on the cooling rack, poke each cupcake with a fork several times to create little holes in the top of the cakes. Then, drizzle a tablespoon of cream of coconut on top. It should soak down into the top layer of your cupcakes. It is very creamy and sweet. You can find the cream of coconut on the isle at the grocery store next to the liquor. Don't worry, it is alcohol free. Do not use coconut milk.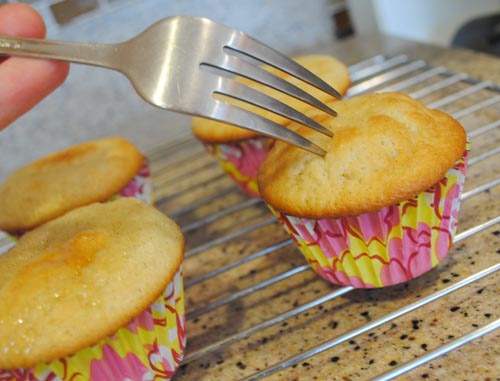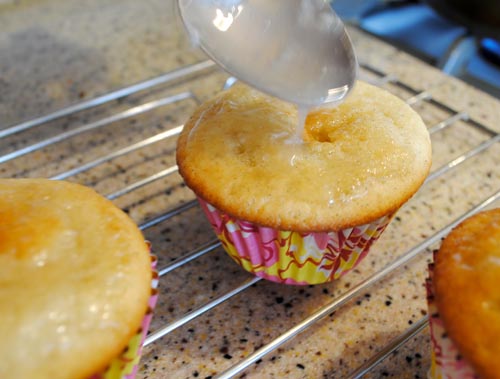 Once your cupcakes have cooled, whip the heavy cream with 1 tablespoon of sugar, 1 tsp vanilla, and 1 tsp coconut extract. Beat the cream until it is firm and fluffy. Do not over mix or it will turn into very sweet butter. Tasty, but not great for frosting cupcakes! Frost each cupcake with the whipped cream.

Now, it's time to make the toppers! They are very easy to make.

You will need:
1 Package of Party Umbrellas
1 Box of Chocolate Whoppers
1 Package Pull and Peel Licorice
1 Package Air Heads Xtreme Tape Candy or Fruit by the Foot
Teddy Grahams
Tooth Picks

To make the Beach Day Cupcake Toppers start by poking two toothpicks into the cupcake. These are the back of the lounge chair.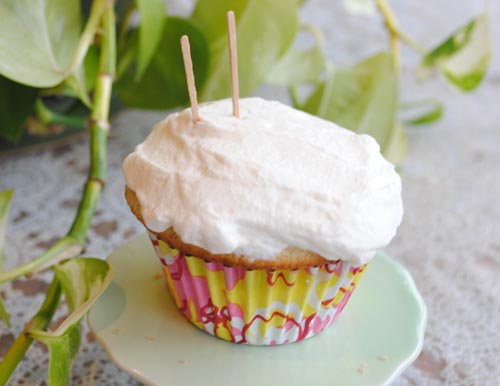 Cut a 2 inch piece of fruity tape and set it against the toothpicks to create the lounge chair.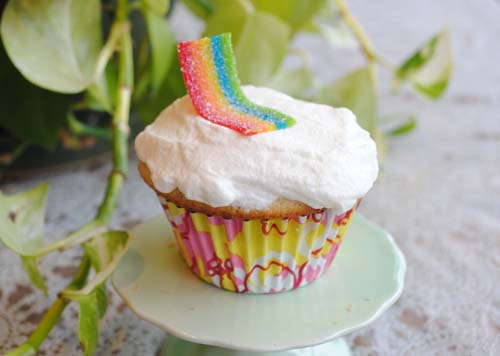 Place bear on chair and add the umbrella. Isn't he cute?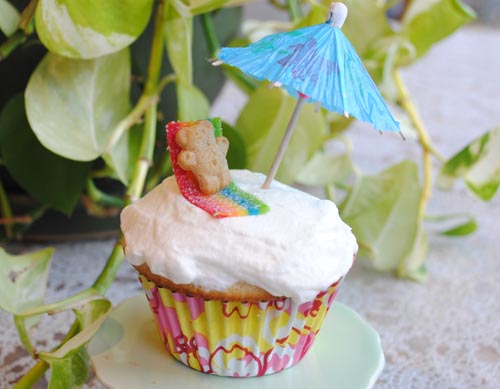 Next you'll make the coconut drink by slicing the top off of a Whoppers candy. Poke a small hole into the malted center and add a short licorice straw. I cut a little flower out of the candy tape to add some extra decoration. Place the drink on the cupcake next to the lounge chair.
If you would like, you can sprinkle some toasted coconut on top to look like sand, or sprinkle on a pinch of brown sugar. I used brown sugar.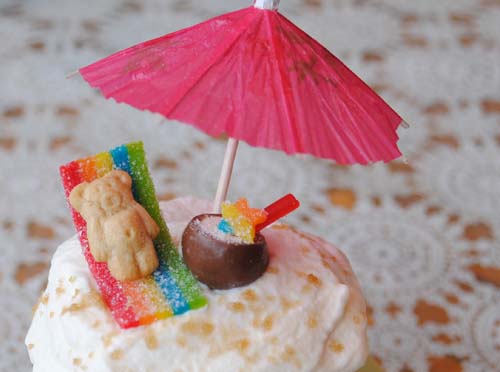 Don't they look adorable? It makes me want to go lounge on the beach. And, since, a day on the sand wouldn't be complete without a nice cold pina colada, here is a recipe for you to try. It is a family favorite.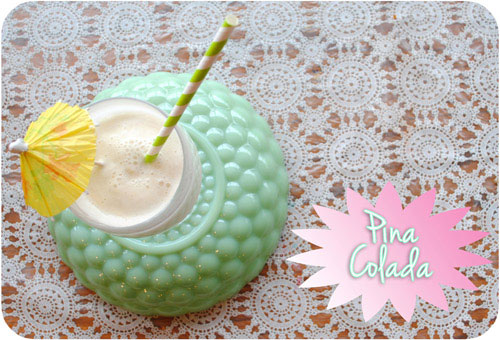 You'll need:
1/4 cup Cream of Coconut
1/4 cup Pineapple Juice
1 Ripe Banana
1 tsp Vanilla
12-18 Ice Cubes

Add all the ingredients to the blender and blend until smooth. Serves 4. Top with a dollop of
whipping cream if desired. Use these treats to get your family excited for your upcoming vacation. Or, if all you need is a place to enjoy these tropical treats, give use a call at 855-GET-AWAY. We can get you to a tropical paradise whether you're looking for a fantastic cruise or beach vacation!

Check out these other great blog articles:

Our Best Beach Tips for Families
How to Pick the Perfect Cruise
Cruise Destinations 101
Hyatt Regency Huntington Beach Vacation Spotlight