Life is better at the beach. That is not just a motto, it is actually true. People, in general, are more happy on the sea shore. The combination of the warming and energizing sun, the soothing and rhythmic sound of the waves, and the calming and grounding effect of playing in the sand, creates the perfect environment for bliss.

Take advantage of the relaxing beach vibes at home with your own Miniature Sandbox or Zen Garden. Play, design, sculpt, relax and get happy with your own little box of sand. You can place your miniature sandbox on your desk to help you stay calm and relaxed at work, or place it by your bed to help you meditate and wind down at the end of the day. The simple act of sculpting and playing with the sand is incredibly therapeutic and has been proven to lower blood pressure.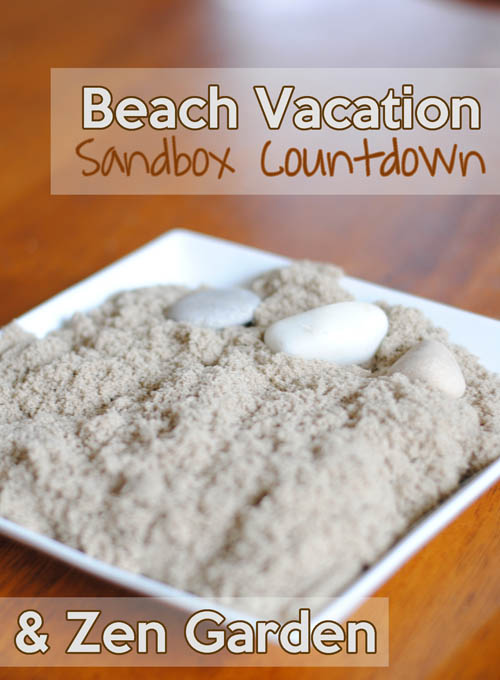 Are you counting down the days until you can put your feet in the sand on your own beach vacation? Instead of installing the Vacation Countdown Timer App on your phone or computer, use your sandbox to make the time pass more quickly by creating your own daily countdown reminders. Play with the sand and have fun as your beach vacation gets closer each day.
Do you want to build a miniature beach for your home? You will need:

• Sand
• Container
• Rocks (optional)
• Shells (optional)
• Rake (optional)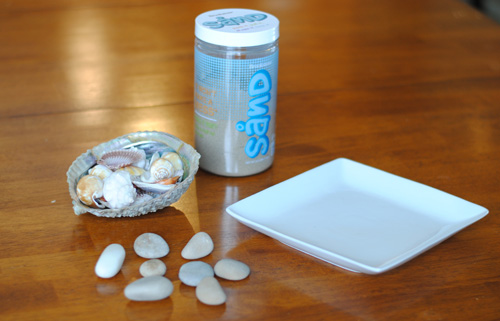 You can be creative with the container you use for your mini sandbox. I found a square ceramic plate at the dollar store that had the organic look and feel that I wanted. The sides were curved upwards to create a shallow wall. You could use a wooden salad bowl, a picture frame, or build your own box out of wood! It is up to you.

I found the most amazing sand to use in our sandbox. It is from Brookstone. This sand is 98% real sand and 2% Polymer. The result is amazing. This sand acts like wet sand at the beach. You can sculpt it however you want and the shape holds its form. The texture is so soft and smooth and it does not stick to your hands. It is like a mix between regular sand and playdough, but it never gets dried out! The first time we got it out of the container, my kids and I played with it for over an hour. If you decide to order some for your sandbox, get ready to feel like a kid again!

You could also use souvenir sand from one of your own beach vacations for your sandbox. When you interact with your mini Zen Garden, it will remind you of the time you spent on the beach and bring back those happy relaxed feelings that you had on vacation! It is a great way to preserve those amazing beach memories.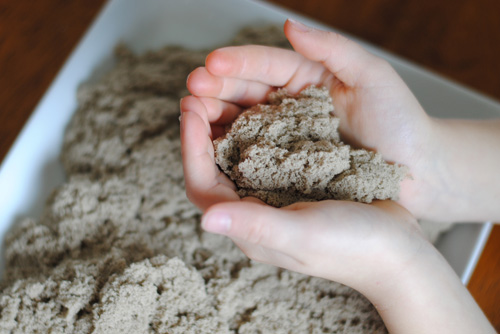 Place your sand in the box or container that you picked out and get ready to play. I collected some round smooth rocks from my backyard to place in the sand. It is calming to hold and rub a smooth rock. Rocks can absorb negative energy from your body. As you hold the rocks, visualize your worries and frustrations flowing into the rock. Let the rock hold them for you - so you have room for good energy and positive, happy thoughts.

I put a few sea shells in my garden as well. It is fun to use them as "stamps." Press them into the sand to create an imprint of their beautiful designs. Use your fingers to create patterns or designs in the sand, or draw with a Zen Garden rake or stylus. There are no rules.
If you are counting down the days until your own beach vacation, you can use your sand to help the time pass more quickly. Here are some examples of what we did to count down to our time at the beach.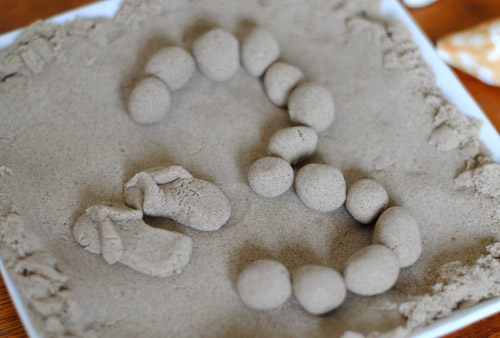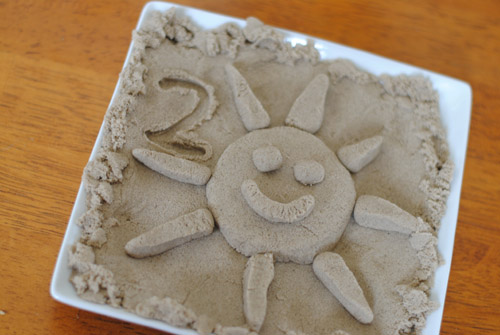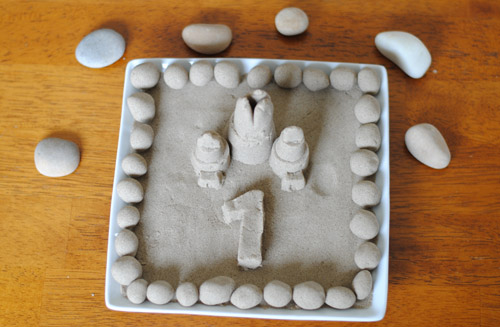 It is so fun to play in the sand. There are millions of people every year that flock to the beach. They long for the peaceful feeling that accompanies the shore. You can capture a piece of that feeling at home with your Mini Sandbox Zen Garden. It can help tide you over until your next beach vacation!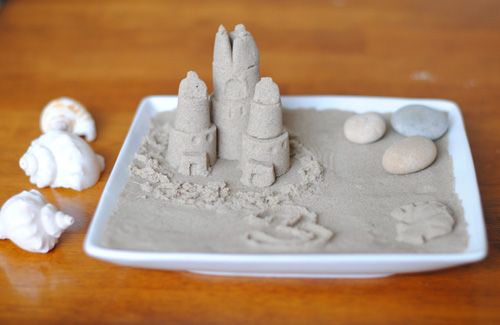 We'd love to help you plan your next beach vacation! Whether you're headed to Southern California's sandy shores, Mexico's warm waters or Hawaii's beautiful beaches, we'd love to get you there. Book online or call any of our reservation experts at 855-GET-AWAY! You'll be in the sand in no time!


Check out these other great articles:

Best Beach Tips for Families
Beach Ready Glitter Toes Tutorial
3 Ways to Make a Beach Towel Better
Beach Inspired Cupcakes and Smoothies