Last spring my family had the opportunity to spend a couple weeks exploring the area around Mission Bay San Diego. It is one of the most beautiful places in California. The views in every direction are stunning and on select nights, the Sea World fireworks light up the sky. The whole area has a welcoming family-friendly atmosphere and it just so happens that many of our most popular San Diego hotels can be found around Mission Bay. We didn't want to leave! There were several things we grew to love about the area that I hope will make your San Diego beach vacation even better.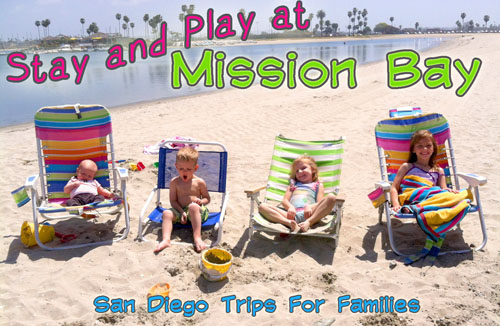 The Beach
The sand at Mission Bay is perfect for digging holes and building sandcastles. The beach is cleaned and combed regularly. The water level is quite shallow at the shoreline and gradually gets deeper, so little swimmers have plenty of room at the shore to collect water and splash and play. (It is always wise to keep life jackets on your children when they are in the water.) There are no ocean waves here to pull swimmers out with the tide or to knock them off their feet. The calm water makes a day at Mission Bay relaxing and peaceful.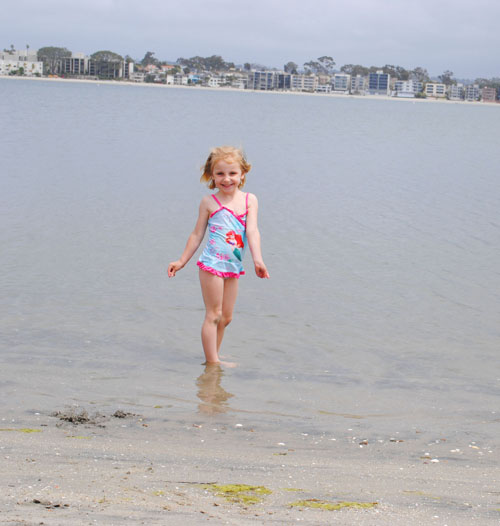 Water Sports
Mission Bay offers a wide variety of water sports for outdoor adventurers and families. Stand up paddle boarding is rapidly becoming one of the most popular water sports. Mission Bay is the perfect place to try paddle-boarding for the first time because the water is so calm. My young kids loved to sit on the back of my paddle board and tag along for a ride across the water.
Jet skiing, jet boating, water-powered jetpacking, waverunning, kiteboarding, water skiing, and sailing are all possible! When we were visiting last spring, we spent an entire afternoon watching people attempt the water-powered jetpacking! It was amazing to see them literally flying above the water. Riverboat Moonlight cruises on the bay are extremely popular as well. In fact, if you stay at the
Bahia Resort
or the Catamaran Resort Hotel, your vacation includes a free bay cruise aboard the Bahia Belle on select nights. There is so much to see and do on the water!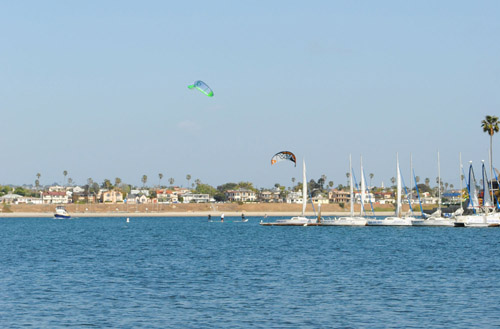 Recreation Around the Bay
There is a paved pathway that circles the entire bay area. Bikes, cruisers, skates, skateboards, Segway personal transporters, and even wheelchairs are all available for rent for use on the path. There are plenty of public barbeques and tables for outdoor parties and picnics. There are some large grass areas as well. We loved the playground equipment that is right on the sand. There are restaurants that line the water and vendors selling snacks and refreshments.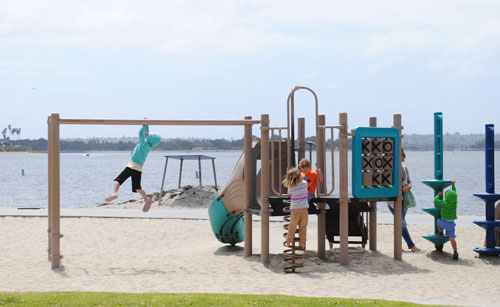 Central Location
One of the best things about Mission Bay is that it is only minutes away from some of San Diego's most popular attractions. Sea World and Belmont Park are both in the Mission Bay area. Belmont Park offers an old wooden roller coaster, bumper cars, a wave house and other amusement park entertainment, and is located on the edge of the bay. Popular Mission Beach is only a block or two away. So, if you crave the crash of the waves and the expanse of the ocean, it is seriously only a stone's throw away. In fact, the
Catamaran Resort Hotel
is one of our most popular hotels because it is located on Mission Bay and a short walk across the street from Mission Beach - it doesn't get much better than that!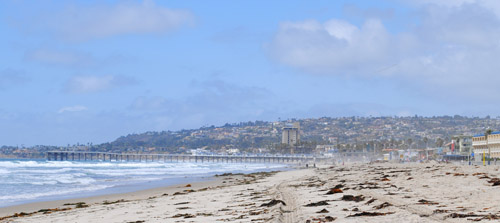 If you are looking for a beach vacation with your family, our agents would love to help! They tour all of our San Diego properties annually to give you personal recommendations. Some of our most popular hotels located on or near Mission Bay include: the
Bahia Resort Hotel
, the
Catamaran Resort Hotel
,
Paradise Point Resort and Spa
(located on a private island in Mission Bay!),
Hyatt Regency Mission Bay
and the
Dana on Mission Bay
. We can help with discount tickets to San Diego's most popular attractions like SeaWorld San Diego, the World Famous San Diego Zoo, LEGOLAND California, USS Midway and more. Book online or call our agents at 855-GET-AWAY and get ready for your best beach vacation yet!

Check out these other great articles:
Best Beach Tips for Families
3 Ways to Make a Beach Towel Better
Beach Vacation Countdown