Is there anything more satisfying for your taste buds than theme park food? One thing I love about Disneyland is all of the amazing food that is available. Each area of the park has its specialty. If you happen to stroll through Adventureland, you will certainly be able to follow your nose to one of the best snack stops in the park! Bengal Barbecue grills up some seriously delicious eats. They offer a selection of kabobs that will satisfy even the pickiest taste buds and fuel your adventure through the park. And, best of all, it's one of the most affordable places to eat inside the Disneyland Resort. You can grab a skewer for about $4!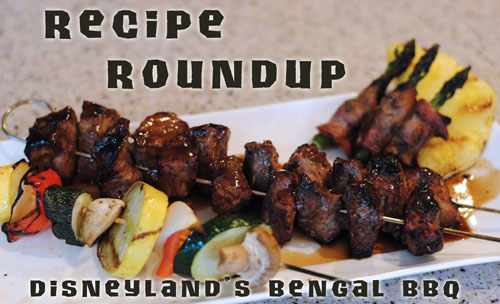 If you have eaten at Bengal Barbecue before, you will be happy to know that you can recreate the experience at home! Here are three of their most popular recipes and a few tips and tricks that I learned while making them. Fire up your grill and bring some of that delicious Disney magic to your next backyard barbecue - just in time for summer!

Bengal Barbecue Spicy Beef Kabobs
Ingredients:
1/2 Cup Soy Sauce
1 Cup Water
1 Tablespoon Corn Starch
1 Tablespoon Fresh Lemon Juice
2 Tablespoons Brown Sugar
3 Tablespoons Sesame Oil
1 Tablespoon Ground Black Pepper
1 Teaspoon Crushed Red Pepper Flakes
1/2 Teaspoon Ground Cayenne
18 one-ounce pieces Sirloin Beef Chunks (Marinated and Seasoned)
6 Bamboo Skewers
Instructions:
In a medium saucepan, combine all of the sauce ingredients. Whisk them together until the cornstarch is completely dissolved. Let the ingredients simmer until the sauce starts to thicken. This is a spicy sauce, if you want to tame the fire down a bit, just add less red pepper flakes and/or cayenne.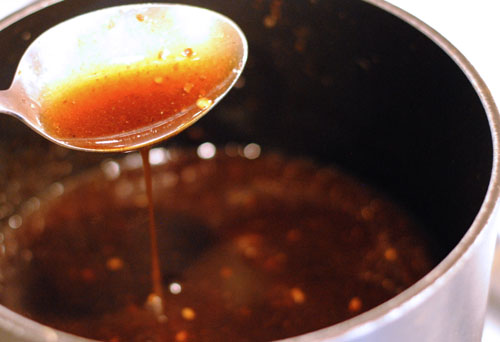 While the sauce is simmering, cut your sirloin beef into 1 inch chunks. The official Disneyland recipe did not require seasoning or marinating the meat before grilling. I like to give the meat a little bath in sauce before throwing it on the grill, so I soaked it for about 30 minutes in a teriyaki sauce and added some ground pepper and sprinkled some beef seasonings on top. You can do this too, or you don't have to! It's totally up to you.
Put the meat on bamboo or metal skewers. Note: If you are using bamboo skewers, make sure to soak them in water for at least 20 minutes. I didn't do this step and some of my sticks started on fire. Yikes!
Grill the meat at a medium to high temperature, turning occasionally, until the meat is done to your taste. It is most tender when it is slightly rare.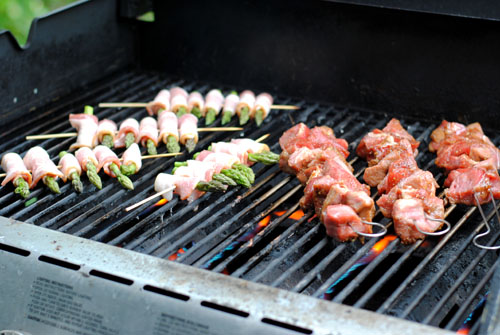 Place the cooked meat on a clean serving plate and spoon the warm sauce over the top. This makes it so moist and delicious. Really, this sauce is amazing!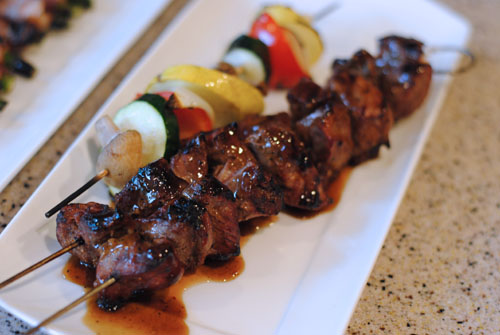 Bengal Barbecue Vegetable Skewers
Ingredients:
Fresh Vegetables of your Choice
2 T Olive or Vegetable Oil
Bamboo or Metal Skewers
Instructions:
Wash all of your fresh vegetables. Disney serves some of the most popular grilling vegetables: yellow squash, zucchini, red and green peppers, onions, and mushrooms. Slice the vegetables into bite size servings and toss them lightly with oil.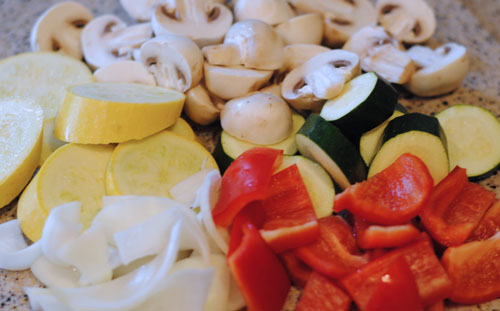 Place the vegetables onto the skewers alternating types as you go along. If you are using bamboo sticks, be sure to soak them in water for at least 20 minutes so they don't catch fire on the grill.
The vegetable kabobs do not take as long to cook as the meat kabobs. So, you can place them on the grill about 10 minutes after the meat starts to cook. Cook the vegetable kabobs on medium to high heat until they are tender.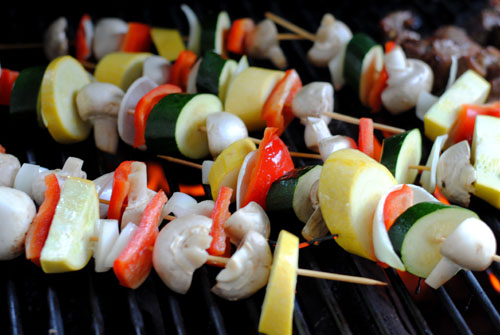 Bengal Barbecue Bacon Wrapped Asparagus
Ingredients:
Pack of Bacon
Bunch of Asparagus
Bamboo or Metal Skewers
Instructions:
Rinse the asparagus in water to clean it. Chop off the top 3 inches of each stalk of asparagus. This is the most tender portion of the vegetable. Cut each piece of bacon into thirds. Wrap a section of bacon around the asparagus top and then put it on the skewer so that the skewer holds the bacon in place.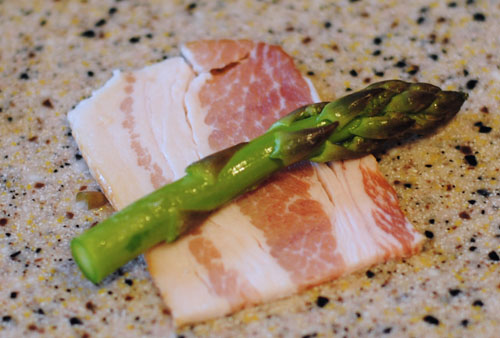 Continue the process until all of your asparagus has been wrapped and placed on a skewer stick. It is important to note that if you are using bamboo skewers that you should soak them in water for at least 20 minutes to prevent them from burning as you cook on the grill. I found that the bacon creates a lot of hot grease so the more saturated the sticks are, the better!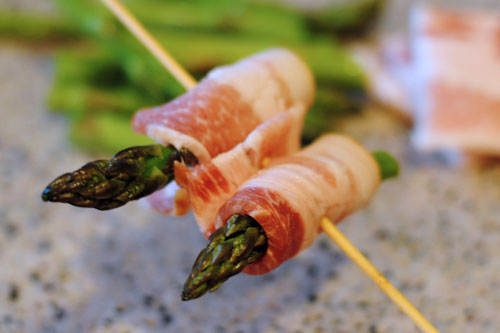 Grill the vegetables on a medium to hot grill until the bacon starts to crisp and the asparagus is tender. Make sure to turn the kabobs several times during the cooking process. I could not believe how tasty these were. They seriously melt in your mouth. If you have never tried asparagus on the grill before, you have to give it a shot. And really, everything tastes better wrapped in bacon right?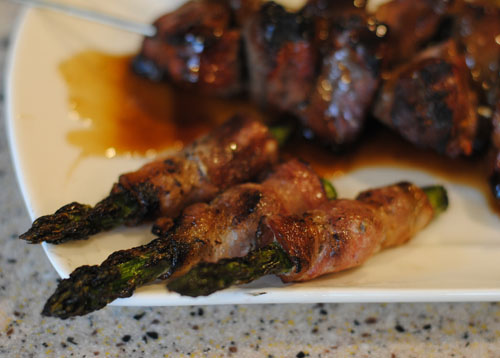 I hope you enjoy getting a taste of Disneyland at home. These tasty kabobs are the perfect treat for any backyard barbeque. And, next time you are at Disneyland stop by the Bengal Barbecue for a quick and delicious snack.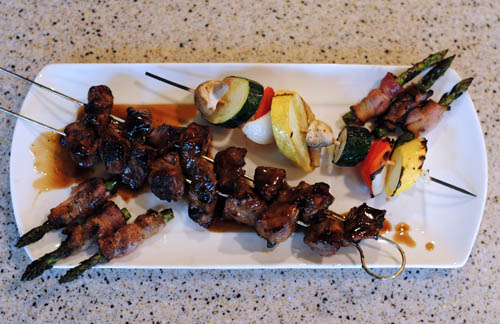 When you're ready to compare our copycat version to the real kabobs in the park, we'd love to help you book your Disneyland vacation! Book online or call our Disneyland vacation experts at 855-GET-AWAY.

Check out these other great articles:
Ways to Eat on the Cheap at Disneyland
Mickey and Minnie Carmel Apples
20 Cool Treats from Disneyland