Downtown Disney is soon to open the much-anticipated Black Tap Craft Burgers and Beer restaurant. With their signature CrazyShakes and mouth-watering burgers, it is going to be almost as magical as Disneyland! Get excited for your upcoming trip and make your own treats with this Black Tap CrazyShake Tutorial.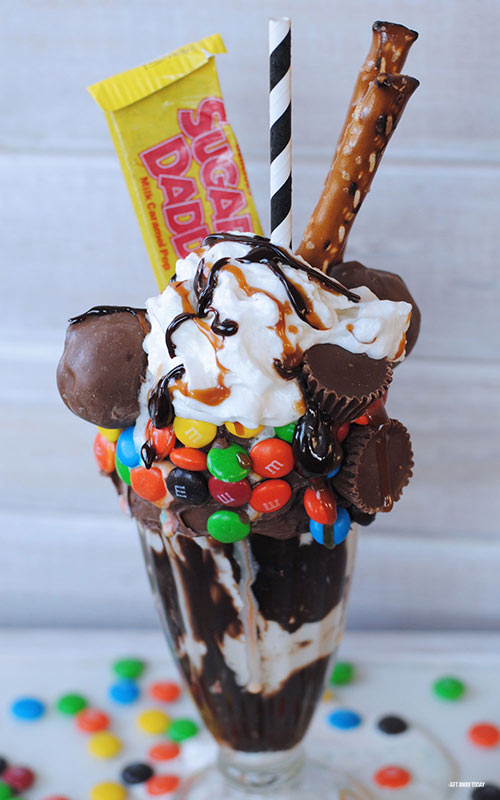 Get ready my friends. Disneyland just got even happier! Unbelievable? Perhaps. But, you will believe it's the truth when you check out the fab new new burger joint, Black Tap, that is heading to Downtown Disney this year. It is the most magical restaurant on the earth.
Black Tap is an award-winning restaurant based in New York City. They are best known for their amazing signature CrazyShake Milkshakes and their Instagram worthy hamburgers. Disney goers are in for a real treat! I wonder if they will offer a Fastpass? Because, this place is going to be as popular as Radiator Springs Racers when it opens!
I'm not the only one who is excited about this match made in heaven. Check out what Patrick Finnegan, vice president of Disney California Adventure and Downtown Disney District had to say about Black Tap, "The Disneyland Resort is thrilled to welcome Black Tap to Downtown Disney. I have no doubt that their incredible menu of award-winning burgers and eye-catching sharable milkshakes will be an instant hit with our guests."
Word on the street is that Black Tap is creating special menu items that will be offered exclusively at the Downtown Disney location. Who wants to guess what their Disney-themed CrazyShakes are going to look like? I am hoping for a Frozen one! I won't want to let it go anywhere except for in my belly! I am sure we will see some classic Mickey and Minnie options are well. Can't wait!
"Collaborating with Disney is the perfect relationship for Black Tap," adds owner Chris Brash. "Both brands are known for creating memories that last a lifetime, and we're thrilled to soon be part of new memories made at Disneyland."
I can't wait to make some delicious Disney memories with Black Tap at Downtown Disney later this year.
If you just can't wait until you are at Disneyland to give a CrazyShake a try, you're in luck. You can make your own copycat version at home with our Black Tap CrazyShake Tutorial. Make sure to invite a friend. They are much too big to tackle alone. When you see the ingredient list, you'll see why!
For this Black Tap CrazyShake Tutorial, you will need:
Vanilla Ice Cream
Hot Fudge
Caramel Sauce
M&M Candies
Chocolate Frosting
Whipped Cream
Pretzel Rods
Reeces Peanut Butter Cups
>Fancy Straw
Milk or Cream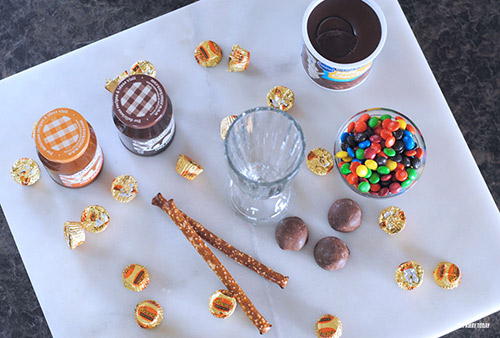 Start by frosting the rim of the milkshake glass with chocolate frosting. I covered mine about two inches down from the top.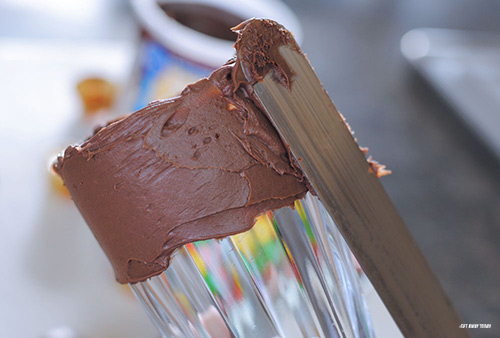 Then, roll the frosting in a pile of M&M's candy. After I rolled it around, I filled in the holes with some M&Ms by hand.
Since we are talking about Black Tap coming to Downtown Disney, I added a secret little Mickey Mouse element to my version. Slice a little pizza slice out of the side of a chocolate caramel peanut cluster and slide them over the ends of the milkshake glass. Instant Mickey ears!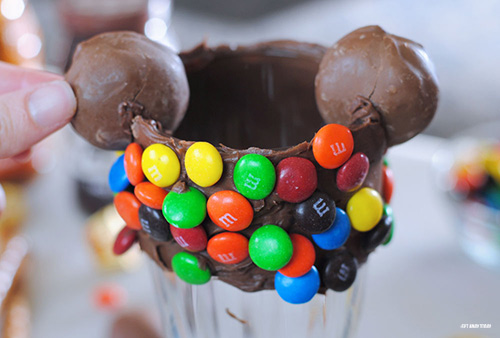 You can add candy to the outside of the glass by putting a little bit of frosting on the backside and sticking it on! I think the more treats, the better the milkshake.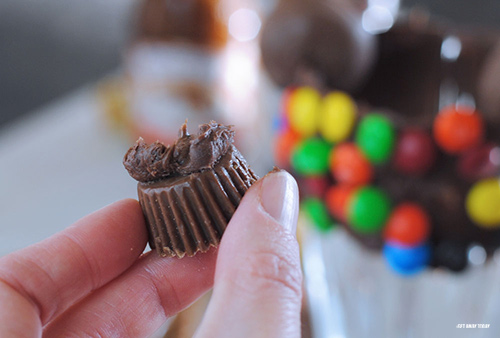 When you are satisfied with the outside of your milkshake glass, then it's time to start with the inside! Warm up about 1/8 cup of hot fudge and drizzle it along the walls of the glass. You could also do a layer of caramel too.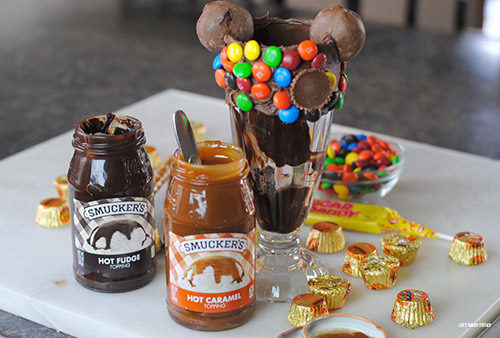 I made a basic milkshake out of vanilla ice cream and whole milk. Put about four giant scoops of ice cream in the blender. Add about 2 tablespoons of milk and blend. Make sure it gets nice and soft. The better the ice cream, the better the milkshake. Make sure to pick your favorite brand.
Pour the milkshake to the rim of the glass.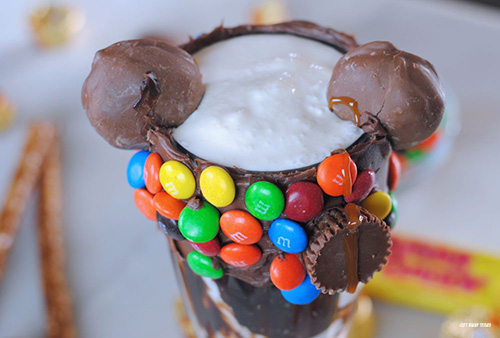 Spray a nice whipping cream mountain to the top of the ice cream. Then, drizzle with more caramel and hot fudge sauce. Stick in some pretzel rods and then finish things off with a Sugar Daddy sucker.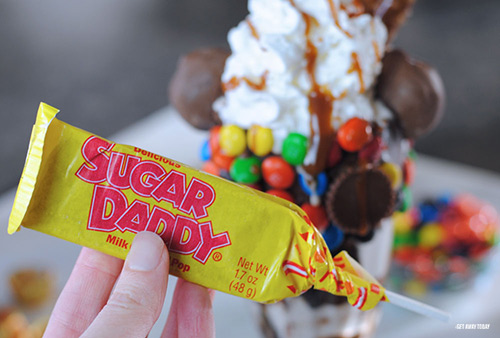 Doesn't it look Disney worthy? I think so!
You can eat the chocolate CrazyShake with a spoon and then get the last bits with a straw. I had a little helper in my kitchen who was sampling things for me as we worked. He couldn't wait until I took my last picture so he could dive into the delicious candy creation! It did not disappoint.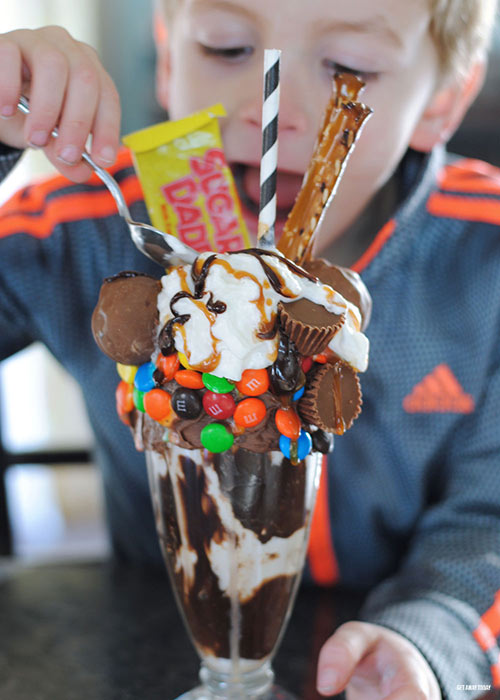 I hope you have fun with this Black Tap CrazyShake tutorial. There are so many variations you could make for your own personal CrazyShake! Also, be sure to check out our birthday version of the CrazyShake Tutorial. You can see, these shakes are completely over the top! What flavor will you make?
Of course Black Tap isn't the only fun thing happening at Disneyland this year! Be sure to book your Disneyland package with Get Away Today online. Or, call our agents at 855-GET-AWAY. We'd love to help you book your trip!

Check out these other great articles: