Ever since it officially opened on April 7, we've been obsessed with everything from The Wizarding World of Harry Potter at Universal Studios Hollywood. We LOVE having it here on the West Coast! It seems only natural to serve up a few "potted" items at the Wizarding World of Harry Potter. It is Potter's theme park after all. This delicious Butterbeer Potted Cream is a smooth sweet dessert that can be served warm or chilled, and is currently one of the most popular desserts found at The Wizarding World of Harry Potter in California.
Butterbeer Potted Cream Copycat Recipe
Rich, made-from-scratch pudding is a perfect comfort food and feels like something Mrs. Weasley would whip up. If you find yourself wandering down the streets of Hogsmeade this summer, consider stopping at the Three Broomsticks for a spoonful or two of Butterbeer Potted Cream. You won't regret it! Eat it slowly to fully enjoy the thick creamy texture and rich buttery flavors, and don't worry, one order is definitely enough to share. Plus, the little glass containers it comes in are so cute!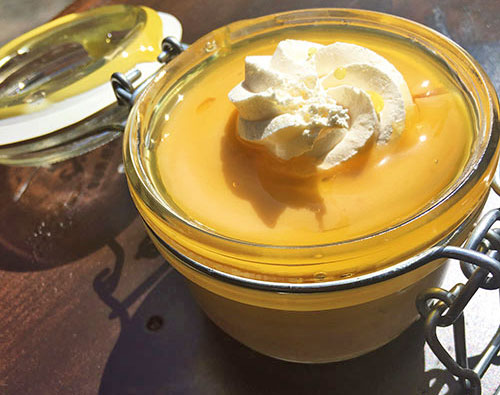 We created our own version of the Butterbeer Potted Cream. We hope you love our copycat recipe as much as the original!
Butterbeer Potted Cream Recipe
2/3 cup Sugar
1/4 c Cornstarch
1/4 tsp Salt
3 c Half and Half
4 Egg Yolks
2 Tb Butter
Whipped Cream for Topping
Combine 4 egg yolks into a bowl. (Discard the whites, or save them for another recipe!) Beat the egg yolks together and then add 1 cup of half and half. Stir. Set aside for a few minutes.
Whisk together the sugar, cornstarch, and salt in a medium saucepan. Add 2 cups of the half and half.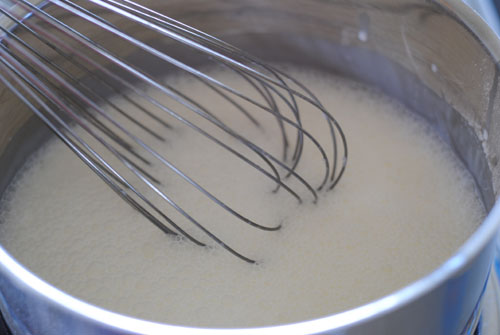 Continue to stir over medium heat until the pudding begins to bubble and thicken. It typically takes about five to seven minutes. Do not let the half and half scorch on the bottom of the pan. Keep the liquid moving. Stir constantly.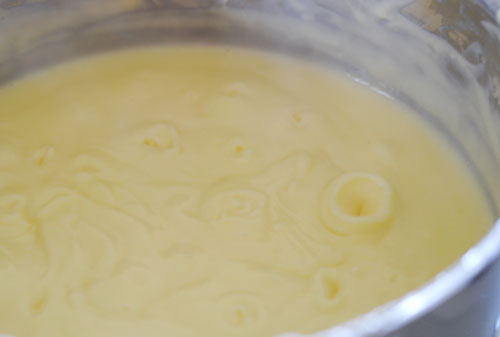 Once the pudding mixture is thick, pour a small amount (about 1 cup) into the the egg yolk bowl. Stir it in quickly. This process heats up the egg mixture slowly so that you don't get cooked egg pieces in your pudding. That would be creepy - even for a wizard treat!
Then, pour the ingredients from the bowl into the saucepan. Stir it together quickly. Let it cook over the heat for about two or three minutes. Or, until the pudding is thick and smooth again.
Remove from heat. Add the butter, vanilla, butter flavoring, rum extract, and butterscotch chips. It will all melt together and blend in nicely because the pudding is warm. Stir it until all of the chips have disappeared and incorporated into the pudding completely.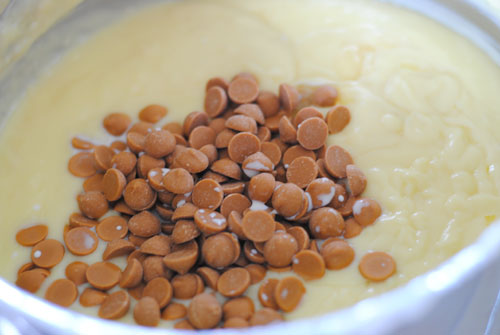 Pour the mixture through a strainer into the glass serving jars. You don't need to use a strainer, but it removes any small clumps that may have formed and makes your finished product nice and smooth. If you want to have yours look like those served at the Three Broomsticks, you can get this six pack of jars on Amazon for a few dollars each. They really add that magical touch!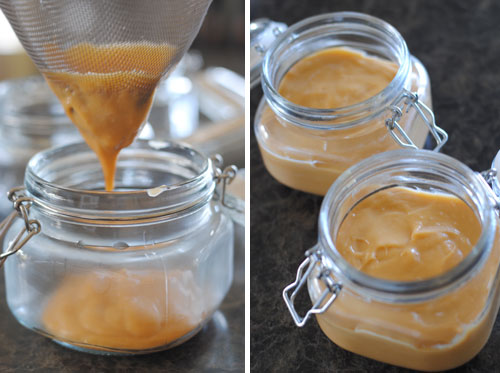 If you are serving the dessert warm, immediately top with a dollop of whipped cream and enjoy!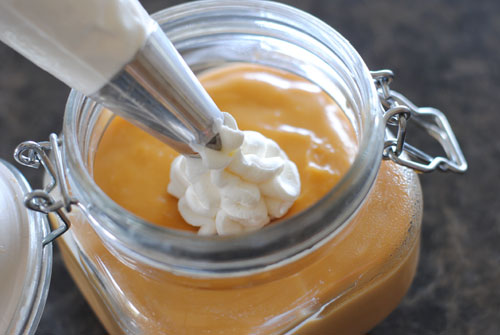 If you prefer it chilled, like it's served at the Three Broomsticks, place it in the refrigerator for at least an hour. Cover the top of the pudding with a piece of plastic wrap to prevent a thick film from forming on the surface of the pudding. Add the whipped topping to the treat just before serving. The version at the Three Broomsticks also has a light Butterbeer syrup that is poured on top, almost like a flan. This version is so rich and creamy, that we didn't think it needed any extra sweetness, but you could easily drizzle the top of yours with syrup if you want something a little more sugary.
We hope our version of the Butterbeer Potted Cream copycat recipe gets you excited for your upcoming Universal Studios Hollywood vacation, or can help tide you over until your next vacation to Universal Studios! When you're ready to take that magical journey to The Wizarding World of Harry Potter, we're here to help! Add our discount Universal Studios Hollywood tickets to your Disneyland vacation, or make it a getaway on its own. Book your tickets online or call our agents at 855-GET-AWAY.

Check out these other great articles: