Choosing a hotel for your Disneyland vacation is a big deal. Let our Candlewood Suites Anaheim review help you decide if it's the right one for you. We'll breakdown everything you need to know about the Candlewood Suites, one of our favorite hotels near Disneyland.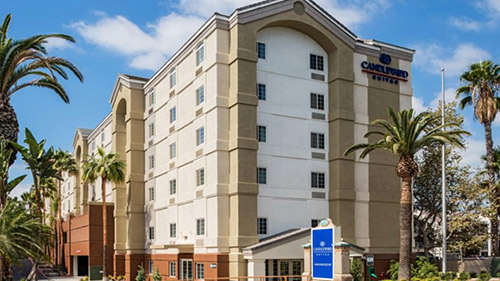 Photo Courtesy of Candlewood Suites Anaheim Review
Hotels Near Disneyland: Candlewood Suites Anaheim Review
Picking hotels near Disneyland is one of our specialties. We send our staff to Anaheim each year to tour all of our hotels. It's the best way to familiarize our team with the hotels we offer. One of our staff favorites on our most recent trip was the new Candlewood Suites Anaheim. Find out all of the details of this hotel in our full review:
Candlewood Suites Anaheim Review - Rooms:
The rooms at the Candlewood Suites Anaheim have every amenity you could possibly need during your vacation. Each room comes with a fully equipped kitchen with a small dining area. Since the hotel doesn't serve a breakfast, many families stock the kitchen with cereal, milk, yogurt and other breakfast items. It makes getting out the door in the morning a breeze.
There are three room types that you can book through Get Away Today. Two of those are studio suites; one with two double beds and the other with one queen. Each of the studio suites have a sofa bed in the living room area, which is all part of one room. The third room is a one bedroom suite, which has a separate living room area, complete with a sofa bed. All of the rooms have crisp, white bedding and a fresh, sleek and spacious feel. The rooms at the Candlewood Suites Anaheim are perfect for relaxing after a fun-filled day at Disneyland.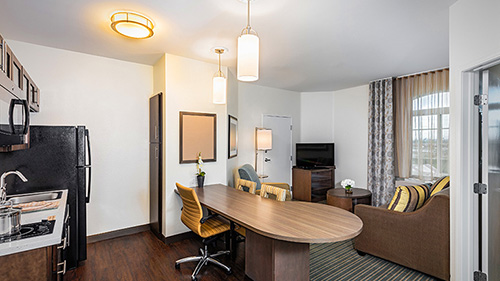 Photo Courtesy of Candlewood Suites Anaheim
Candlewood Suites Anaheim Review - Amenities:
The Candlewood Suites Anaheim has some really great common spaces, but my personal favorite is the barbecue grills. They're located on an outdoor patio and available for guests to use. There's also an outdoor pool, free Wi-Fi, a 24-hour fitness center and a Lending Locker all available on-site. At the complimentary Lending Locker, guests are able to check-out movies, board games, and anything else that can make your stay more enjoyable. There's also an on-site laundry facility, which makes longer stays, or traveling with kids who need a quick change of clothes, even easier.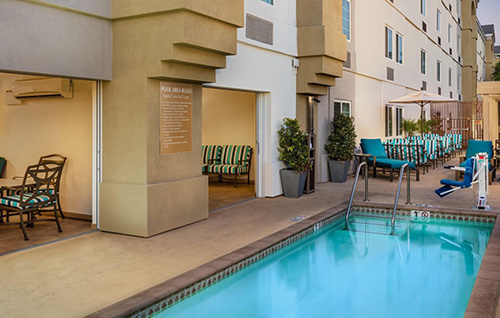 Photo Courtesy of Candlewood Suites Anaheim
If you're driving to Disneyland, the Candlewood Suites Anaheim features covered parking. It's nice to have that added security. And, as a bonus, when you book with Get Away Today, your parking is free. That's a $10 per night savings - which can really add up for longer vacations.
Candlewood Suites Anaheim Review - Location:
The Candlewood Suites Anaheim is in a super convenient location right off of the freeway. Additionally, it's located about a seven minute walk to the Anaheim GardenWalk. The GardenWalk is a massive shopping, dining and entertainment district. You're just steps away from hot spots like California Pizza Kitchen, Anaheim House of Blues and Bubba Gump's Shrimp Co. If you want to try something really fun, make a reservation for the Gospel Brunch at the Anaheim House of Blues!
And of course, we have to talk about the main attraction. The Candlewood Suites is located about one mile away from Disneyland. As far as hotels near Disneyland, this is a great choice! You can take the Anaheim Resort Transit, aka ART Shuttle, drive your own car to the official Disneyland parking garage or take an Uber. Or, if you're feeling up for a little bit of exercise, you can walk it in about 15 minutes. Just be aware, after a day or two of walking all over the Disneyland Resort, that walk back to the hotel may feel extra long.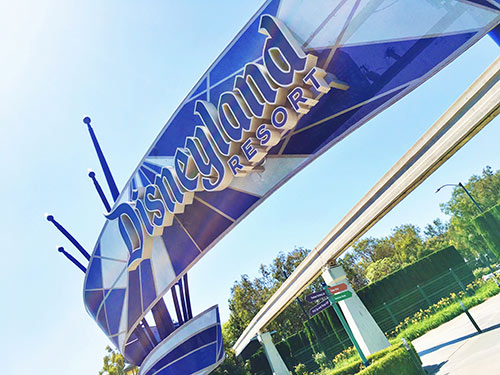 Overall, we think the Candlewood Suites Anaheim is a great choice for your Disneyland vacation and we hope that our detailed review of the Candlewood Suites Anaheim helped answer some of your questions. The fact that it's one of the newest hotels in Anaheim makes it extra nice. If you're thinking about staying at the Candlewood Suites Anaheim, we'd love to help. You can find this and the rest of our Disneyland area hotels on our website. Or, of course you can always call our agents at 855-GET-AWAY and talk through any of our hotel choices. No matter where you decide to stay, we want to help you get there!

Check out these other great Anaheim Hotel Reviews: