Get Away Today invites your student to join the magic of Disney Performing Arts. Disney Performing Arts is a fantastic opportunity for your child to meet and train with the best of the best in the performing arts industry and experience something unforgettable - performing live on stage at the Disneyland Resort!
Disney offers so many workshops for elementary through high school students including dance, cheer, choir, instrumental music, and theater. These unbeatable workshops will assist your student in building confidence and perfecting their art of choice!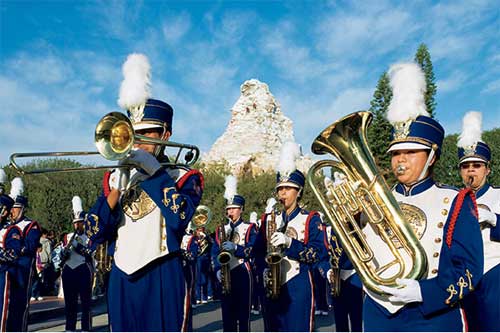 As to Disney photos, logos, properties: (c)Disney
While participating in Disney Performing Arts, your student performer will get to take part in workshops and they will have the incredible opportunity to perform on stage in front of park guests at Disneyland or California Adventure Park during national festivals, competitions and championships!
Experts will be there to teach teamwork and discipline while students develop character, confidence, and creativity at one of the most celebrated places on earth!
For your instrumental, vocal and auxiliary students, Festival Disney gives the unique experience of competing in Disney competitions and festivals. Professional feedback will be given to your students as they enjoy friendly rivalries with other students interested in their artistic field!
Disney Honors is a non-competitive experience for choirs, bands, and orchestras to partake in performances, clinics, and guest speakers. With the help of these professionals, these high-school groups will know the skills and strategies to meet their personal and group musical goals.
Workshops are a fantastic way to learn from the professionals. With over 32 Disney Performing Arts workshops to choose from, your students will develop skills and performance concepts all while having the time of their life surrounded by peers!
For more information, a sample itinerary, or to catch a glimpse of what Disney Performing Arts is all about,visit our groups page on our website. Call 888-943-2929 for a free group quote and help in making your group's Disney dreams a reality!