There are few things more compatible than Fall and Pumpkin. They belong together like Mickey and Minnie, or Cinderella and Prince Charming... A perfect combination. Today I'm going to share another perfect combination; pumpkin churros and sweet whipped cream cheese dipping sauce. For a magical twist, you can pretend that you made them out of Cinderella's pumpkin coach after the clock struck midnight. They taste so magical, you might believe it yourself!

Add a little spice to your day with these amazing Cinderella pumpkin churros and dipping sauce. They are, hands down, one of the most delicious treats I have ever made. Crunchy and sweet on the outside, and soft with pumpkin and spice on the inside.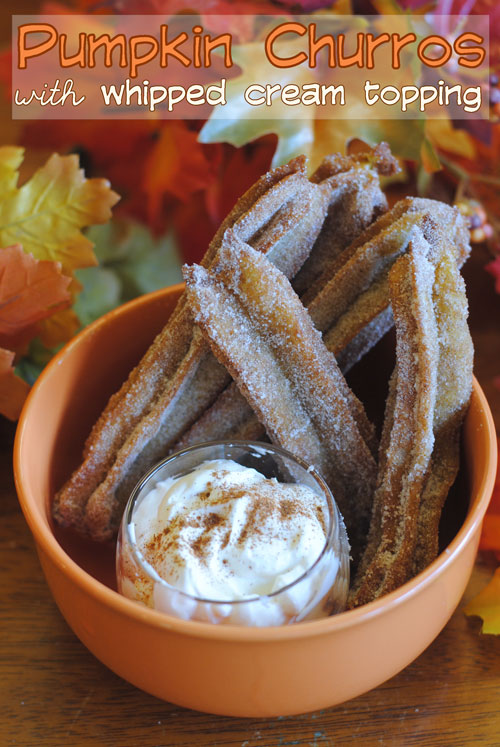 You'll want to start with the following ingredients. It helps if you sing "Bibbidi Bobbidi Boo" while gathering them.

Cinderella Pumpkin Churros Recipe with Whipped Cream Cheese Dip

Churros:
1 Cup Flour
1 tsp Cinnamon
Dash of Cloves, Ginger, and Nutmeg
3/4 cup Water
1/4 cup Pumpkin Puree
6 T Butter
1/2 tsp Salt
1 tsp Vanilla
4 Eggs
Canola Oil for Frying

Sugar Coating:
3/4 cup Sugar
3 T Cinnamon
dash of Cloves, Ginger, and Nutmeg

Whipped Cream Cheese Dip:
4 oz Soft Cream Cheese
Half Pint Whipped Cream
2 T Sugar
1 T Vanilla

Start by making the Whipped Cream Cheese Dip. It is sweet and creamy. Place 4 oz cream cheese, a half pint of whipping cream, 2 Tablespoons of sugar, and 1 teaspoon of vanilla into a bowl.




Whip them together with a hand held mixer until the mixture is smooth and fluffy. You can add extra sugar or vanilla according to your taste. I like to sample as I cook to make sure the flavors are perfect.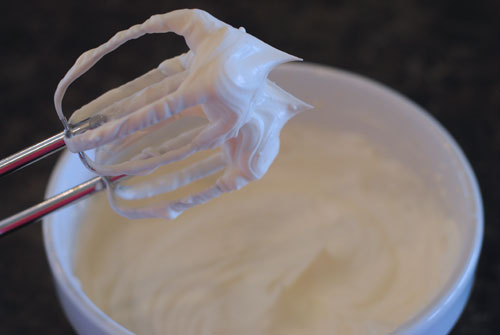 For the churros:

Mix 3/4 cup sugar, 3 Tablespoons cinnamon and a dash of cloves, ginger, and nutmeg together in a bowl. This will be used to roll the churros in when they come out of the hot oil. Set it aside until then.

In a small mixing bowl, combine 1 cup flour, 1 tsp cinnamon, and a dash of cloves, ginger, and nutmeg. Stir until all of the spices are distributed evenly through the flour.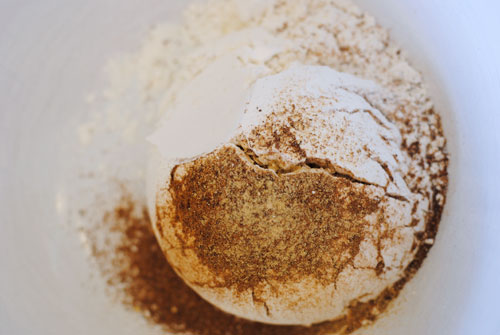 Place a small saucepan onto the stove top. Add 3/4 cup water 1/4 cup pumpkin puree, 6 Tablespoons butter, 2 Tablespoons brown sugar, 1/2 teaspoon salt, and 1 teaspoon vanilla extract.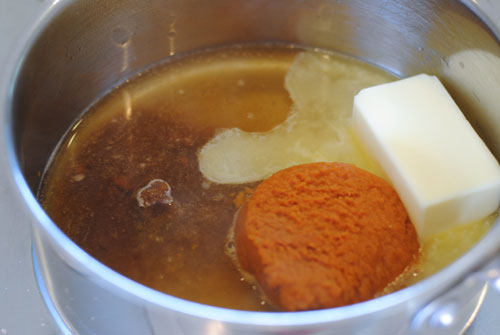 Melt the ingredients together over medium heat until they begin to boil.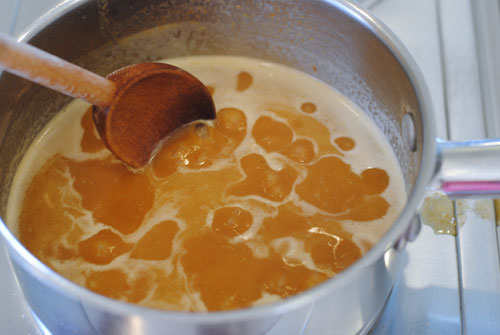 Immediately remove from heat and add the flour mixture. Stir it quickly until it forms a stiff ball.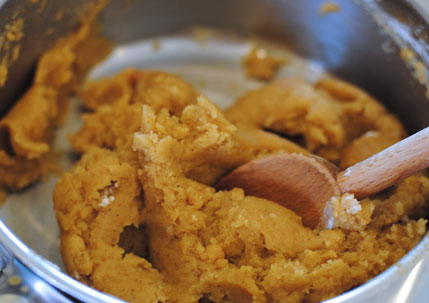 Pour canola oil into a frying pan. It should be about 2 inches deep. Heat it up over medium heat.

While you wait for the oil to get hot, you can finish making the dough.

Add in eggs, one at a time. Crack the egg into the dough and then stir until the egg combines with the rest of the dough.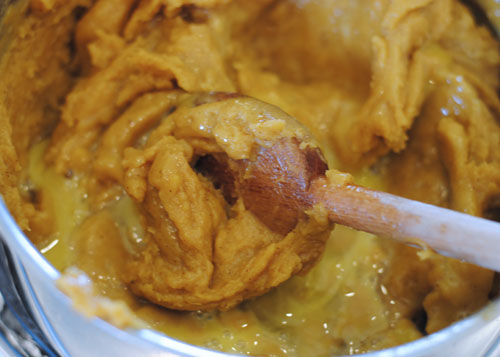 It will be really slimy at first and the dough will separate into slippery sections, but then after a minute of hearty stirring, the egg will suddenly absorb into the dough. When that happens, add in the next egg and stir. Continue this until all four eggs are incorporated into the dough. I like to use a wooden spoon. The dough will look like this when it is ready.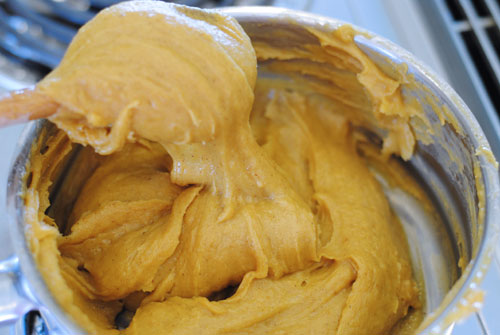 Place the dough into a pastry bag fitted with a large star tip.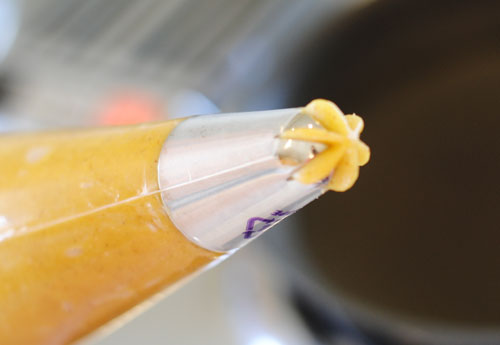 Once the oil is hot, you can begin cooking. It should be around 375 degrees. I don't have a cooking thermometer, so I like to test the oil by placing the edge of my wooden spoon into the oil. If a bunch of tiny bubbles form around the spoon when I dip it in, then the oil is hot. I keep my stove set at level 5 out of 10.

Squeeze the dough into the oil in long strips. Cook them for about 2 minutes on each side, or until they are a nice deep golden brown. Only turn them once during cooking.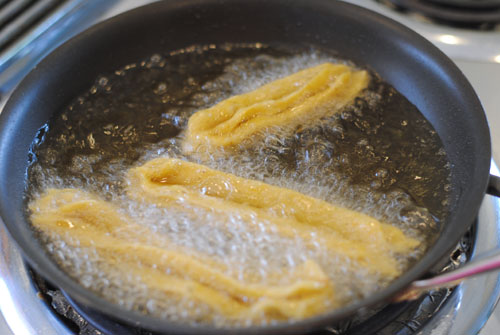 Roll the cooked churros into the sugar coating and then place them on a plate to cool.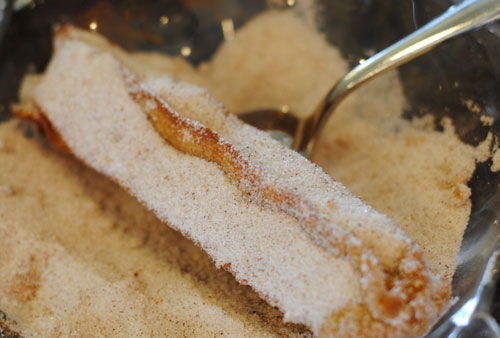 These amazing churros are best when they are served hot. Dip them into the delicious creamy whipped sauce and savor every perfect bite. Fall has never tasted so good.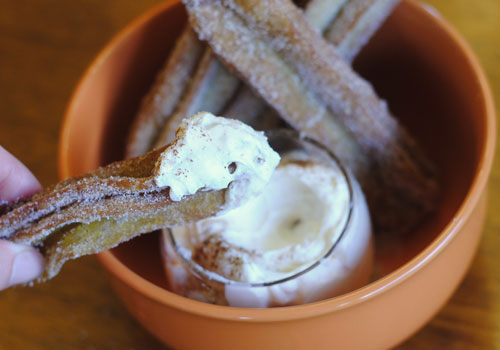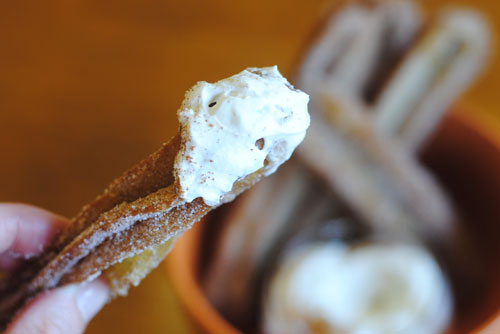 We hope you enjoy this delicious and easy fall treat. Did you know you can also pick up your own pumpkin churro at Disneyland? Check out the California Churro cart in Downtown Disney for an array of additional delicious churro flavors! Or, enjoy the traditional churro goodness from the carts in Disneyland and Disney California Adventure Park. Either way, you'll want to get to Disneyland for a magical vacation. Check out all of our Disneyland packages online or call our travel experts at 855-GET-AWAY.