Disneyland introduced a delicious lineup of limited time treats, menu items and frozen beverages just for the 60th Anniversary Diamond Celebration. With Spring Break season in full swing, I thought it would be fun to recreate one of the most popular recipes for our blog, so we could have a taste of the magical celebration in our own homes. It was hard to choose which recipe to try because they all are so good! But, I finally settled on the Cherry and Honey Pink Lemonade from Critter Country. The contrasting combination of the sour cherry and the sweet honey was too tempting to pass up! I sampled it - to make sure it was good enough for you all - and after I slurped up the last drop I felt myself repeating what Winnie the Pooh often says with his head deep in a honey jar, "I wasn't going to eat it. I was just going to taste it." Oh bother.
You will need:
2 cups of Simply Pink Lemonade
1 Heaping Cup of Frozen Pitted Cherries
1 1/2 C Ice
Whipped Cream
Honey Sticks
*This recipe will serve four people
Here's what you do:
Pour two cups of Simply Pink Lemonade into a blender.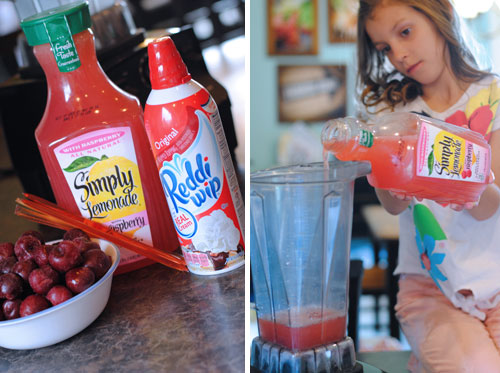 Add one heaping cup of frozen cherries. Don't be afraid to toss in a good portion. The cherry flavor makes it so tasty and adds even more beautiful color.
Add about one and a half cups of ice and then blend the ingredients together until they are nice and smooth. It should be thick. Make sure you don't leave any ice or cherry chunks.
Pour the mixture carefully into a glass. I accidentally plopped a huge serving all over my kitchen counter because it came out of the blender in one big frozen serving. You may want to dish it into the serving glasses with a spoon.
Cover the top of the frozen lemonade with a hearty amount of whipping cream. It makes the drink so sweet and creamy.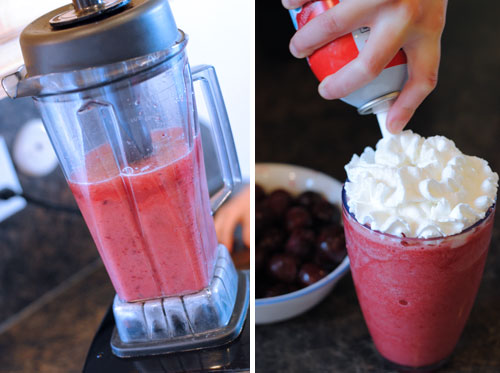 Now, for the fun part! Cut the ends off the top and bottom of a sweet honey stick. Our local produce market sells a variety of flavors. I chose regular honey and also the pink lemonade honey for this recipe. You can also find them online. Here are some links if you'd like to have them shipped to your house: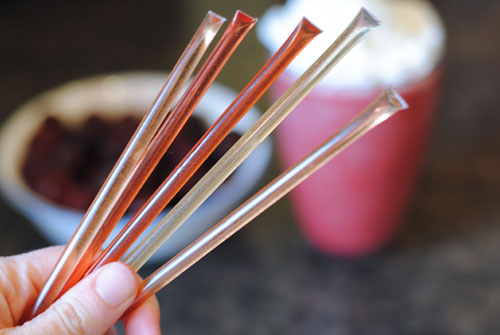 Pour the honey over the top of the cream and gently mix it into the drink. This is the step that really gives the drink a fun flavor combination. The lemon and cherry are tart, and the honey and cream are both sweet. Your mouth will be very happy with the duo of flavors.You can use the honey stick as a straw too. My kids thought that it was so fun!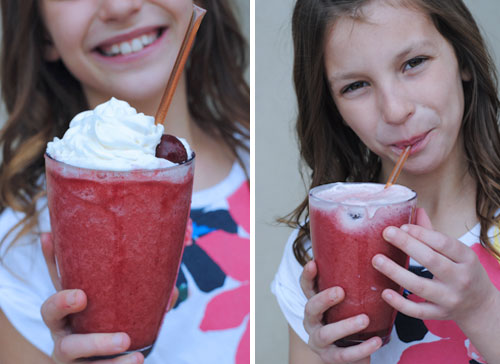 You can find this tasty Honey Bee Frozen Lemonade at the Hungry Bear Restaurant in Critter Country. Check it out next time you are at the Disneyland. And remember, since it's part of the special Diamond Celebration, it may only be available until September 5 when the 60th Anniversary disappears forever. The delicious frozen lemonade is just the beginning of the limited time fun. Be sure to watch the three nighttime shows World of Color - Celebrate!, Disneyland Forever fireworks spectacular and the Paint the Night Parade.
Give yourself enough time to take it all in with our Extra Day Free ticket that gives you five days for the price of four. Check out our extra night free hotel specials to save even more. You can book any of our Disneyland packages online, or call our Disney Experts at 855-GET-AWAY. Either way, we're sure your vacation will be as sweet as this Honey Bee Frozen Lemonade!