Disneyland is known as the Happiest Place on Earth! In fact, it is so much fun, people can visit the park day after day without running out of new and magical places to discover and enjoy! It is never easy to say goodbye to the Disneyland or Disney California Adventure. With a little bit of imagination and a touch of Disney Magic, however, you CAN relive your Disneyland experience time and time again in your own backyard.
It takes more than just a day to fully experience the entire Disneyland Resort and we found that was also true for our backyard park! We needed a "Two-Day Park Hopper Pass" to fully enjoy our creations! There was too much fun to be had to complete it in one day...or one blog post! So, stay tuned for the backyard attractions from Disney California Adventure coming next week!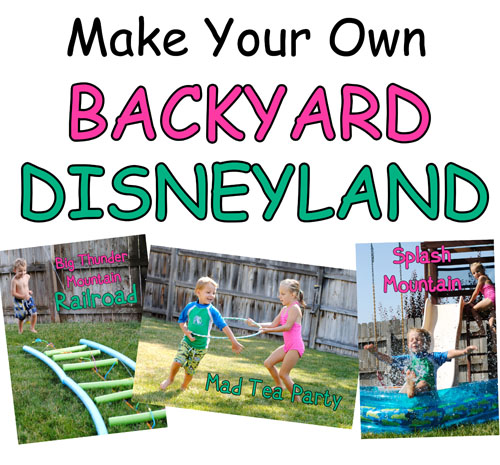 It was exciting to plan what Disneyland attractions we wanted to include in our backyard version of Disneyland. There are so many amazing rides, it was hard to narrow it down. I couldn't believe how much fun we had just thinking about our favorite places and then figuring out how recreate them. You don't have to do anything too elaborate. Let your kids use their imaginations! That is half the fun. Here is what we did:
Big Thunder Mountain Railroad:
At Disneyland, you can race along a railroad track on a runaway mine car. It is a fast-paced thrilling adventure! The ride just completed a major refurbishment and is better than ever, which was hard to imagine because it was so great before. Bring the railroad into your own backyard with our pool noodle and sprinkler track. Let your kids build their own thunder mountain with pool noodle pieces. Then, run a sprinkler track through it to add that extra element of fun!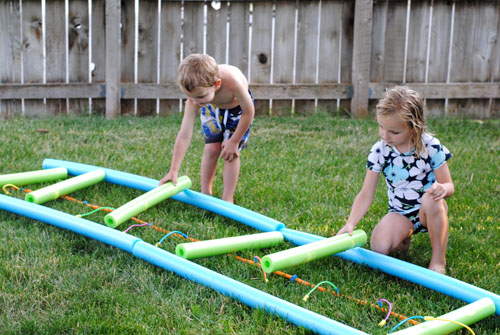 We found these fun and easy directions to build our own train tracks on
Play-trains.com
.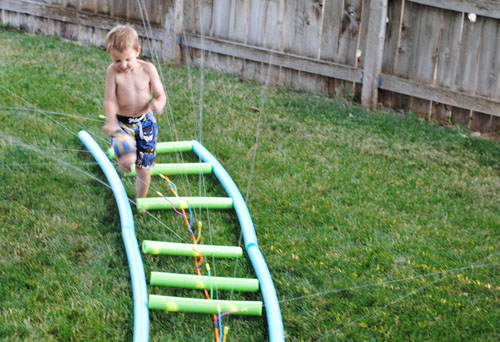 Splash Mountain:
Sometimes you just feel like cooling off! At Disneyland you can take the soaking plunge down Splash Mountain. At home, you can slide down your own version of the famous attraction. All you need is a slippery slide and a children's pool. Place the pool at the base of the slide and enjoy the thrilling combination of water and speed!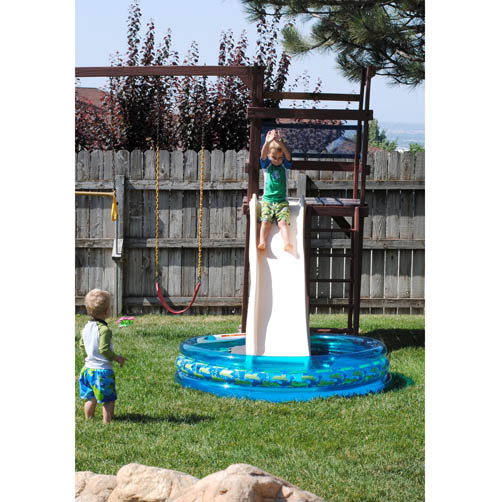 We put a foam pad under the slide so it didn't tear the bottom of the pool. Make sure to closely watch small children around this attraction.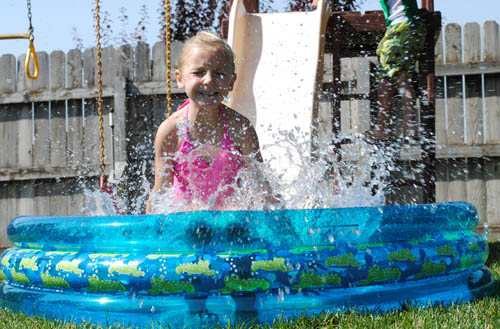 Mad Tea Party:
What could be more wild than spinning around and around in an bright colored over-sized teacup? Taking part in a Mad Tea Party isn't totally crazy, it's a whole lot of twirling fun and a Disneyland tradition! Bring that colorful twirl home with a collection of hula hoops. Spin, toss, turn and twist together! Just like at the park, you might feel a bit dizzy afterwards, but fun and laughter are always involved!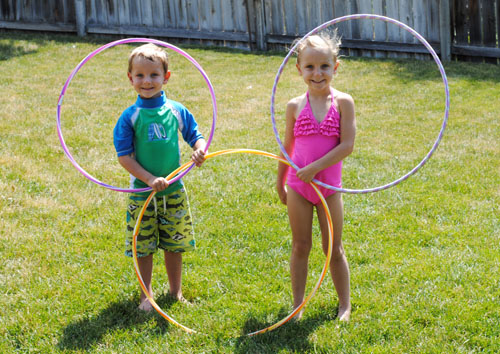 We purchased these hula hoops at the dollar store. It didn't matter if the kids could actually hula hoop. They had fun tossing the hula hoops in the air, spinning around inside of them, and twirling each other around and around. The key to the fun is to get dizzy!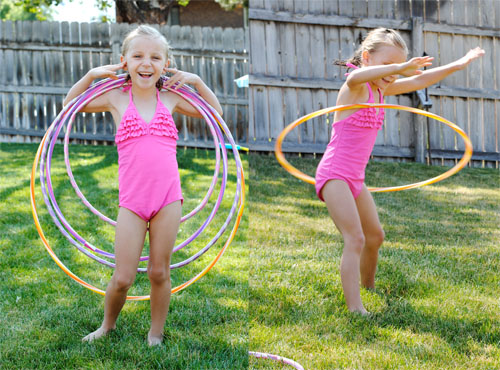 I hope you are inspired by our creations. It was one of the most enjoyable things we have done this summer. Feel free to share your own creative ride ideas with us in the comments below! Check back soon to see what happened when we hopped over to Disney California Adventure for another day of backyard theme park fun!
And of course, when you're ready to leave your backyard for the Disneyland Resort, book online or call our Disney Experts at 855-GET-AWAY. We'll help you find the best deal for your Disneyland vacation!

Check out these other great ways to create magic at home:
Lime Mickey Recipe
Princess Glowstick Crowns
Easiest Cars Land Activity