This past weekend the D23 Expo blew us away with astounding announcements and incredible exhibits and displays. If you follow us on
Facebook
or
Instagram
, you hopefully saw our updates. We've compiled the top announcements, some of our favorite must-sees, and an overview of what it was really like so you can feel like you were there, too!
D23 is the official fan club of the Walt Disney Company. The name D23 refers to D for Disney, and 23 for 1923, the year the Disney Brothers Cartoon Company (now the Walt Disney Company) moved to Hollywood. D23 holds a conference every other year at the Anaheim Convention Center, near Disneyland. The Disney Company, which includes
Disney Parks, Disney Movies, Marvel, Pixar, Lucas Film,
and more, saves many of its major announcements for its fans and partners to hear firsthand.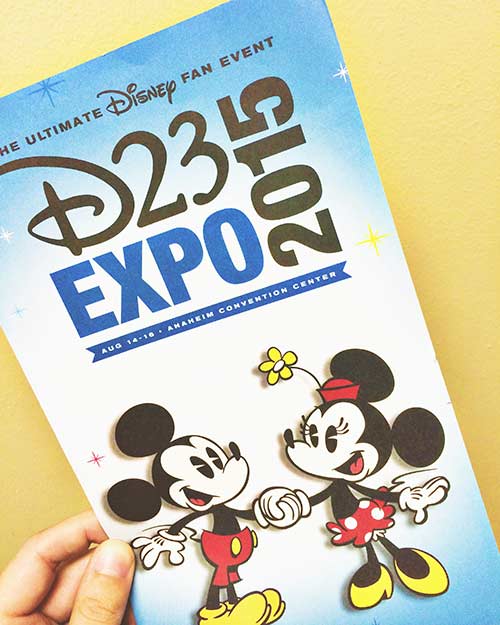 This year's D23 Expo did not disappoint and Get Away Today was there to bring you the most up to date information. Here's what you may have missed:

1. The announcement of not one, but two 14-acre Star Wars Lands will be coming to a Disney Park near you! With one in Florida (Disney's Hollywood Studios) and one in Anaheim (exact area TBA), the parks will include an immersive Star Wars experience themed in the Star Wars universe's outer rim, where anything can happen! The lands will feature cantinas, Star Wars animals, heroes,and villains that will frequent the streets and the cantinas. Attractions will include a ride where guests get to pilot the Millennium Falcon during a scuffle with the evil empire among many more opportunities to immerse your family into the Star Wars universe.
2. Star Wars Launch Bay will be the first phase of welcoming the new Star Wars universe and will be coming to Disneyland and Disney World soon. Changes will include a re-imagined Star Tours, an expanded Jedi Academy and a new experience at Space Mountain. The re-imagined attraction will be called HyperSpace Mountain and will bring the Star Wars story into the classic Disney ride.
3. Soarin' Over California will be upgraded to Soarin' Around the World and will feature world icons; both natural and man-made. The new experience will be available at Disney California Adventure and EPCOT next year.
4. Disney World upgrades will include a new Toy Story Land at Disney's Hollywood Studios. Toy Story Land will feature a Slinky Dog inspired family-friendly roller coaster, an alien flying saucer attraction, and another Toy Story Mania track. Disney's Animal Kingdom will open Pandora: The World of Avatar, which is going to be a completely immersive experience and will feature AVATAR Flight of Passage, an "E-ticket attraction" that is the centerpiece of the land. The Kilimanjaro Safaris will be expanded and park hours will be extended to allow for nighttime safaris and "Rivers of Light," a new nighttime show. Epcot is currently expanding its Norway Pavilion to make way for Frozen Ever After, which will open next year.
Here is a quick cell phone video with some of the highlights from these announcements:

5. Dedicated fans dressed up in their favorite Disney character outfits, a practice that the Disney parks only allow on very select occasions, like the private ticketed Mickey's Halloween Party. There are few things as fun as being a Disney fan and hanging out with thousands of really excited and committed Fanatics.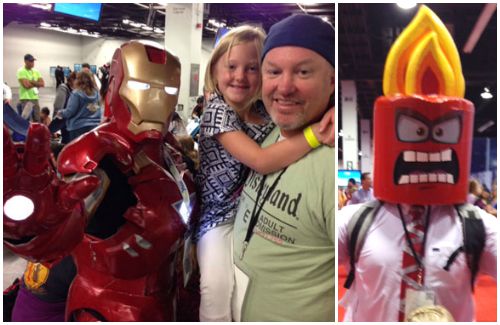 6. Hollywood Stars and movie announcements. Disney is a great place to connect with and remember your favorite Disney movies. Hollywood stars showed up to promote their films and celebrate Disney films and parks. Stars included Johnny Depp who appeared in character as Jack Sparrow, Harrison Ford who reprised his role as Han Solo, Dwayne "The Rock" Johnson announced his role as Maui in the upcoming Hawaiian themed movie, and Chris Evans came as Captain America. Stan Lee showed up as an "aspiring comic book writer," and many other stars were seen. Exciting new announcements included a new Jack and the Bean Stalk themed movie called Gigantic, a new live action Jungle Book movie and a new Star Wars movie that explores the back story of Han Solo.
7. Swag and exclusivity. There were so many booths with incredible things to see and fun giveaways. Our friends over at Mouse Planet were giving away some seriously awesome calendars. D23 trading cards were a big deal at this year's Expo. We collected quite a few, but didn't get them all. Some of the sessions were under lock and key. Attendees were given plastic bags to seal their cell phones in during "closed" sessions. Enforcers walked around to confiscate any contraband phones or cameras. The Walt Disney Studios presentation was one such event, and it was this session when they first announced that Star Wars was coming to the parks. Luckily, we were able to bring cameras into the Parks and Resorts session where more detailed info was released.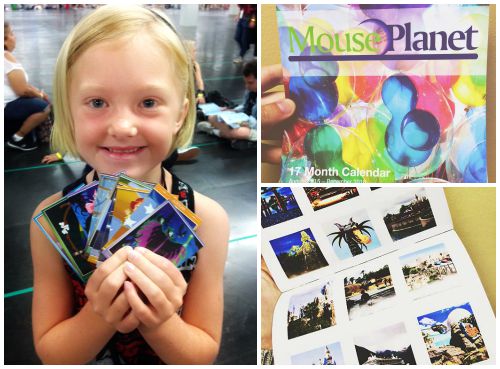 8. Disneyland history: The Disney company, unlike many other entertainment organizations, has built its future on its founder. As part of the 60th anniversary, historical artifacts from Disneyland were displayed, including the recently replaced Yeti from the Matterhorn, the People Mover, documents that were used when creating Disneyland, and the first Disneyland ticket ever purchased. The first ticket was purchased by Roy Disney, Walt's brother, because Roy wanted to support his brother's dream!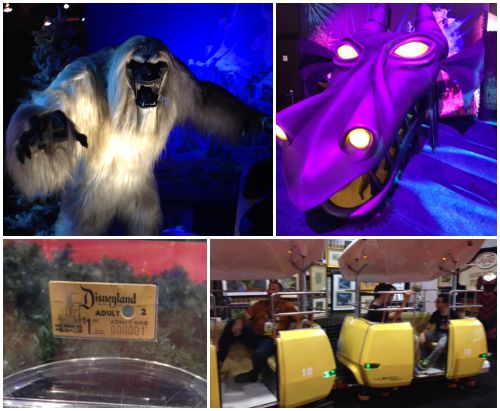 9. The Disney philosophy and Disney leadership. From CEO,Bob Iger, to executives and directors, and the chair of the board, Disney is dedicated to providing quality products, family friendly experiences, and inspiring stories. The executives and leadership were available. We met John Lassester on his way to dinner, shook the hand of Joe Rhode, the lead imagineer on several major Disney products, and hung out with the voices of Disneyland and California Adventure. From my interaction with these key leaders, Disney is exactly what you think it is, a great organization dedicated to quality and family friendly entertainment.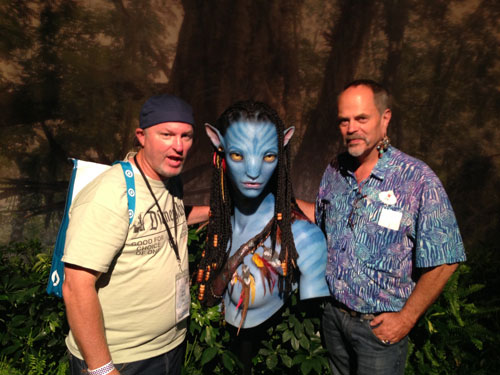 10. Disneyland is next door! Since this year is the Disneyland Diamond Celebration, we got to experience the magic of 60 years at the parks in person. The Paint the Night Parade was even more spectacular than we imagined.
The future of Disney is bright and there are so many amazing things that are coming. The Disneyland Resort and Walt Disney World Resort are both places that you can visit year after year and always experience something new. You won't want to miss any of the magic, including the limited time Disneyland Diamond Celebration! Let
Get Away Today make your vacation dreams come true by booking your next vacation online, or call our agents at 855-GET-AWAY.
Chris Dallin is a Disney fan that visits Disney parks and attractions several times a year and shares the secrets and excitement with your family and friends!
Check out these other great articles: