Minions are taking over Universal Studios Hollywood and we couldn't be more excited about it! Despicable Me: Minion Mayhem and Super Silly Fun Land will be opening on April 10, 2014. Universal Studios Hollywood sent us the following News Release and we wanted to share it with you: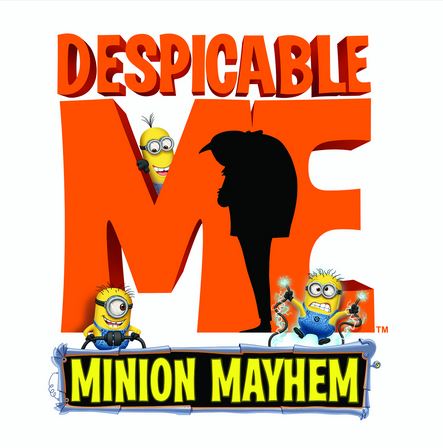 Universal City, CA —"Despicable Me: Minion Mayhem," an original Ultra-HD adventure and "Super Silly Fun Land," an interactive play zone based on Universal Pictures and Illumination Entertainment's international blockbuster "Despicable Me," will come to life at Universal Studios Hollywood, the Entertainment Capital of L.A. in Spring 2014.

"The irreverent humor, endearing characters and storyline that have captivated movie-goers worldwide makes 'Despicable Me' a perfect match for our theme park," said Larry Kurzweil, President, Universal Studios Hollywood. "This imaginative new ride will not only take guests on a hilarious and heartwarming adventure that captures the spirit of the film, but will also invite them to embrace their 'Inner Minion' – that mischievous alter-ego that hides within all of us. As the film franchise continues to break new ground as a modern day classic, so too will 'Despicable Me: Minion Mayhem' as yet another marquee Universal Studios Hollywood ride."

Voiced by the film's original stars, the fully immersive motion-simulator ride will feature the quirky but lovable cast of characters that have resonated with audiences across the globe: super-villain Gru (Steve Carell), his adorable girls Margo (Miranda Cosgrove), Edith (Dana Gaier) and Agnes (Elsie Fisher), Dr. Nefario (Russell Brand), and an army of unpredictably entertaining Minions.

"'Despicable Me: Minion Mayhem'" will push the creative envelope with its innovative show content, sight gags, special effects and original 3D digital animation. The ride's exterior environment will feature even more thematic and colorful creative touches that will literally place park guests inside Gru's world," said Mark Woodbury, President, Universal Creative.

"We're so excited to introduce a new experience that truly reflects all the heart, humor and emotion audiences have come to love about 'Despicable Me,'" said Chris Meledandri, founder and CEO of Illumination Entertainment. "Fans of the film can now have fun and interact with their favorite 'Despicable Me' characters in a way they haven't been able to before."

The "Despicable Me" ride will welcome guests to Minion mayhem via an elaborately themed neighborhood, recreated with precision to mirror the familiar white picket fence homes, Gru's ominous house and Ms. Hattie's Home for Girls as if lifted from the film and surreptitiously placed within Universal Studios Hollywood. Whimsically themed queues, clever preshow videos and comedic dialogue will set up the fundamental plot: Gru schemes to create as many mischievous Minions as possible from human recruits.

The ride will transport guests into Gru's iconic house where they will meander through his living room and encounter many memorable visual elements from the movie, including the moon-shrinking SR-6 shrink ray, while zig zaging along a zany escapade through Gru's super-villain laboratory. The exciting journey will send guests on a swerving, bouncing and plunging excursion through the frantically humorous Minion training mission, all the while donning specially-designed 3D "Minion Goggles." A post-show Minion dance party will culminate the adventure inviting guests to strut their stuff in an impromptu must-do Minion dance party.

"Super Silly Fun Land," an all-new elaborate kids play zone unique to Universal Studios Hollywood, will debut adjacent to "Despicable Me: Minion Mayhem." The colorfully themed, interactive Minion-inspired outdoor venue, a literal interpretation of the carnival from the film, will delight younger guests with a multitude of fountains, water play areas and splash pools. A nearby dry zone will invite guests to climb, crawl, jump and slide – while a Minion themed ride will soar and spin guests around for a 360-degree view of "Super Silly Fun Land" aboard a fleet of amusing ride vehicles.

Combined, "Despicable Me: Minion Mayhem" and "Super Silly Fun Land" will represent a newly defined immersive environment within the theme park, reimagined to fully engage guests in the exciting and vibrant world of Gru and his Minions.

Universal Studios Hollywood, The Entertainment Capital of L.A., includes a full-day, movie-based theme park and Studio Tour; the CityWalk entertainment, shopping and dining complex, the Universal CityWalk Cinemas and the "5 Towers" state-of-the-art outdoor concert venue. World-class rides and attractions include the intense, award-winning ride, "King Kong 360 3-D" on the famed behind-the-scenes Studio Tour, the critically-acclaimed mega-attraction, "Transformers™: The Ride-3D," "The Simpsons Ride," "Revenge of the Mummy—The Ride," "Jurassic Park® —The Ride," and the much anticipated Ultra-HD movie motion-simulator adventure, "Despicable Me: Minion Mayhem" opening in Spring 2014.

We'd love to help you take your minions to Universal Studios Hollywood for a blockbuster vacation! Check out our discount Universal Studios Hollywood tickets including our Front-of-the-Line tickets that give you access to priority boarding and reserved seating once per attraction and show. Or, get the true red carpet treatment with our VIP Experience tickets that includes a private Studio Backlot tour, lunch and unlimited Front-of-the-Line access to all of Universal's attractions.

Another great way to experience Universal Studios Hollywood is with the Southern California CityPass. These tickets include a 3-Day Park Hopper to the Disneyland Resort, 1-day at SeaWorld San Diego, and a day at Universal Studios at such a huge savings off of gate prices, it's like getting a ticket to Universal Studios for free!

Let us help you plan your family's perfect Southern California vacation. Book online or call our Vacation Experts at 855-GET-AWAY.


Check out these other great articles:

Get Away Today Visits Universal Studios Hollywood
Universal Studios Blockbuster Summer