Last week we posted an article on
How to Create Your Own Backyard Disneyland
Park. We couldn't pack both parks into one day! So today, we using our park hopper passes to jump over to Disney California Adventure for a day of fun!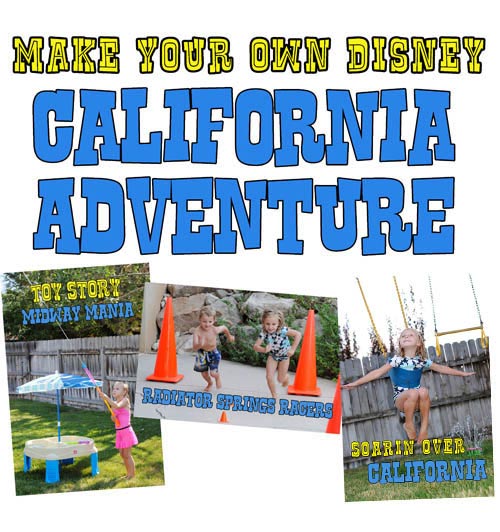 Disneyland and Disney California Adventure were built because of someone with very big imagination. You can put your own creativity to work and recreate your favorite attractions from the park! We loved finding ways to make our ideas come to life. I hope you do too!
Soarin' Over California
: One of our favorite rides in Disney California Adventure Park is Soarin' Over California. Passengers can feel the wind race across their face during a breezy airborne virtual adventure above California's vast terrain. Capture that same feeling of "flying" on your backyard swings. Let your kids soar over the grass, with their bellies on the swing, arms stretched out, ready to fly over your own back yard!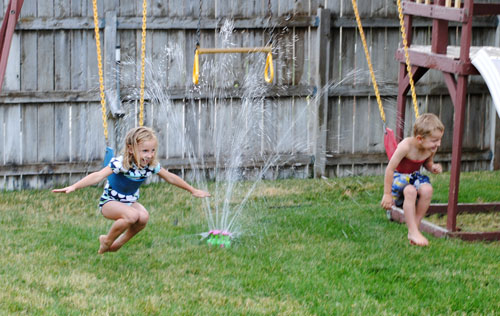 We put a sprinkler under the swings to make the ride even more exciting! The sights and sounds and smells they experience are far from virtual!
Radiator Springs Racers:
Zoom through the desert landscape of Cars Land on the most popular road in Disney California Adventure! Radiator Springs Racers brings out the competitor in everyone. Capture the racing spirit at home with your own race track. Use your own wheels or travel on foot through a sidewalk chalk track, watch out for cones, and remember to slow down around the curves.
I let the kids draw their own race track with sidewalk chalk. They had fun creating roads and then racing around them. We used the tiny cones to weave through! The tiny cones were from the dollar store.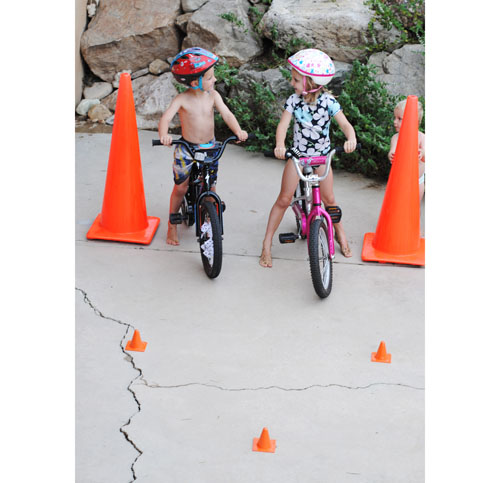 Toy Story Midway Mania
: Nothing says summer better than a carnival! Join Woody and Buzz and all of your Toy Story friends at Paradise Pier. Enter the 4-D world to shoot darts, blast baseballs, toss eggs, throw rings and more with your very own Spring Action Shooter. It's a rowdy good time. Take aim in your own backyard with power blasting water shooters! Spray each other, soak the trees, knock toy targets off the ledge, and cool off with your own version of Midway Maina! In this version, everyone gets a top score!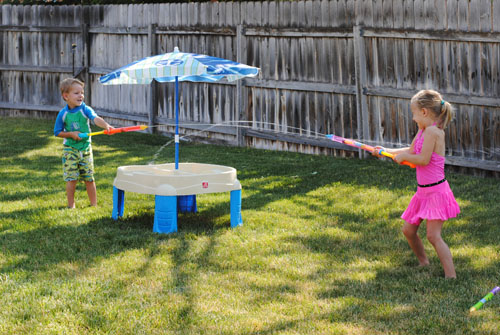 We used our bath toys as targets. The kids loved shooting them off of the ledge into the water.
Spending a day at Disney California Adventure is so much fun for the entire family. You can relive those festive memories at home with your own theme park adventure! Let your imaginations take you back to the Happiest Place on Earth.
And when you're ready to book again, we'd love to help you! We'll help you find the right hotel at the right price and make sure you get the best deal on park tickets. Book online or call our Disney Experts at 855-GET-AWAY.

Check out these other great articles for more magic at home:
Create Your Own Backyard Disneyland
Lime Mickey Recipe
Frozen Fun Round-up
Mickey and Minnie Oreos