We love Disneyland history and looking back at memories over the years. This article is no longer being updated, but is a great way to look back and see what was happening at Disneyland when this was originally published.
Disneyland is kicking off their Disneyland Resort Diamond Celebration in the best possible way - with a 24-hour party! The official event will begin at 6am on Friday, May 22 and last all the way until 6am on Saturday morning. If you've been following our blog, you know that the Disneyland Diamond Celebration will bring a thrilling line up of nighttime entertainment. We can't decide if we are most excited for the all-new World of Color Celebrate show, the Disneyland Forever fireworks or the Disney Paint the Night Parade! Normally it would be pretty tough to see all three of these nighttime spectaculars in one night, but it won't be at the Diamond Celebration kick-off party. Here's the proposed schedule for the new shows (subject to change):
Disneyland Forever: 9:30pm
Paint the Night parade: 8:50pm and 1:00am
World of Color Celebrate: 9:00pm, 10:15pm and 3:00am
Even though there's only one fireworks showing, remember you can view it from multiple locations throughout the park. You'll want to stake out a spot nice and early. Choose from Main Street U.S.A., "it's a small world," the Matterhorn, Sleeping Beauty Castle or Rivers of America.
Check out this fun video highlighting the new nighttime shows:
There is so much excitement around the new shows, but let's not forget about our classic favorites! There will be multiple showings of Fantasmic! and the brighter than before Diamond Mad T Party will be going strong from 6pm - 6am! For the First Time in Forever - A Frozen Sing-a-long will play 14 times with the first showing beginning at 9am and the last showing starting at 11pm. You'll have five opportunities to watch Disney's Aladdin - A Musical Spectacular with the last showing at 7:50pm and five opportunities to see Mickey and the Magical Map with the last show at 7:15pm. The Pixar Play Parade is currently scheduled for its regular time at 5:15pm. The hardest part will definitely be choosing which shows to see.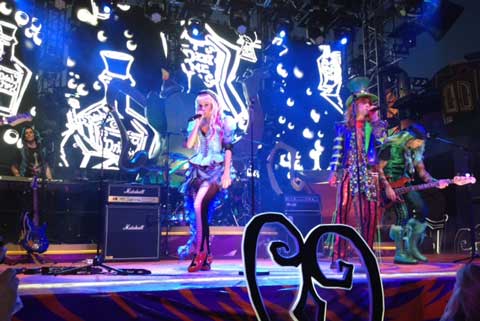 There's been a lot of buzz surrounding the attractions as well, and with good reason! The Matterhorn will make its debut with top secret enhancements, Peter Pan's Flight will return with new special effects and Soarin' Over California will make its highly anticipated return with updated technology.
Party goers will be able to enjoy all of the remaining attractions and extra entertainment as part of the celebration. Exclusive 24 hour party and Diamond Celebration merchandise and food items can be expected. Speaking of food, not all restaurants will be open during the entire party. If there is someplace special you'd like to dine at during the party, reservations are highly recommended. The Blue Bayou will be open from 11:30am - 2:00am and Cafe Orleans will be open from 11:30am - 5:00am. Many quick serve restaurants and food carts/kiosks will have food available around the clock.
Who needs sleep when a once-in-a-lifetime party is taking place? The 24-hour party is included with your regular admission, but there is limited capacity. We recommend getting to the park as early as possible. Consider staying at one of the Disneyland Resort Hotels so if you need a midday break, you're just a hop, skip and a jump away. You don't want to miss any of the excitement!
Book your
Disneyland Diamond Celebration
vacation for the kick-off while there's still time! Call our Disney Experts at 855-GET-AWAY or check out our available Disneyland packages online.

Check out these other great articles:
Disneyland Resort Diamond Celebration on Studio 5
15 Can't Miss Disneyland Diamond Celebration Updates
Disneyland Diamond Celebration Announcements