Is your family heading on a Disney vacation? These cute and easy Mickey and Minnie Countdown Chains are the perfect thing to help the time fly by!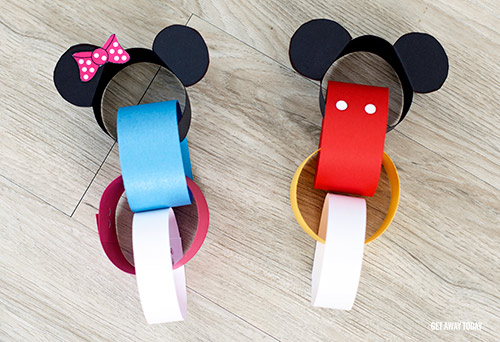 Several months ago, we posted a few pictures of a Mickey and Minnie Countdown Chain onto our blog. Since then, we have had countless requests for a tutorial on how to make one. So, we decided we had better put together a tutorial! I have to admit, these Mickey and Minnie countdown chains are so fun to make and they are seriously adorable hanging on my wall. I hope you enjoy making them as much as I did, and that they help your family get excited for your upcoming Disneyland vacation.
To Make Four "Mouse Bodies" You Will Need:
1
Colored Sheet of Paper
for each Segment of the Chain
20 Inches of
Thin Ribbon
Tape
,
Scissors
,
Glue Stick
Pattern:
(download)
Circle Header for your destination:
(Disneyland download)
(Disney World download)
(Disney Cruise download)
Daily Activities
: (download)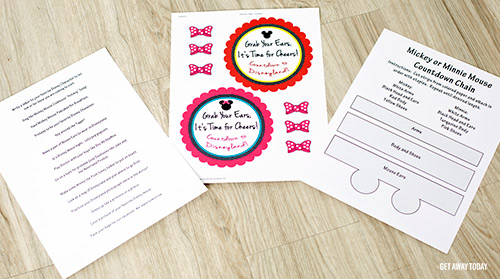 Start by
downloading the pattern for the strips of paper
. Cut four strips of each segment of the mouse. The body and feet are 1.5 inches wide and 8 inches long. The arms are 1 inch wide and 8 inches long.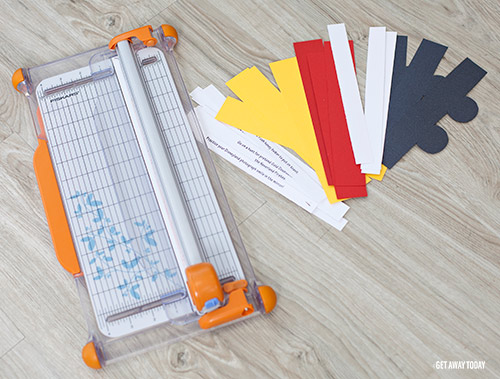 Trace the mouse ears pattern onto the black paper using a white crayon, cut, and fold ears upwards.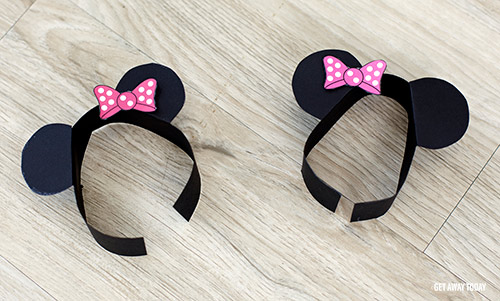 If you want to include a fun "daily activity" suggestion on the chain links, print the activities here. Cut each activity out and glue it onto the inside of the strips. You can glue an activity suggestion inside each link or put them in at random. I glued them on all the yellow strips for my own countdown chain.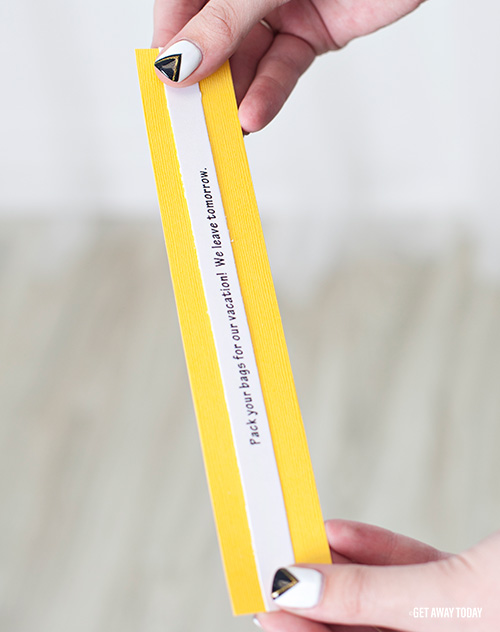 Start building the chain and securing each link with a staple. The order for Mickey is white arms, black face/ears, red body, and yellow shoes. The order for Minnie is white arms, black face/ears, turquoise body, and pink shoes.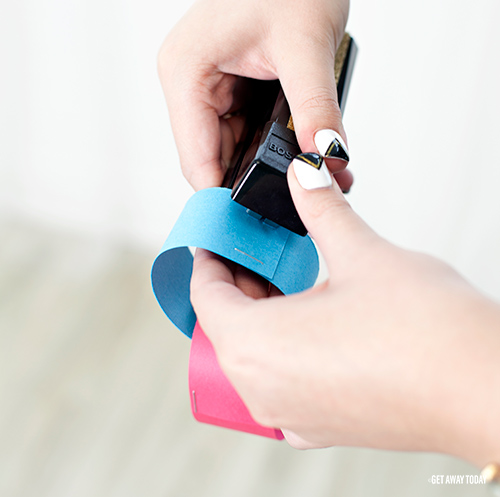 Continue adding links until you have enough links to "countdown" to your departure date!
Cut and add white button dots to the front of the red link on Mickey's body. Cut and glue the pink bow onto Minnie's ears. The bows are included on the header page.

Once your chain is complete, print the header. There is one for a Mickey chain and one for a Minnie chain. Cut your choice of header out.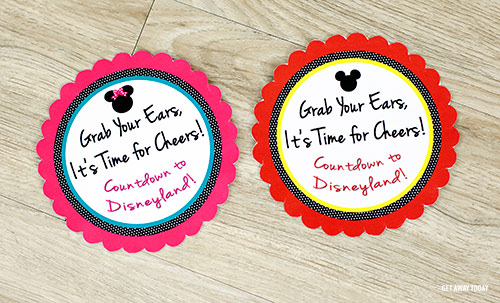 Tie the ribbon around the top link of the chain and tape it to the back of the header. I tied the top of the ribbon in a knot, so it can easily slip over a push pin.

Now the vacation countdown begins! Your kids will love getting to take a link off each day and knowing its one day closer to their vacation. This is the perfect thing for the gift of a future vacation too. You could always include all the supplies needed for this Mickey and Minnie countdown chain with your surprise announcement. Or, wrap the supplies and let the Mickey and Minnie countdown chain be the reveal itself.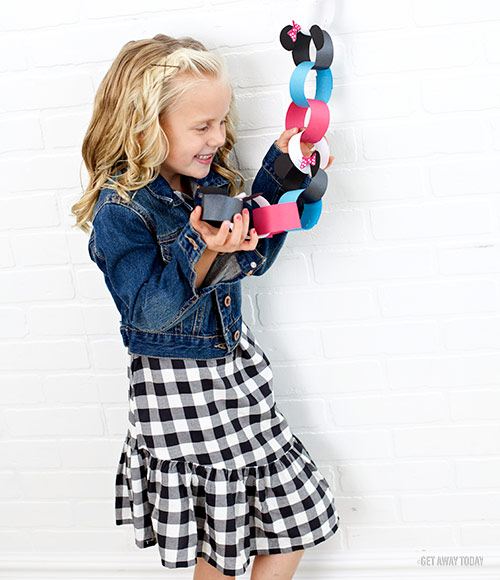 If you don't already have a Disneyland vacation to look forward to, let us help you plan one so you can use this cute Mickey and Minnie countdown chain! We have the lowest ticket prices, best hotel deals, and to top it off, we even offer interest free layaway plans on our Disneyland packages! Book online or call our Reservation Specialists at 855-GET-AWAY.