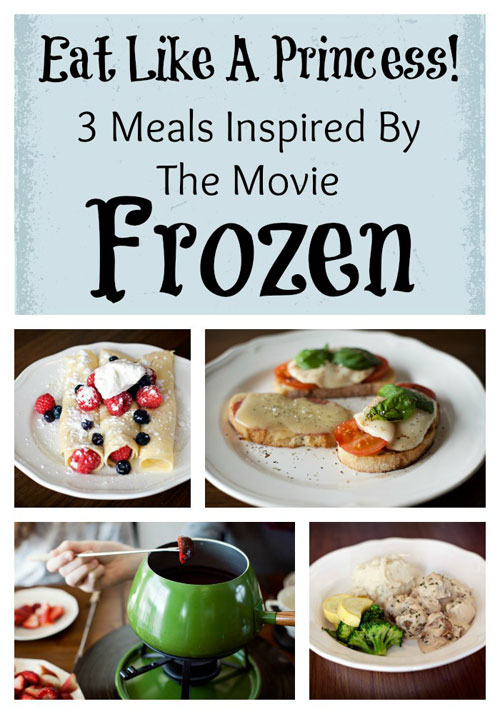 If your family is anything like mine, you love Disney's movie – Frozen. It is a beautiful story about the adventures and love between two sisters. In our family there are two sisters as well, who love each other and who loved the movie! We've been singing the songs and quoting the movie for weeks now. After a discussion about Norway (where the story takes place) we decided it would be fun to have an "Eat like Elsa and Anna Day!" So, we set out to create a menu based on three Norwegian meals. My daughters and I love to cook, and we had a lot of fun researching Norwegian foods. We came up with the perfect menu for a Frozen Saturday! Here's what we did: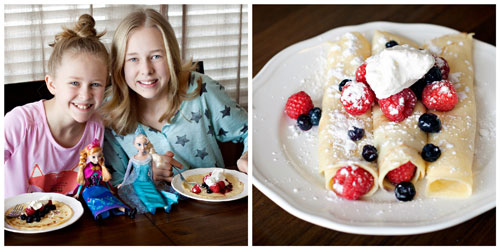 Breakfast: Norwegian Pancakes
We were a little intimidated to try and make these pancakes at first, because we hadn't ever made crepes before – and that's what these reminded us of. To our surprise, they were super easy to make and so delicious! We ate them in our jammies, and I think we have found a new Saturday morning tradition. We topped our pancakes with fresh berries, whipped cream and powdered sugar that looked like snow. It was a breakfast fit for a princess, so of course Elsa and Anna joined us!
Click here for the Norwegian Pancake Recipe
we used.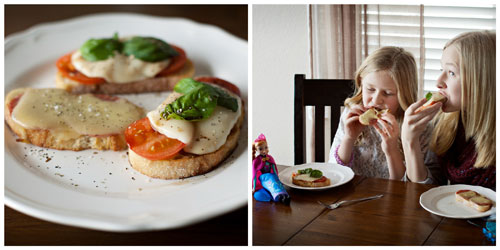 Lunch: Opened-Faced Sandwiches
Opened-face sandwiches are very popular in Norway. We decided to try a Caprese version along with a Salami-Cheddar version. Both turned out incredibly tasty and they were fun to make. And, of course we had a lot of mention and singing of "finishing each others sandwiches" and "that's what I was going to say!" during lunch. There are endless ingredient possibilities when making these sandwiches.
Click here for the recipe we used for our Caprese open faced sandwiches
.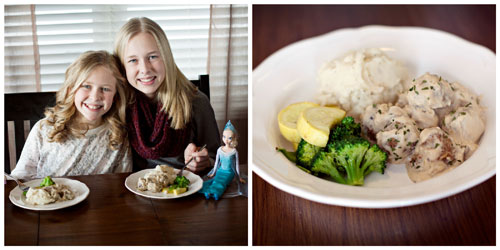 Dinner: Norwegian Meatballs and Gravy
For dinner we chose to make Norwegian Meatballs and Gravy. It was the perfect meal to finish off our "Frozen" menu, and an excellent choice for my little princesses! We served ours with some homemade mashed potatoes and steamed veggies. It was a dinner fit for royalty and an excellent choice for a chilly night.
Click here for the recipe we used for our Norwegian Meatballs and Gravy.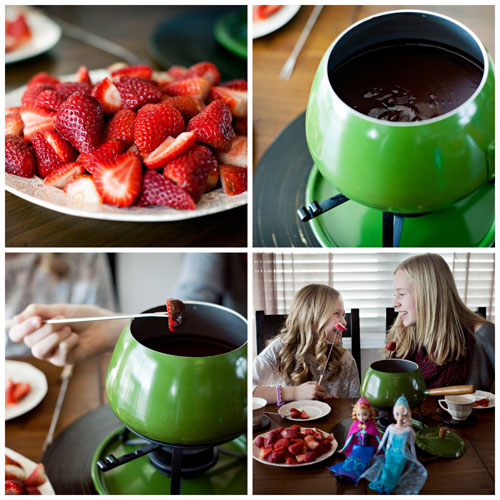 Dessert: Chocolate Fondue
We wanted to finish off our menu with a dessert, so naturally we chose chocolate fondue! Those of you that have seen the movie and remember the song "Love is an Open Door" will know all about the chocolate fondue at Elsa's coronation party. Yum! We cut up fresh strawberries and dipped until our tummies ached. It was the perfect ending to our "Frozen" food day.
Click here for our chocolate fondue recipe.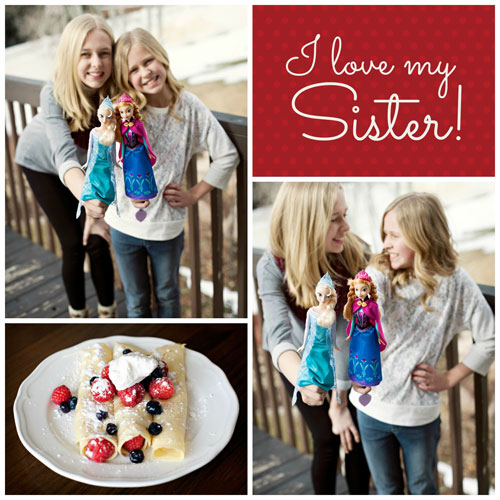 By the end of the night we were happy and full, and my girls were feeling like Norwegian royalty – just like Elsa and Anna. The sisterly love was flowing, and we made some unforgettable magical memories together. There is nothing like having a sister – it means having a best friend for life. I am so happy these two have each other. Next up – an Adventures by Disney trip to Norway to see how our food compares to the real thing? Or, maybe we'll swing by the Disneyland Resort where Elsa and Anna are currently greeting guests in Fantasyland! Either way, we'll be making memories that will last a lifetime. Book any of our
Disneyland packages
online, or call our Disney Vacation Experts at 855-GET-AWAY.

Check out these other great articles:

Elsa's Frozen Powers Bracelet Tutorial
3 Frozen Activities for Magic at Home
Queen Elsa Dress Tutorial