Last week we were lucky to have representatives from two of our favorite hotels stop by our office: Erica from the
Embassy Suites Anaheim South
and Russell from the
Embassy Suites La Jolla
. Both properties spoil guests with the standard Embassy Suites amenities including spacious guest rooms with separate living room areas equipped with a microwave and refrigerator, Manager's Reception Hours and daily breakfast. While Erica and Russell were here, we asked what they want our guests to know about their fabulous hotels. This is what they had to say:
Embassy Suites La Jolla
:
This fantastic hotel is located within 15-20 minutes of almost all of San Diego's major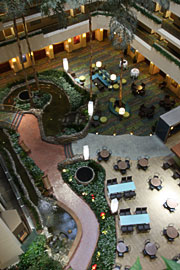 attractions, just seven minutes to downtown La Jolla and only five minutes to La Jolla's pristine beaches. It's also located directly next to the Westfield UTC (University Town Center), which features over 50 shops and dining options, so you really can't get a more convenient location for a San Diego vacation.
The
Embassy Suites La Jolla
also features a unique atrium complete with waterfalls and koi ponds. Because of the distinctive design of the atrium, you'll oftentimes see pictures of the Embassy Suites La Jolla in different promotions and ads, which is pretty cool. The Embassy Suites La Jolla is also where a lot of new breakfast items are first introduced to guests before being served at other Embassy Suites properties. The Manager's Reception here serves light snacks with a full bar. If you're looking for something more substantial in the food department, their in-house restaurant offers happy hour specials on their most popular appetizers. Some other great amenities that set the
Embassy Suites La Jolla
apart are the outdoor fire pits (I love them) and sundeck as well as a great indoor pool.

Embassy Suites Anaheim South
: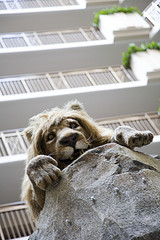 This is the closest Embassy Suites to the Disneyland Resort (just about one mile away) and is easily one of our most popular Anaheim area hotels. The Embassy Suites Anaheim South also features a great atrium with waterfalls and koi ponds. You may also spot some live turtles swimming or crawling around, but you'll definitely take notice of the animatronic lion that roars every hour on the hour. Kids (and adults) love it!
Because the
Embassy Suites Anaheim South
is so popular with families, their Manager's Reception rotates popular snacks with free drinks (non-alcoholic beverages as well as wine and beer). Their chef has also created affordable dinner options (think street tacos 3 for $5) that families love. Another feature available to guests at the Embassy Suites Anaheim South is the new OC Trolley. The OC Trolley picks up from the Embassy Suites from 11am - 11pm and offers FREE transportation to downtown Garden Grove (near Little Saigon, Little Tokyo and an In-N-Out), the Garden Walk and the Outlets at Orange.

Overall, both hotels are awesome options for your Southern California vacation. For the best experience we recommend starting at the Embassy Suites Anaheim South, then finishing up your vacation at the Embassy Suites La Jolla to see and do all that Southern California has to offer!
Check out these other great blog articles:
Monstrous Summer Kicks of at Disneyland Resort
Mickey and the Magical Map Premieres at Disneyland
SeaWorld Summer Nights are Coming to San Diego