SeaWorld San Diego is a perfect attraction for your Southern California vacation, especially if you have toddlers. We've compiled everything you need to know about the Bay of Play at SeaWorld San Diego to make your trip with your little ones even better.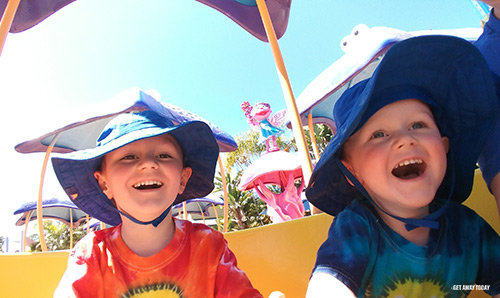 When you think SeaWorld San Diego, your first thought probably isn't Sesame Street. But when you have Elmo and Big Bird obsessed toddlers, it can be! The Bay of Play at SeaWorld San Diego is a Sesame Street themed play area created for toddlers. If you have kids ages 2 - 6, you'll for sure want to plan on spending a good amount of time at the Bay of Play. I just returned with my family and I've put together a list of everything you need to know about the Bay of Play at SeaWorld San Diego.
First, there are super cute Sesame Street character meet and greets. Elmo is always a character to meet, but his partner changes. We have been lucky enough to meet Elmo with Cookie Monster, Abby Cadabby and Big Bird. You can find the schedule times on your park map, which are usually later in the day. When we were there, the first Sesame Street character meet and greet began at 1 PM. I recommend getting there 10 to 15 minutes before the characters arrive so you can be at the front of the line. We arrived eight minutes early on a busy Saturday, were able to wait in the shade and we were the first ones to meet them! There is a professional photographer, but a worker will normally take a picture of your whole group with your phone if you ask.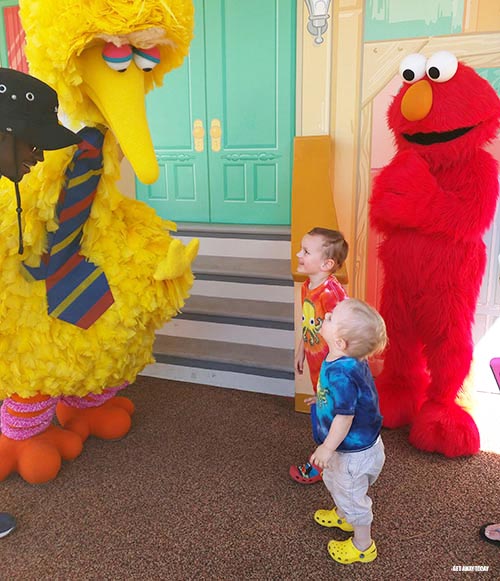 Second, there are three traditional theme park attractions right inside the Bay of Play at SeaWorld San Diego. Elmo's Flying Fish is similar to the Dumbo the Flying Elephant attraction at Disneyland. Likewise, Abby's Sea Star Span is similar to the Tea Cups at Disneyland. Oscar's Rocking Eel is a ride that rocks riders back and forth like a boat. Each ride provides plenty of fun for your family!
In order to ride alone, kids must be anywhere from 42 to 48 inches. There is no minimum height requirement in order to ride any of the three attractions, but your kids must be able to walk onto the attraction themselves. That means if you darling little one-year-old can toddle on, they can ride with you. If not, rider swap, which leads us to...
The Bay of Play at SeaWorld San Diego allows rider swap! If you happen to have babies with you that aren't able to ride, mom or dad can ride with an older sibling or two depending on the attraction. Then, whoever stayed behind with the baby can swap out and ride immediately after. It is awesome. My kids loved being able to ride everything back to back.
The Bay of Play at SeaWorld San Diego also has shady areas that are perfect for cooling off. There are separate bounce areas for little kids. One is for children 40 inches and taller, and the other is for babies up to 39 inches. That way, your child can bounce away without bouncing over any little kids or without being knocked down by any bigger kids!
There are plenty of water play areas. These areas are perfect on a hot day! And no need to worry if you didn't bring swim clothes. There is a shop right next to the play fountains called Splish Splash where you can buy swimsuits, rash guard shirts, sunscreen, water socks and more.
Of course, there are plenty of dry play areas too. Giant rope nets for climbing, tunnels and more provide hours of fun for kids of all ages.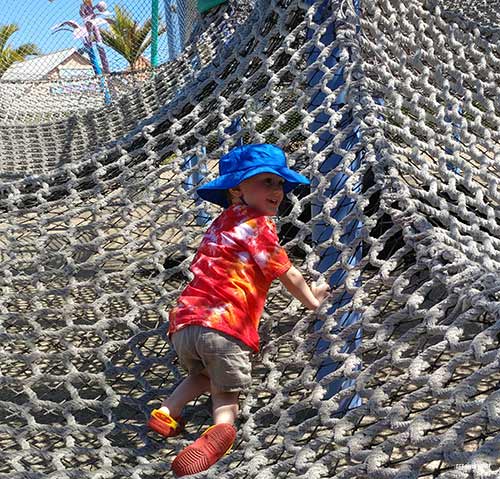 The Bay of Play at SeaWorld San Diego gets busier later in the day. If you go to the Bay of Play first thing in the morning, you will likely be able to walk on most or all of the rides. Keep in mind that if your kids want to meet the Sesame Street characters, you'll likely have to come back later in the day. Remember, we went on a busy Saturday. The park opened at 10 AM, but Elmo didn't make his first appearance until 1 PM.
The Bay of Play is just one tiny area of SeaWorld San Diego, but my kids could have spent all day there! If you are heading to San Diego, I recommend taking advantage of the seven days for the price of one ticket. That way, if your kids want to spend an afternoon at the Bay of Play, you don't feel bad missing any of SeaWorld's many shows or exhibits. Make sure you give yourself enough time to watch all of the shows and enjoy all of the interactive exhibits.
We'd love to help you book your San Diego vacation! Not only will you save on your SeaWorld San Diego tickets, you'll also save on your hotel. We partner with the best hotels in San Diego for your family vacation. You can book your vacation online, or call our vacation experts at 855-GET-AWAY.

Check out these other great articles: