UPDATE:
You can read about Fantasmic's latest updates here:
New Fantastmic! Viewing Options at Disneyland
At Get Away Today, we are your Disney experts. One of our favorite shows, especially during summertime, is Fantasmic!, a nighttime show playing along the Rivers of America. Because of its popularity, we get a lot of questions about it. What is it about? How long is it? Where can I see it? Do I need a ticket? We've put together some facts and helpful tips all about Fantasmic! to make your summer vacation just a little easier to plan.
First of all, Fantasmic! is all about the power of imagination. In the 25-minute show, Mickey's imagination comes to life in an amazing spectacle of pyrotechnics, lasers, water screens, animation, fire and water effects and live action sequences featuring many favorite Disney characters and villains.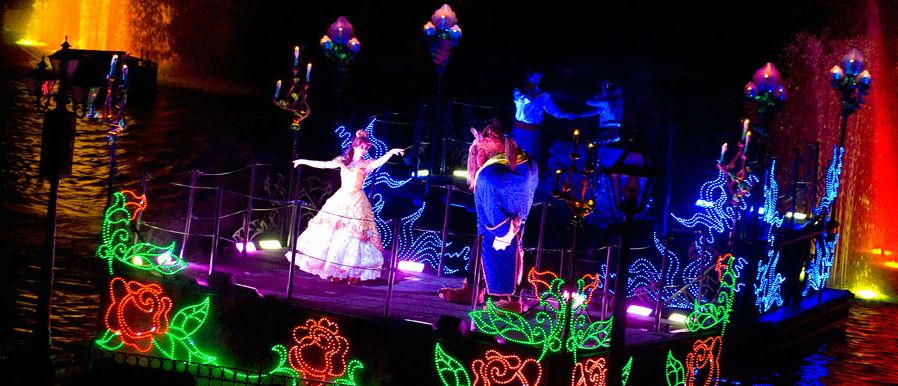 Image credit: Disneyland.com ©Disney
If you're traveling to Disneyland this summer (and we of course think you should!), you'll want to be sure to schedule time for Fantasmic! During non-peak times you can only catch Fantasmic! on weekends, but during Monstrous Summer, Fantasmic! plays nightly - sometimes twice or even three times per night!
This show can be viewed from many areas around the Rivers of America. Because the show is very popular and there are no tickets, people start staking out prime viewing spots as early as four hours before the first show starts. However, because a lot of the show takes place in the air or on raised platforms, you can normally walk up shortly before show time and still find a spot where you can see most of the show. If you wait for the second show, you can normally get a better spot, just don't let crowds scare you away. We promise, it really is worth it!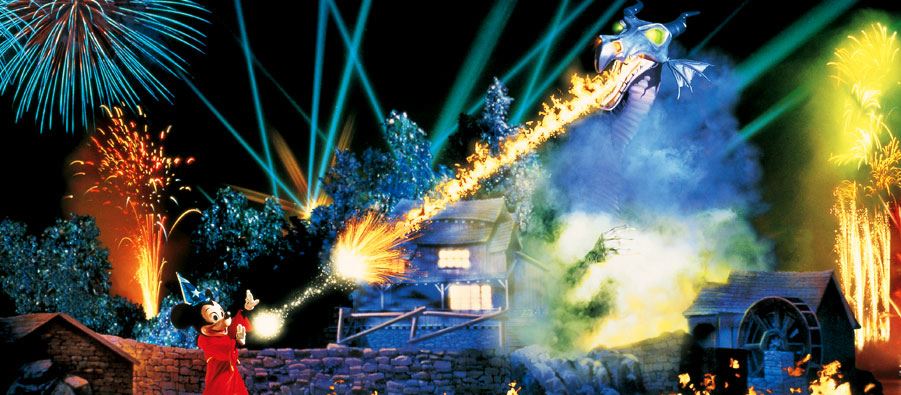 Image credit: Disneyland.com ©Disney
If you're looking for a splurge, we recommend purchasing Fantasmic! Premium Viewing, which includes a reserved seat, a selection of desserts and unlimited non-alcoholic drinks during the show. Tickets are for $60 per adult and $50 per child (ages 3-9). The reserved seating area is in front of the French Market and all seats are in front of one of the water screens with a good view of the main stage on Tom Sawyer island. Tickets can be reserved 30 days in advance by calling 714-781-SHOW (7469) and seats are assigned day of, first come, first served.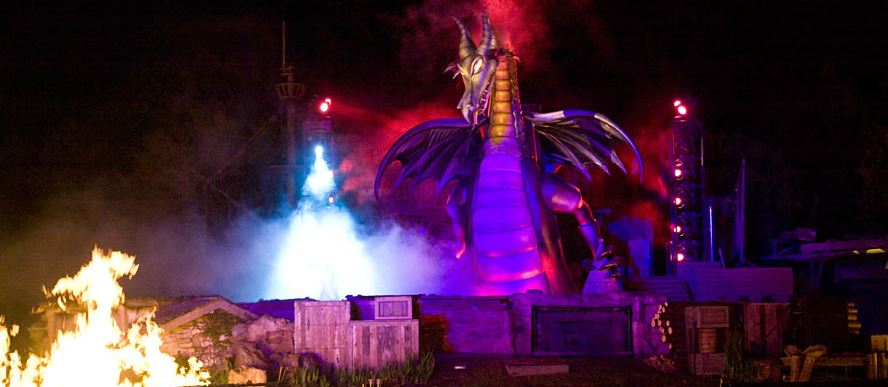 Image credit: Disneyland.com ©Disney
Also, just a couple of random notes that may be helpful, if you're in the first few rows, you may get sprayed by the giant water screens. You probably won't get drenched, but maybe a little damp. If it's cooler, you may consider wearing a poncho. Also, remember Fantasmic! takes place after dark and has some scenes that may scare young children. You know your kids best, but kids age seven and up normally won't be too scared. There's a giant snake and dragon as well as a "nightmare" scene conjured up by the Evil Queen, so use your best judgement. Of course, it's Disney, so in the end good always conquers all!

Check out these other great blog articles:
Monstrous Summer at the Disneyland Resort
Disneyland: 20 Things To Make The Most Out Of A Summer Day
Mickey and the Magical Map Opening this Weekend!
All information is current as of publishing date. Please sign-up for our RSS feed or follow us on
Facebook
,
Instagram
,
Youtube
and
Pinterest
for the most up-to-date information.