One of the best things about school staring up again is the fact that I get to surprise my kids with after school snacks. It makes me so happy when they burst through the door yelling, "Mom, we're home!" It makes them happy to find a yummy treat waiting for them in the kitchen. Kids work hard at school - in the classroom and on the playground. They are always hungry after a long day and these FROZEN inspired ice pops are the perfect way to refresh and delight your starving children.

Our ice pops are not just ordinary freezer pops. They are inspired by the newest Disney classic, Frozen. The first pops featured are Olaf's Summertime Dream Pops. They are full of all things summer - fruity and tropical. The second pops are Elsa's favorite! Trick your taste buds with Elsa's Frozen Hot Chocolate Pops.

You can let your kids help make the ice pops before they leave for school so that they will be ready for them when they get home. Or, put the recipe together yourself as a special surprise. Either way, these FROZEN Pops are sure to be a cool success!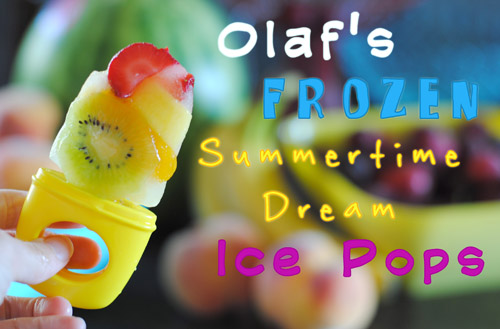 INGREDIENTS:
Tropical Fruits
Coconut Water
Ice Pop Molds

If you don't already have a mold that you use, we really liked these from Amazon. You can just click the image below and buy straight from their site.




You only need a few things to make these delicious popsicles. Choose the kind of fruit that your kids will enjoy. I think the more variety you can include, the better! The bright colors make these treats so fun. I used: kiwi, pineapple, mango, strawberries, bananas, and mandarin oranges.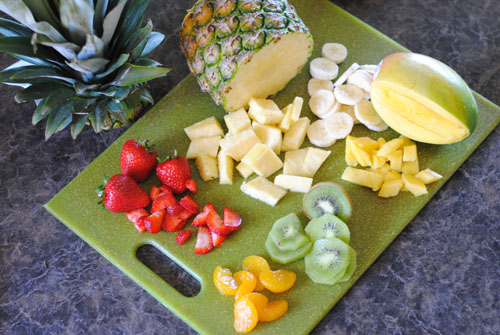 Cut the fruit into pieces. Stuff the fruit into the ice pop molds alternating between the different varieties. Each ice pop mold should have some of each type of fruit. You can pack the fruit in pretty tightly.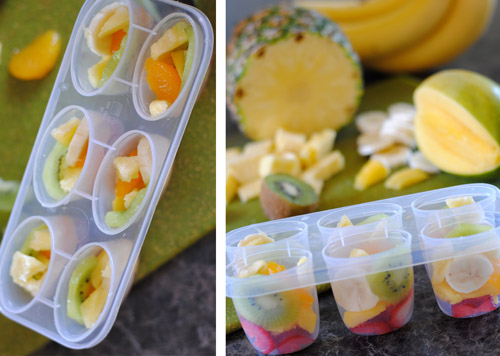 Fill the remaining space in each mold with coconut water. Leave a 1/2 inch opening at the top of each one so that they won't overflow when you put the tops into the mold.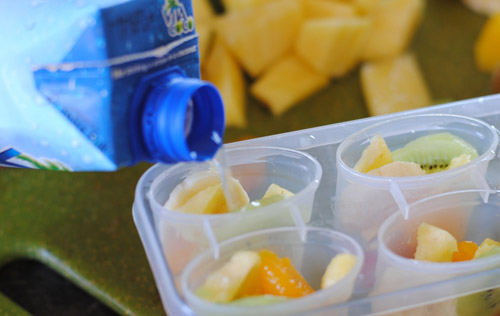 Stick ice pop toppers into the molds and place them in the freezer. Let them freeze for at least five hours or until completely frozen.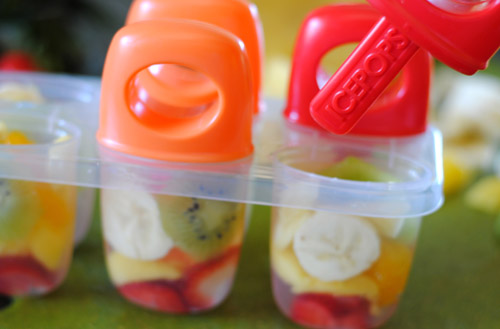 When the pops are frozen, run them under water for about 30 seconds. This will make the ice pop slide out without sticking. This incredibly healthy frozen snack passed the taste test at our house, I am sure it will at your house too.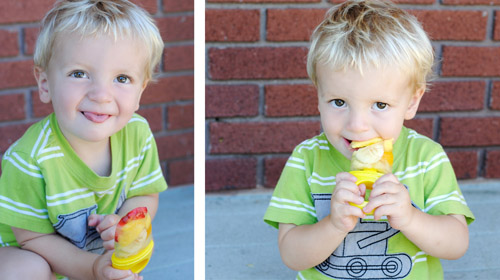 INGREDIENTS:
Hot Chocolate Powder
Water
Mini Marshmallows
Ice Pop Molds

Warm up about one cup of water until it is steaming. It doesn't have to boil. Mix the hot chocolate powder into the water according to the directions on the package. Cocoa powder does not combine well with cool water, so it is important that you use hot water.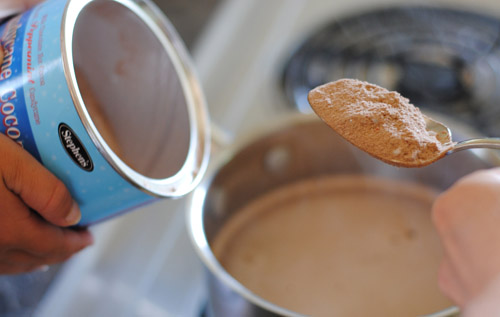 Pour the hot cocoa into the the ice pop molds using a measuring cup. Only fill each cup to be 2/3 full.




Let the cocoa cool for about 10 minutes. Then, add a thick layer of mini marshmallows to the the top of the cocoa. If you don't let the cocoa cool, the marshmallows melt. I wish I would have waited a little bit longer to add mine, so be patient. You could speed up the process by placing the mold in the freezer for a few minutes before you add the marshmallows.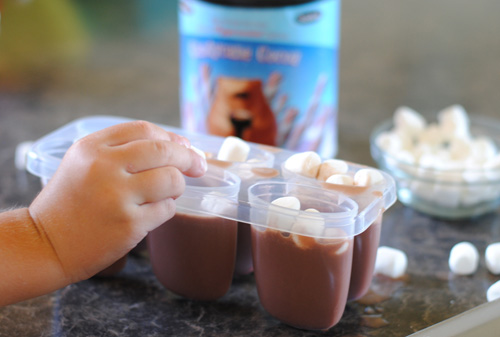 Place the ice pop toppers into the molds and then put them into the freezer. Let freeze for at least 5 hours or until completely frozen.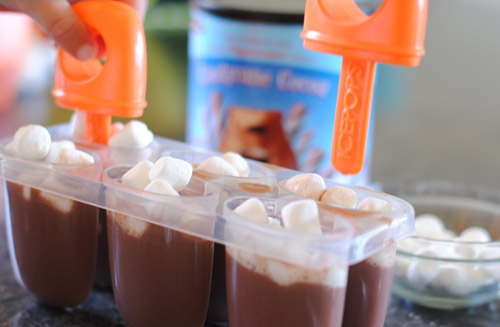 When the pops are ready, run them under hot water for about 30 seconds, so they side out of the molds easily. My kids were so excited to taste these treats that they ate them for breakfast! I am sure your kids will be excited too try them as well.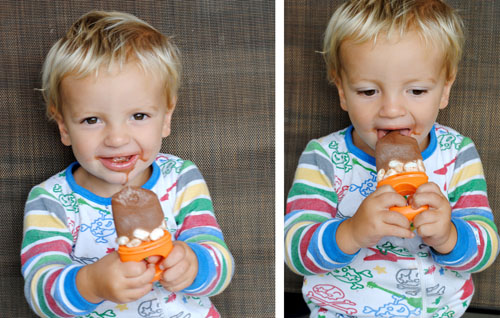 We hope you enjoy these Frozen-inspired ice pops as much as Olaf and Elsa do! When you're ready to have some Frozen fun at Disneyland, be sure to let us know! We'll make sure you find the coolest deal and tell you how to meet your favorite Frozen characters while you're there. Book online or call our Disney Experts at 855-GET-AWAY.


Check out these other great articles:

Elsa, Anna and Olaf at Disneyland
Frozen Fun Roundup
Summer of Frozen Fun at Disney's Hollywood Studios