Who doesn't love party food? It is the best! The great thing about party food is that it's not just to eat, it can also be part of the party decor. You can use food to set a mood, present a theme or tell a story. Whether you are serving a full meal or just snacks, your spread can be the center point of the entire party.
We put together a menu for a Frozen Party. This is not a typical Frozen party, because in addition to the frosty winter eats, we also splurged and invited summer treats to join in on the festivities. One of our favorite parts of the Frozen Movie is Olaf's dream to bring back summer. Anna wouldn't spoil his dream, and neither will we. Let your party guests sample a bit of Elsa's frost and have a warm taste of summer, too! It is a perfect combination of hot and cold.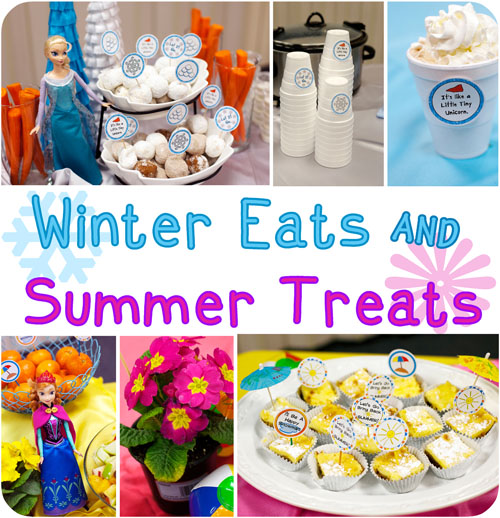 For the frosty winter food table, we suggest serving comfort foods. Warm cinnamon rolls, hot cocoa with frosty whipped topping, powdered doughnut hole snowballs, carrot noses with snowy ranch dip cups and string cheese snowmen all make us think of winter. Olaf needs some friends, right?!
Cinnamon Rolls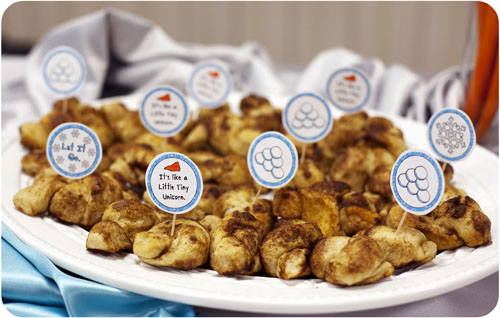 Hot Cocoa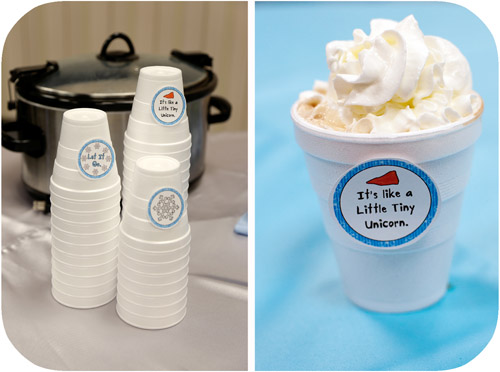 "Snowball" Doughnut Holes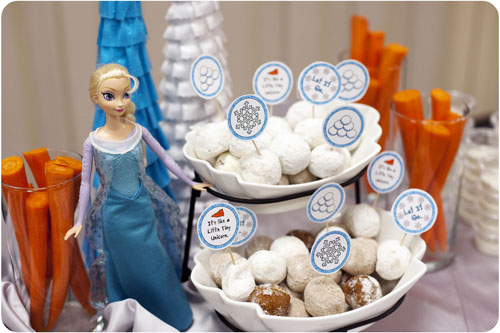 Carrot "Noses" with Ranch Dip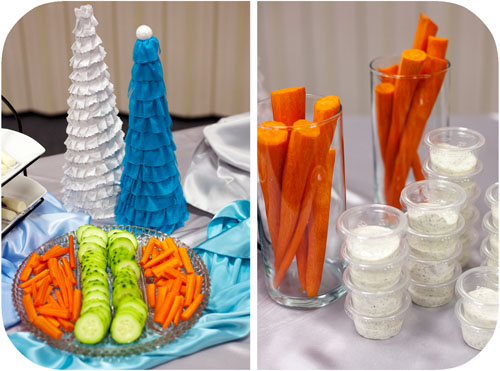 Cheesy Snowmen - You can make your own cheese snowmen with supplies you have in your craft area. I used washi tape to make the nose and hat. Just cut it to the shape you need and stick it on! Colored paper or felt would work too. I drew eyes and mouth directly onto the package with a black sharpie marker. I cut a small strip of fleece and tied it around the neck for a scarf. You could also use twine, string or yarn. Store them in the fridge until you are ready for the party so they stay cool and fresh.
Decorate the table with cool colors and and winter items. Blue, sliver, white, gray, purple, and turquoise are all very Elsa-like. You can print off these cute food labels to use at your Winter Table. There are four designs. We taped some onto cups and poked them into the cinnamon rolls and doughnut holes with toothpicks. These tags are an easy way to add an extra element of Frozen fun to the table.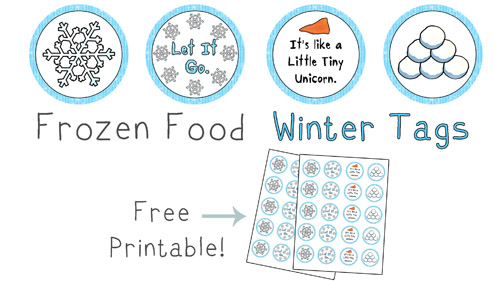 For the Summer Table, serve foods that are bright and refreshing. We chose fresh cut fruit, oranges, lemon bars, chips and salsa, slushy lemonade with sliced lemons and limes, and goldfish crackers - for the little party guests.
Fresh fruit (cut and whole)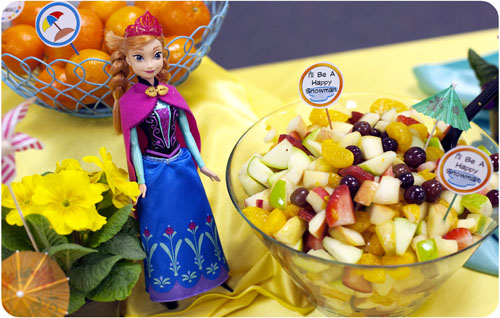 Lemonade with Chips and Salsa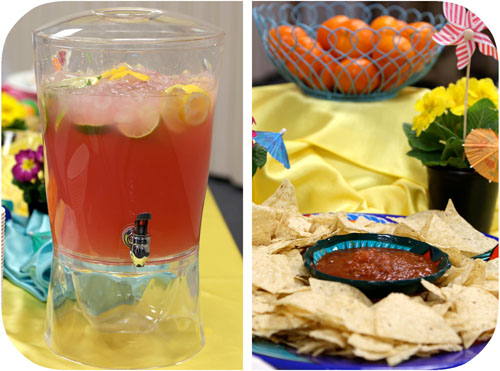 Lemon Bars - These lemon bars are a bright and festive way to add a little sunshine to your summer table. This recipe has the perfect combination of sweet and tangy. They are very easy to make and the kids love the graham cracker crust.
You can get the recipe here.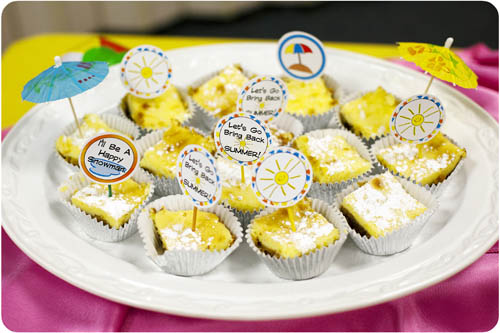 The summer table should contrast the winter table. Use colors that are warm and bright. Yellow, orange, hot pink and bright blues are all great summer colors. Decorate with items like pinwheels, umbrellas, fresh flowers and beach balls. It should feel like a day at the beach, just like in Olaf's dream! You can print these cute Summer food labels to use at your summer table. There are four designs that we printed and taped onto colored toothpicks.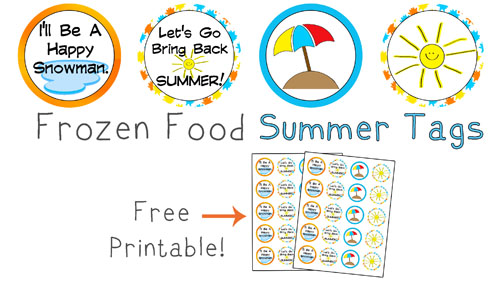 We hope you enjoy making your Frozen Party feast festive and delicious!
For more Frozen fun, visit Anna, Elsa and Olaf in person at the Disneyland Resort! Olaf has prepared a special frosty spot in Fantasyland that is sure to withstand the summer sun. Book any of our
Disneyland packages
online or call one of our Disney Experts at 855-GET-AWAY.

Check out these other great articles:
Olaf Inspired "What Frozen Things Do in Summer" Game
Frozen Inspired Party Game - Free Printable
Frozen Inspired Elsa Dress Tutorial
3 Frozen Inspired Meals
Frozen Fun - Three Magic at Home Activities