Our 2017 FAM trip has been one of the best yet, with the opportunity to see many of our partners and get an up-close look at the vacation packages we offer. Check here for a recap of Wednesday's activities and the chance to win with several giveaways.
Each year, we send our staff to Anaheim to truly experience the hotels and ticket partners we offer our guests. We are lucky enough to tour as many of the properties as we can as well as spend some time at the parks. In case you missed our previous posts about what we've done so far, you can catch up here:
Get Away Today visits Universal Studios Hollywood
Get Away Today goes to Disneyland and Disney California Adventure Park
Wednesday was our first day of hotel tours, with a full schedule and lunch reception to meet with contacts, including those we won't have the chance to visit this trip. Here's a look at all the fun we had:
Our group said one last goodbye to the Disneyland Hotel before shuttling over to the Clarion Hotel for a delicious breakfast. The Clarion Hotel is one of our most popular affordable hotels, especially with its recently renovated rooms. On top of the new decor, the hotel offers a free hot breakfast each morning and free parking exclusively for Get Away Today guests. This alone can save a family $70 per night! Their great rates, including a 3rd Night Free special for select dates, makes them a top choice for families.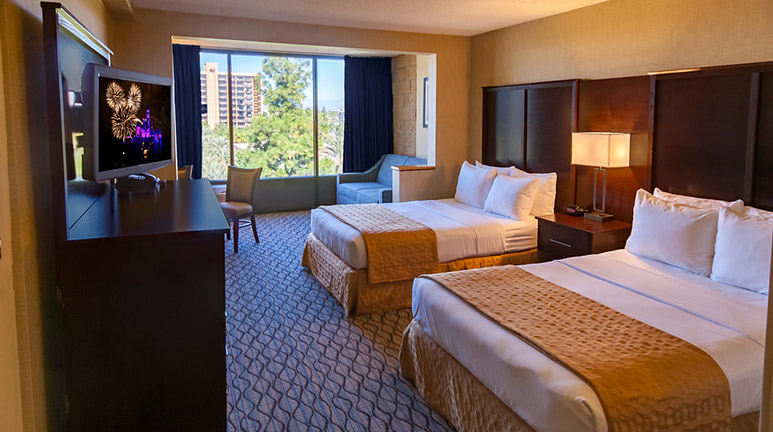 After breakfast and a site tour, we visited the Springhill Suites Maingate next. This is another property that's super popular for families small and large. The hotel was only built a few years ago and offers spacious suites that fit up to six. Plus, you get a free hot breakfast, and when you book with Get Away Today for travel through April 2018, you also get free parking. The 4th Night Free and 5th Night Free specials offered during select dates also make it a great value for your Disneyland vacation!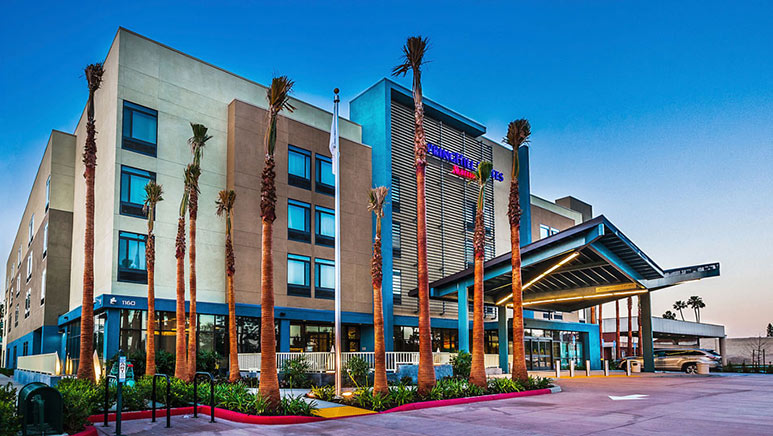 The Staybridge Suites Anaheim at the Park was next. We were so excited to see this hotel as they are a newer partner and they did not disappoint. If you're looking for free breakfast, full kitchens and spacious suites, this is a great choice. The Staybridge Suites Anaheim at the Park even offers free Wi-Fi and reduced parking for Get Away Today guests. It's easy to see why we loved visiting this new property so much!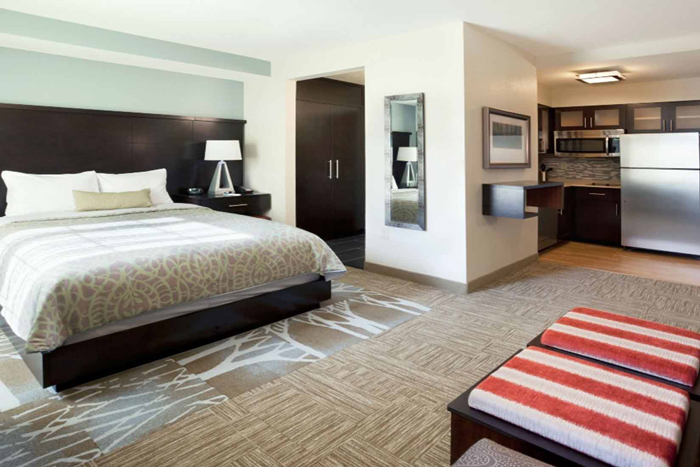 Then we all jumped on the ART shuttle to head over to the Hotel Menage/Four Points by Sheraton. What used to be the Hotel Menage is nearly finished with their renovations to become a Four Points by Sheraton. We had already been impressed with the concept art, but were even more so seeing the finishes in person. The hotel has a new color theme throughout, as well as renovated restaurant, lobby and meeting spaces. The best part is you can enjoy both the new renovation and the old perk of free parking when you book with Get Away Today.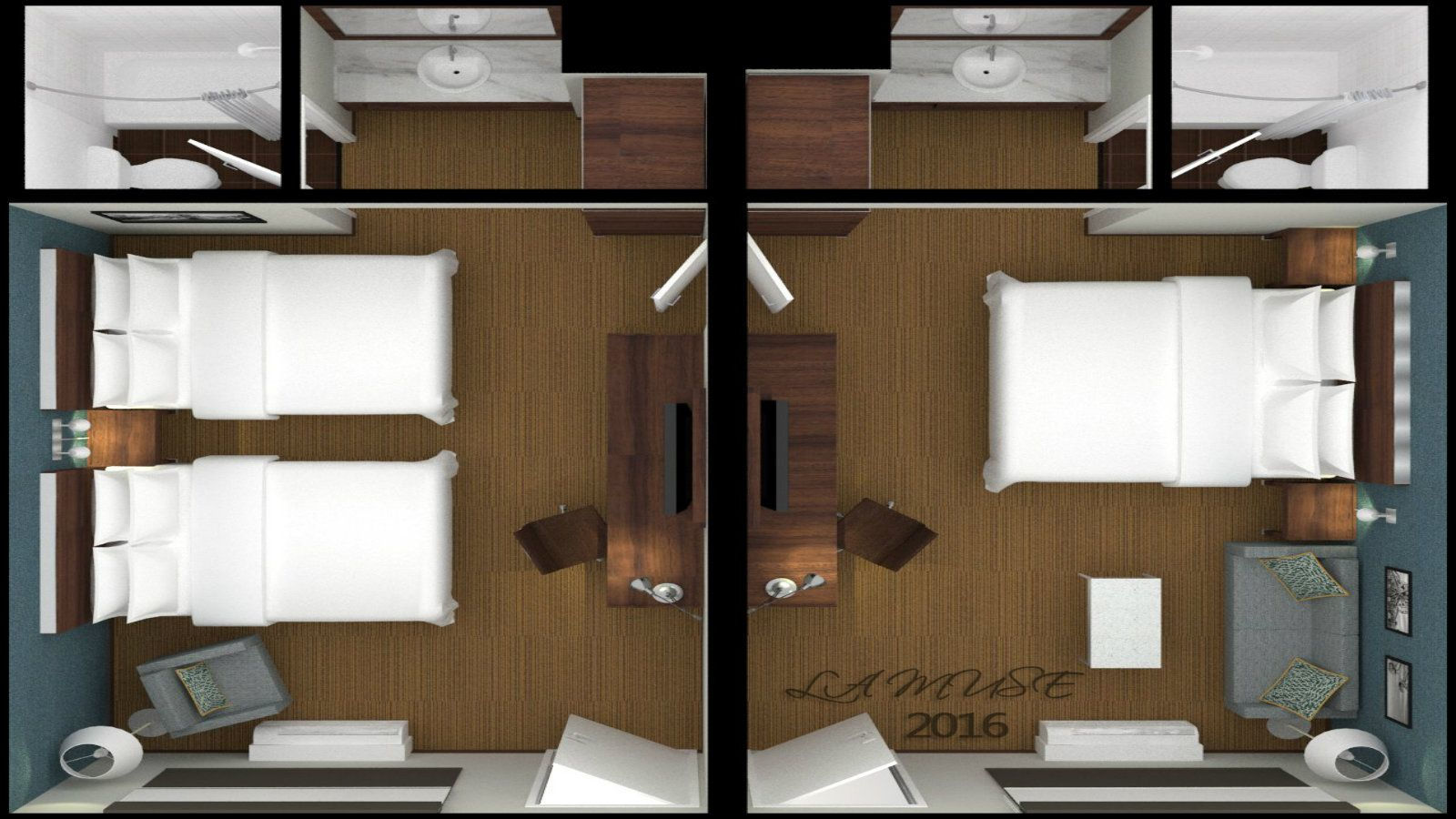 After touring the Four Points, we visited the Country Inn & Suites, our newest hotel partner and one of Anaheim's newest hotels. This was our first site tour of this hotel and we couldn't have been more amazed! The zero-entry swimming pool, spacious rooms, free breakfast and free parking are just a few of the amenities we know you will love. The fact that Disneyland's fireworks can be seen from the pool is another major perk. We were sad to leave this beautiful property behind, but knew we had more ahead of us.
The last hotel visit before our lunch reception was the Anaheim Residence Inn Maingate by Marriott. As we toured this condo-style property, we were reminded of all the reasons why we recommend the Residence Inn Maingate to you, our guests. Suites that fit families of eight, free full breakfast and kitchens in every room are probably the most important things to remember. This Residence Inn is definitely a great choice if you're looking for a home away from home in Anaheim.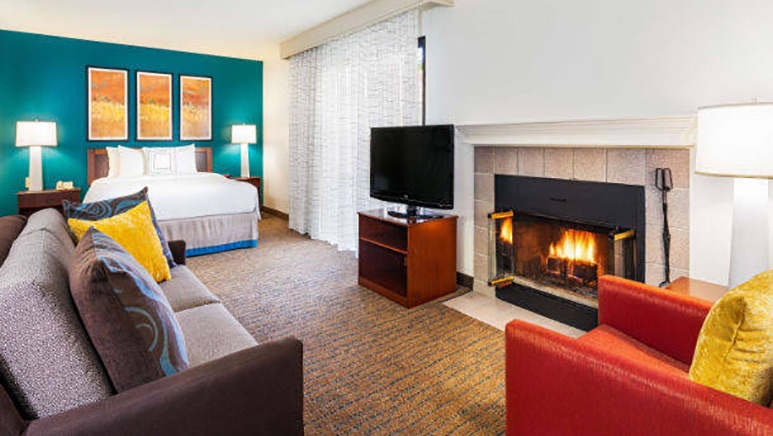 The Visit Anaheim Reception was our next stop, held at the Grasslands Meat Market BBQ & Churrasco within Anaheim GardenWalk. The Anaheim Garden Walk is a fantastic restaurant, shopping and entertainment district just across from the Disneyland Resort. It has fun chain restaurants like the California Pizza Kitchen, Bubba Gump's and the Cheesecake Factory. But, it also has some incredible stand alone restaurants as well. We were super impressed with one if the newest restaurants, the Grasslands Meat Market. They focus on delicious meats from across the Americas, but they have some pretty amazing sides and drinks as well.
During the reception, we were treated with amazing food and the chance to meet so many of our hotel contacts. Since we work with so many partners, it can be hard to visit every single one on our annual FAM trip. Which is why these receptions are so great! Before we knew it, it was time for the mingling to end and our hotel tours to begin again.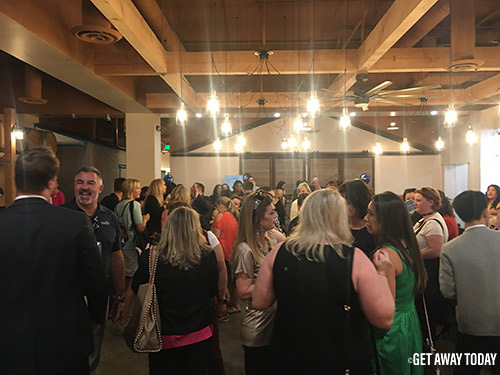 The Candlewood Suites was next on our list and another one of our new hotel partners. Even in the short time we've worked with the Candlewood Suites, they've already left a great impression! Our site tour only magnified that impression as we got to see the apartment-style suites (including full kitchens), large pool and community BBQ areas. This is a great choice for families planning on cooking their own meals and the free parking adds even more to the value.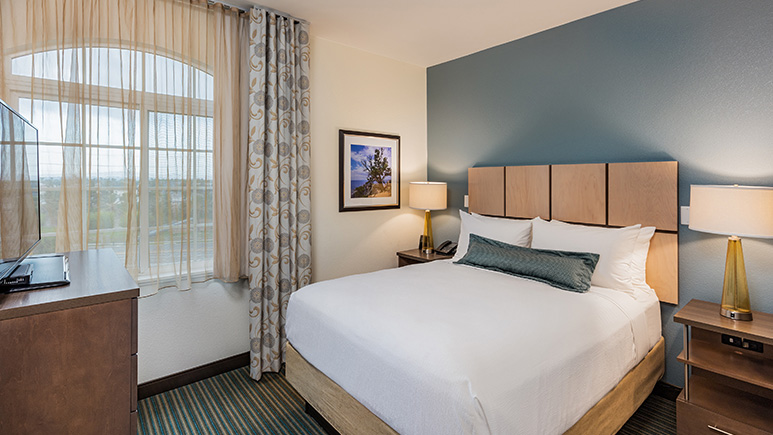 Everyone hopped over to visit the ALO Hotel by Ayres and Ayres Hotel Orange next. These are two of our staff's favorite properties that many choose to stay at even on their personal vacations. The Ayres Hotel Orange is one of Anaheim's newer hotels and offers amenities like larger studio rooms, free hot breakfast, in-room microwaves and a 4th Night Free special for select dates. It may be two miles from the park, but the ease of using the ART shuttle and discounted rates make the distance more than worth it!
After that, our group headed to tour the Wyndham Garden (previously the Ramada Plaza Hotel) and Hotel Indigo. Both are centrally located on West Katella Avenue and perfect for families looking for great accommodations at a great price.
Next, we toured the Homewood Suites by Hilton Anaheim Resort - Convention Center. This is the newest Homewood Suites by Disneyland and offers deluxe accommodations and amenities.
The Hyatt House at Anaheim Resort/Convention Center was only a short walk away and next on our list of hotel visits. We couldn't help but be impressed by this modern property and all it has to offer. Large suites, full kitchens, free Wi-Fi and free breakfast are just a few of the reasons we love recommending this deluxe property. It would be impossible to be disappointed with this hotel choice!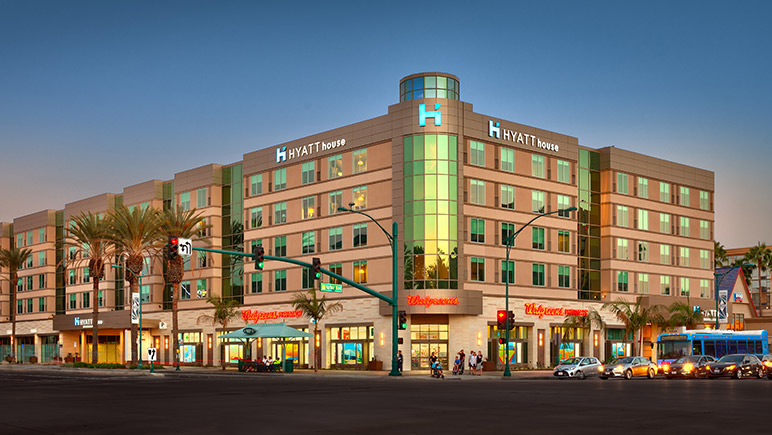 Our next stop was the Embassy Suites Anaheim North. This hotel recently completed a 20 million dollar renovation, and it shows. The place is beautiful! And of course it comes with the Embassy Suites breakfast with an omelet station. One nice thing about this hotel is that even though it is six miles from Disneyland, the ART Shuttle service still comes every 20-25 minutes throughout most of the day. And because it's six miles out, the only stop it makes is at the Embassy Suites North. With no other hotel stops, it often takes the same amount of time to get to the parks as it does from some of the closer hotels.
We headed to the Holiday Inn Anaheim Resort next. During the tour, we were able to see all of what makes this hotel so great. Our favorite parts were their Disney picture wall in the lobby, the large outdoor swimming pool, resort atmosphere and great perks like free breakfast. The in-house Burger Theory is also an amazing perk and one we got to enjoy for one of the best meals yet. It's a good thing we saved dinner for last or else we would have all been waddling around from all the great food!
After dinner, we checked into the Staybridge Suites by Holiday Inn right next door. This sister property is just as amazing, with a wide variety of suites. All of the rooms come with full kitchens, no matter the size. There are studio suites, one bedroom suites and two-bedroom suites that fit larger families. The free breakfast and free manager's reception Tues-Thursday add even more value when you stay here for your Disneyland vacation. It was the perfect place for our group to rest our heads after a long day of hotels and contacts.
We hope you are having a great time following along our 19th annual FAM trip! Don't forget to follow along on our Facebook and Instagram pages, where we've been sharing new giveaways every day. In case you missed it, here's the giveaways we announced today:
Enter Today's Giveaways
Anaheim Majestic Garden Hotel 2-night Stay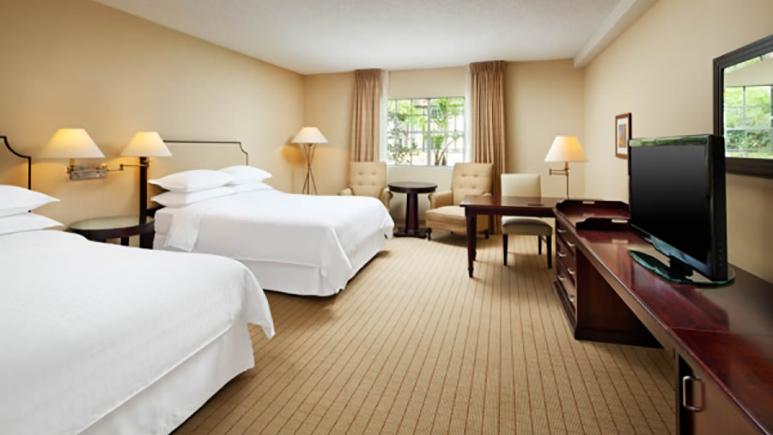 The Anaheim Majestic Garden Hotel is the perfect hotel for families looking for a whimsical getaway. Oversized rooms, a free shuttle to Disneyland and 13 acres of magical gardens and fountains are just a few of the reasons we love this deluxe property. Don't miss your chance to stay here for free by enetering to win a 2-night stay! Enter to win here.
Anaheim TownePlace Suites 2-night Stay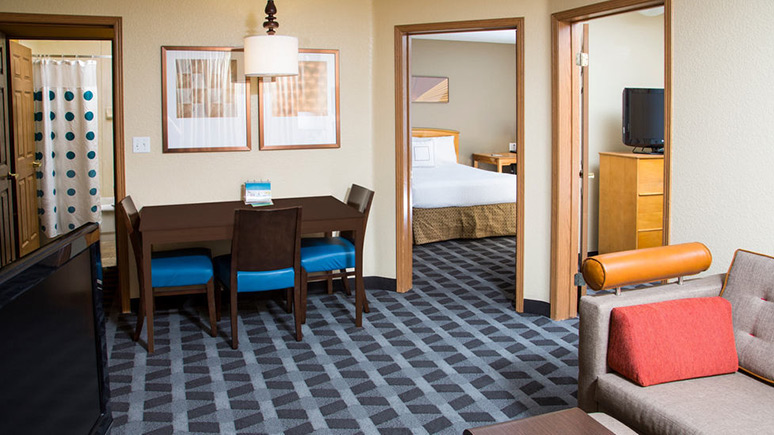 One of our newer hotel partners, the Anaheim TownePlace Suites is a great choice for your next vacation. It offers suites that fit up to 6 along with full kitchens, making it easy for families with food allergies or who are looking to save money by making their own food. The free hot breakfast each morning is also a valuable perk at this hotel! Enter to win a 2-night stay here.
Best Western PLUS Raffles Inn & Suites 2-night Stay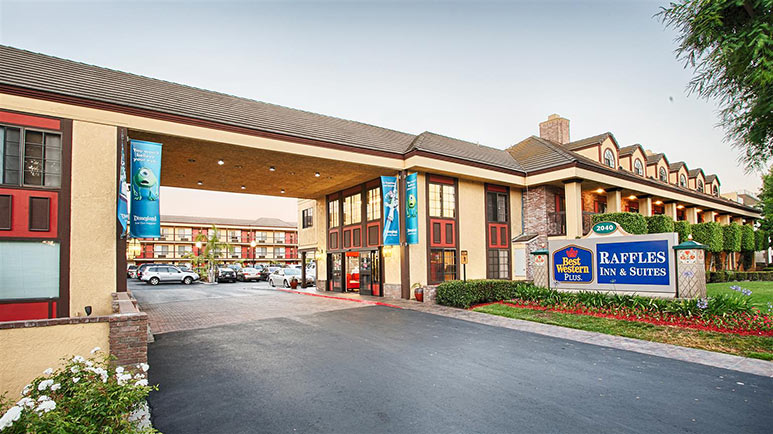 The Best Western PLUS Raffles Inn & Suites is a family favorite, offering affordable accommodations within walking distance to Disneyland. The free hot breakfast, family suite that fits up to 8, and microwaves in every room are just a few reasons why guests love this property. You can see for yourself when you win a 2-night stay. Enter here to win.
Fairfield Inn Anaheim Hills 2-night Stay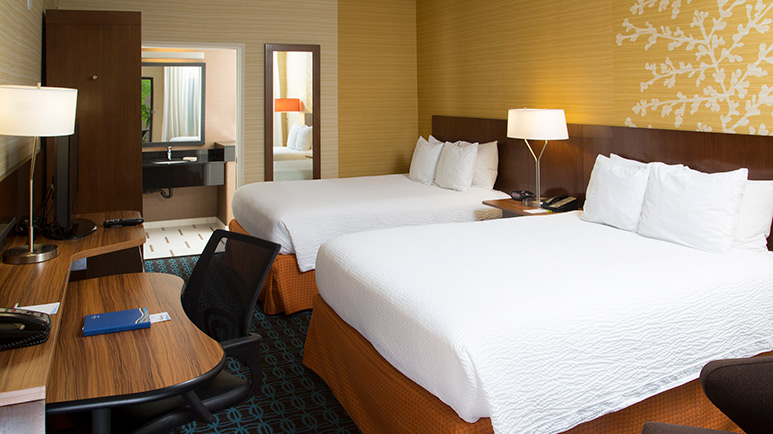 If you're planning on visiting more than just Disneyland during your Southern California vacation, check out the Fairfield Inn Anaheim Hills. Its location is perfect for those visiting other theme parks and don't want to lose quality for a better. It offers amenities like newly renovated rooms, a free hot breakfast and free parking. Enter to win a 2-night stay here.
The fun never ends when you stay at the Great Wolf Lodge. It's perfect for families with kids of all ages, offering a full indoor water park, arcade, mini golf, XD theater, mini bowling alley and more. Plus, their spacious suites fit up to 6 and nightly activities like pajama parties are included. If you want a chance to stay here for free, make sure to enter our 2-night giveaway here.
Holiday Inn Hotel & Suites 2-night Stay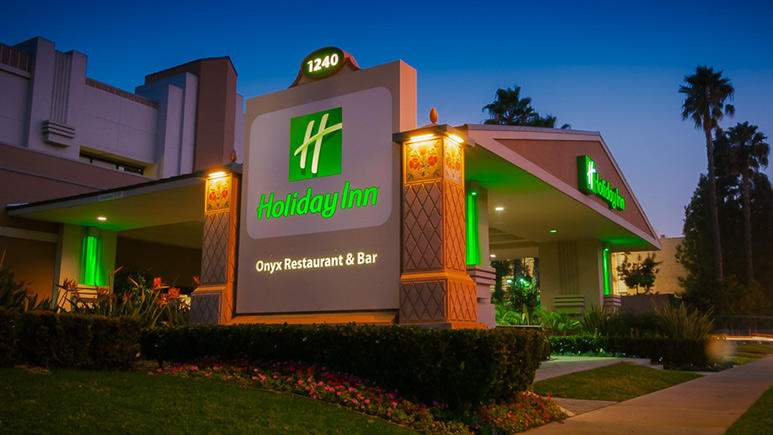 The Holiday Inn Hotel & Suites is newly renovated and a great option for your next Southern California vacation. Their spacious rooms include a separate vanity area, which makes getting ready each morning so much easier for families. Plus, kids eat free with paying adults at the in-house restaurant. The free parking and resort fees exclusive to Get Away Today add even more to the value of this hotel! Enter here for your chance to win a 2-night stay.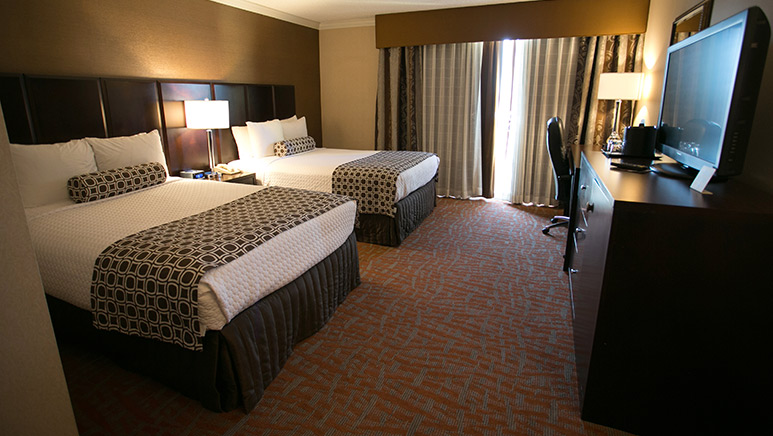 Guests who are visiting Universal Studios Hollywood and Disneyland always enjoying staying at the Hotel Fullerton. On top of its central location, Get Away Today guests also enjoy newly renovated rooms with a hacienda style, free breakfast and free parking. You can enjoy it for free when you win the 2-night stay during our FAM giveaways. Enter to win here.
Howard Johnson Plaza Hotel 2-night Stay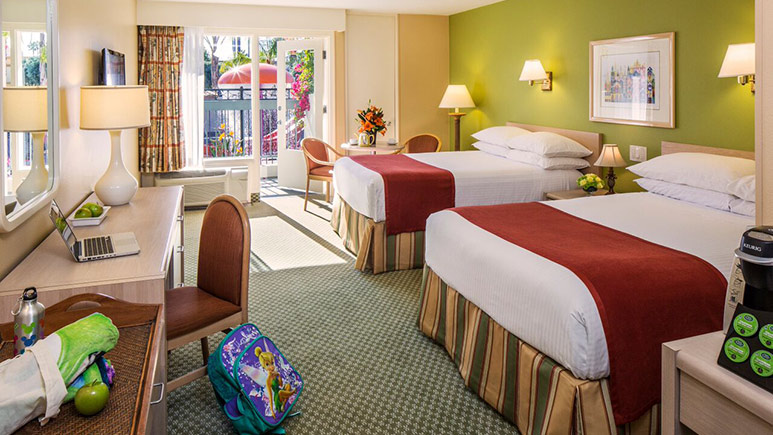 Last but not least, you have the chance to win a 2-night stay at the Howard Johnson Plaza Hotel. This family friendly hotel is one of the most popular hotels within walking distance of Disneyland. On top of the great location, the hotel also offers an outdoor pirate-themed water play area, great rooms and free parking. Enter for your chance to win here.
That's it for today! Remember to keep checking back here, as well as on our Facebook and Instagram pages for more giveaways. We'll be giving over 40 items away this week, including hotel stays, park tickets and merchandise.
If this has you ready to book your Southern California vacation, you can save $20 off your package when you book by October 28th with promo code FAM2017. The promo code is only valid on online bookings that include a minimum 2-night hotel stay and two adult tickets. Package must be booked by October 28,2017, but can be for travel through December 31, 2018. Click below to book any of our Disneyland packages: