If you could plan the absolutely perfect day at the
Disneyland Resort
, it would probably look a lot like our team's day yesterday. We are so grateful for the opportunity we have to be partnered with the Disneyland Resort! They are a world-class destination and we know that when we send families there, they'll have magical vacations unlike anything else.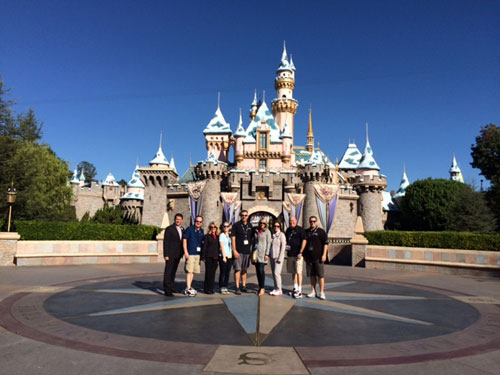 Our perfect day at the Disneyland Resort started bright and early waking up inside
Disney's Grand Californian Hotel
- the only hotel located inside a Disneyland Resort theme park. We then took the short walk over to the recently renovated Goofy's Kitchen, inside the Disneyland Hotel, for a fun-filled character breakfast. This is the most popular
character dining
location out of the five available at the Resort, and it's easy to see why. You are surrounded by Disney magic, there are tons of characters with plenty of photo ops, and well, the food... Breakfast (or brunch) offers everything from a cook-to-order omelet station, to a dessert station, to peanut butter and jelly pizza and so much more. If the park opens later while you're visiting, we recommend doing breakfast before the park opens. If the park opens earlier, you'll probably want to take advantage of getting to the park as early as possible, especially if you have a Magic Morning at
Disneyland
or Extra Magic Hour at
Disney California Adventure Park
. Then, we recommend coming back for a late breakfast or brunch after enjoying your morning in the park. Goofy's Kitchen is also open for dinner, so that's another great option if you just want to spend your morning playing! No matter when you decide to come to Goofy's Kitchen, you're in for a real treat.
Next our team was broken up into three groups where we got to tour behind-the-scenes of Big Thunder Ranch and see how they care for the horses, the fireworks booth where we learned all about fireworks, and most special of all, Walt's apartment above
Main Street U.S.A
. We weren't allowed to take pictures in the behind-the-scenes areas, but because Walt's apartment is accessible as part of the Walk in Walt's Footsteps Tour, we were able to get a group picture. What a special experience!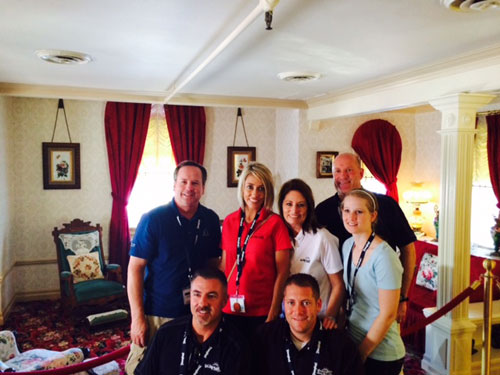 As part of our morning treat, we were the very first group inside
Disneyland Park
. It was amazing!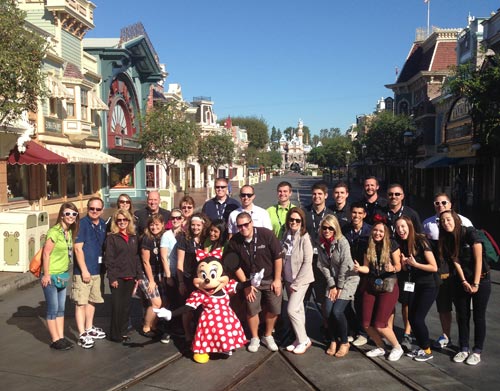 After an incredible morning, we were whisked over to
Disney California Adventure
for a delicious lunch at the Wine and Country Trattoria. We loved the dessert trio! As a reminder, not only does the Wine and Country Trattoria serve fantastic food, they also offer a three course prix fixe meal for both lunch and dinner that includes a premium viewing ticket for World of Color. It is a great way to make sure you have a ticket for the night's show.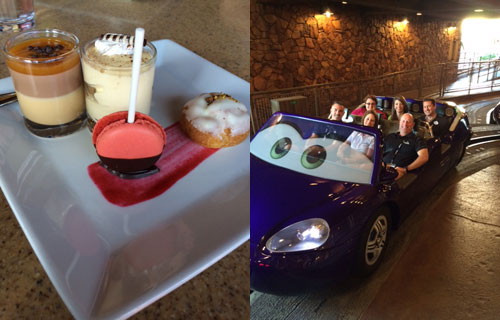 After lunch we split into two groups, each with our own set of incredible Disney guides to take us around the park and walk us onto attractions. This is an exclusive service is available to all guests through VIP Tour Services. There is a maximum of 10 guests per tour, a minimum of six hours per tour, and cost varies from $360-$500 per hour depending on the time of year you travel. Although it may not be an every Disneyland vacation occurrence, if you have a special celebration, it truly turns any day at Disneyland into an even more magical once-in-a-lifetime experience. Guests who take advantage of VIP services get a flexible schedule, insider information, preferred seating at shows and parades, and other special opportunities.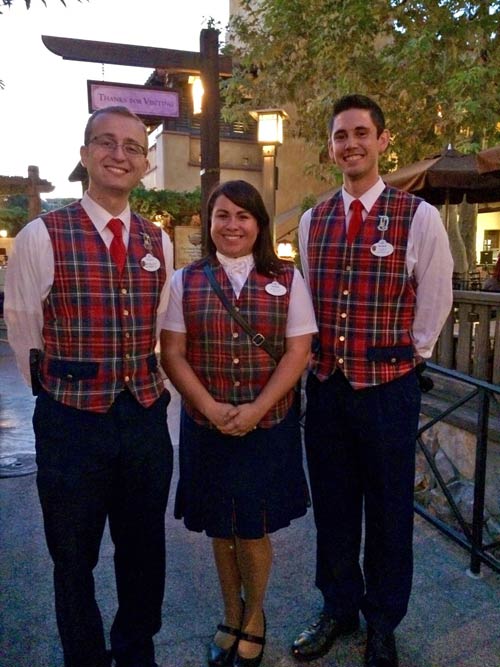 We then got our groups back together for a much appreciated churro break - because churros from the Disneyland Resort just taste better.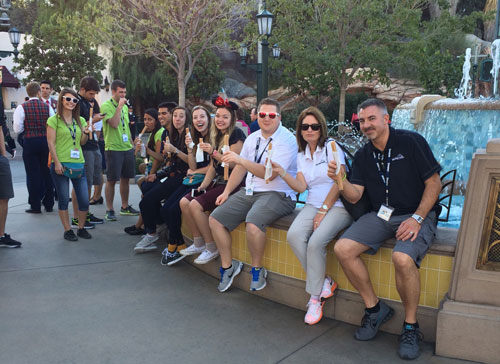 Next, we rode Radiator Springs Racers, Soarin' Over California and Toy Story's Midway Mania (twice). There is so much fun to be had in
Disney California Adventure Park
!
To finish our perfect day at the Disneyland Resort, we enjoyed premium viewing of the Pixar Play Parade before dining at the Carthay Circle Restaurant. This is the swanky restaurant located inside the iconic white building on
Buena Vista Street
. It is modeled after the theatre where Walt's first full length animate film, Snow White and the Seven Dwarfs, premiered in 1937. Like the Wine and Country Trattoria, they also offer a prix-fixe World of Color menu in addition to their regular seasonal menu. The restaurant is so relaxing and luxurious, you may forget you are dining in the middle of a theme park!
Because we are staying at
Disney's Grand Californian Hotel & Spa
for this trip, we were just a short walk back to our hotel rooms. Staying on-property is without doubt the most convenient and magical way to have a completely immersive Disneyland vacation. For a limited time you can
save up to 25% on premium rooms at all three Disneyland Resort Hotels
. You can book any of our Disneyland packages online, or call our agents at 855-GET-AWAY. Our agents have stayed at and toured all three hotels, so we are well prepared to give you firsthand recommendations - and of course, the best price.
Since we had such a a perfect day at the Disneyland Resort, we wanted to spread the love. We've put together three great giveaways that you have the chance to win! Be sure to enter below:
a Rafflecopter giveaway
a Rafflecopter giveaway
a Rafflecopter giveaway
Don't miss any more of our adventures or giveaways:
Anaheim Hotels, the Packing House, Saddleback Ranch and More
What's New at Universal Studios, Knott's Berry Farm and More!
Win One of 25 Giveaways This Week Only