Groundhog Day may be one of the more overlooked and under appreciated holidays... but not at my house! We love Groundhog Day largely in part to these darling Groundhog Day Cupcakes. Making them has become a family tradition and we love sharing them with our family and friends.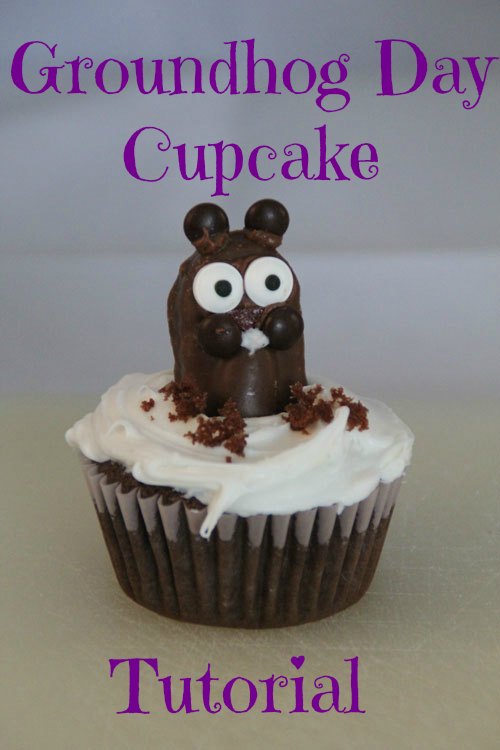 If you want to add some fun to your Groundhog Day this year, here's what you'll need:
Baked, un-frosted chocolate cupcakes
White frosting (the whiter the better, and I prefer whipped for a snowier look)
Fun-size Almond Joy candy bars
Candy eyes
Any pink or red candy that can easily be cut into small triangles (I used Rips)
M&M minis
Chocolate frosting (just a tiny bit)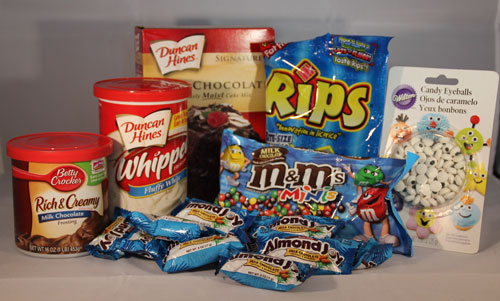 Start by baking your favorite chocolate cupcakes. I just use a mix. While they're baking and cooling, you will begin your groundhog construction.
Start by unwrapping your Almond Joys and separating out as many brown M&M minis as you have. This is a great way for the kids to help.
You'll also prep your groundhog noses. Just take the tip of a sharp knife and cut little triangles along your flat, pink or red candy.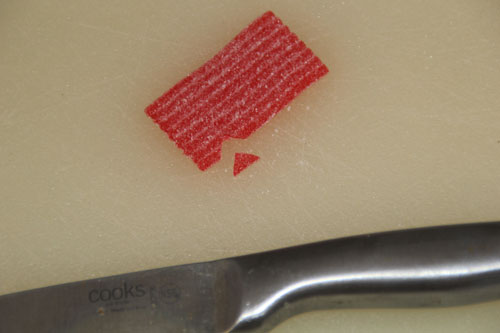 Once all of your pieces (including the candy eyes) are together, you can start putting together your groundhogs. As a tip, unless you have some pretty hardcore frosting skills, you'll want to purchase the candy eyeballs. I've done my own with white frosting and black gel pupils. It is incredibly time consuming and unfortunately, a few of my groundhogs ended up looking quite deranged. To say that I am a huge fan of the candy eyes is an understatement.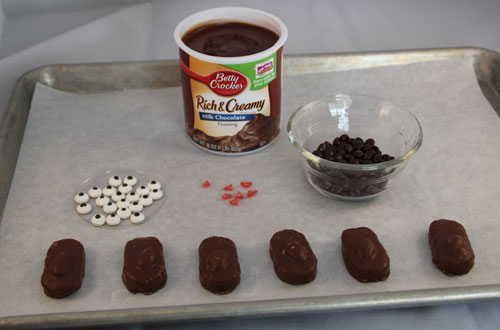 I arranged my groundhogs on a jellyroll pan with a piece of parchment paper. You'll place your Almond Joys vertically so that the almond is closer to the bottom. The almond serves as your groundhog's belly and the top of the candy bar will be his face. You'll attach each of the pieces of candy with a small amount of chocolate frosting so that it will blend in with the candy bar. Below you'll see the easiest order to put your groundhogs together. Eyes. Nose. Cheeks. Teeth. Ears.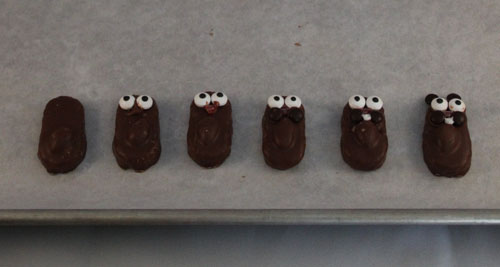 Once your groundhogs are assembled, you'll cut a small hole into the top of your cupcakes. The hole should be approximately the width of an Almond Joy and about 3/4 of an inch deep. Set the little bit of extra cake cut from the middles aside.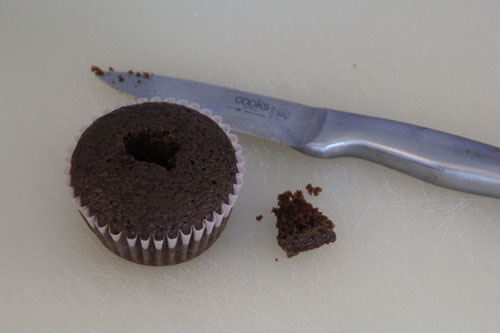 Carefully and liberally frost your cupcakes with your white frosting. It's OK for the frosting to partially cover the hole as long as you know where it is and you don't get cake crumbs mixed in the frosting.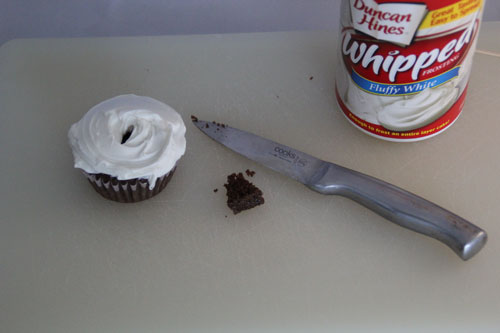 Now you can begin placing your groundhogs in their new homes by sticking them into the cupcakes. If you'd like, you can then take a little bit of the cake bits from the middle and sprinkle them around the groundhog. It will look like he's dug up a little bit of dirt in his search for his shadow.
One nice thing is that even if your groundhog cupcake casts a shadow, it doesn't feel like winter at the Disneyland Resort! We can help you escape the cold and bask in the warmth in Southern California. Each day at Disneyland is a celebration whether it's your special day or your un-birthday. If you need help planning your celebration at the Disneyland Resort, check out our packages online or call our Reservation Specialists at 855-GET-AWAY!

Check out these other fun ideas to create magic at home:
Disneyland Vacation Countdown Chain
3 Ways to Make a Beach Towel Better
All-Weather Mickey Snowman Tutorial
Beach Inspired Cupcakes and Pina Colada Recipe