If there's one candy item in the Harry Potter universe that is completely iconic, it is the Harry Potter chocolate frogs. We found and share some of the most realistic Harry Potter chocolate frogs that you can make at home!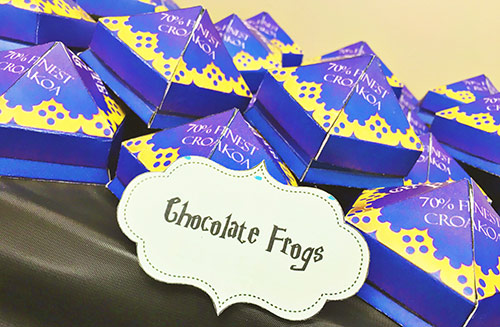 Harry Potter Chocolate Frogs: Tutorial and Free Printable
If you've ever been to The Wizarding World of Harry Potter at Universal Studios, you've probably seen a chocolate frog or two. In fact, you may have even purchased a chocolate frog or two. The boxes with their intricate designs, unique Wizard trading cards, and let's not forget the actual chocolate frogs, are hard to resist.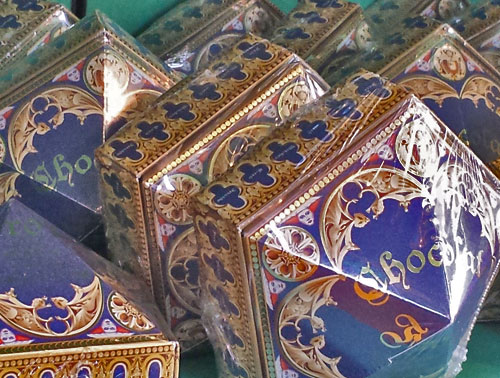 When the Wizarding World of Harry Potter opened in California, our office had a huge celebration. No celebration would be complete without Harry Potter chocolate frogs, and lucky for us, we have an incredibly talented HR Manager, Shannon, who made them for the entire office. They were so special that we wanted to share it with all of you.
Harry Potter Chocolate Frogs
When you're making your own Harry Potter chocolate frogs, don't get overwhelmed. They look incredible and intricate, but keep in mind that none of the individual steps are all that challenging. There are just a lot of elements.
First, you are going to need a Harry Potter chocolate frog box. The boxes at The Wizarding World of Harry Potter are really cute and, luckily, there are lots of different templates to choose from online. After scouring Google results, Shannon ended up picking this box from Yvonne Byatts Family Fun. You can get the free download by clicking here to get to her Harry Potter Family Movie Night post. Even though it is not the official box from the Wizarding World of Harry Potter, Shannon liked the brighter colors. A lot of the official box templates out there come from scans and look a little washed out. The Harry Potter chocolate frog boxes take some time to assemble, but there are clear instructions on the free template. Another plus to this box is that the lid will stay closed pretty tightly once you are done.
Second, you have to have a Chocolate Frog card. The students of Hogwarts have fun trading different cards to complete their collections. Little Falling Star created a beautiful free template that you can use to make your own cards that you can download here. And if you want some that are already complete, Little Falling Star made some of those too. You can download the complete cards here. Just cut out the cards and glue the fronts and backs together. The cards fit perfectly in the chocolate frog boxes. Shannon went above and beyond and made 30 unique cards featuring famous witches and wizards each with a witty description. Some of the cards were characters from the Harry Potter books and others were just fun. We mentioned she's pretty incredible, right?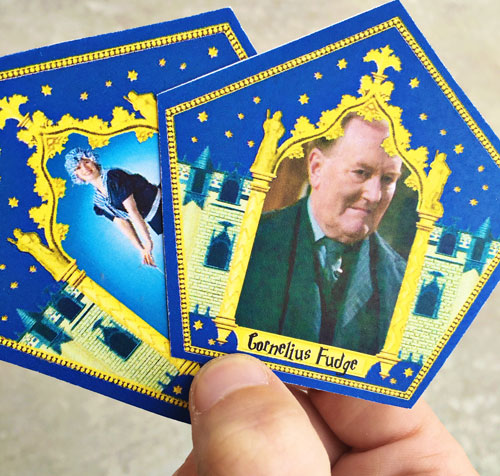 Third, you must make your Harry Potter chocolate frogs.Yum! You'll want to get a frog chocolate mold if you don't happen to have one laying around. We used this one from Amazon and we loved the way they turned out.
Then, the only other thing you'll need is melting chocolate, which you can find at almost any grocery store or even order online HERE. If you get melting chocolate you will not have to worry about temper or using a double boiler. You do need to make sure that you do not overcook your chocolate.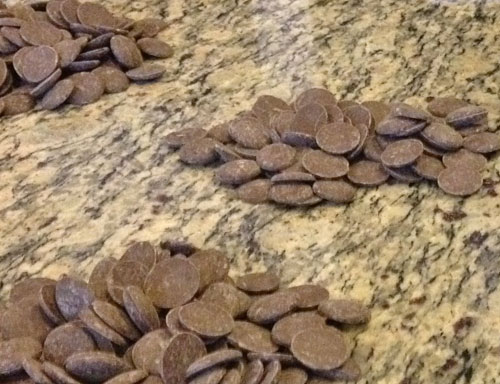 Chocolate Frogs Recipe
Melt down a few chocolate morsels at a time. Do this in about 10 second intervals and stir in between each time. A lot of the chocolate morsels will melt once you start stirring. Then pour the melted chocolate into your mold carefully.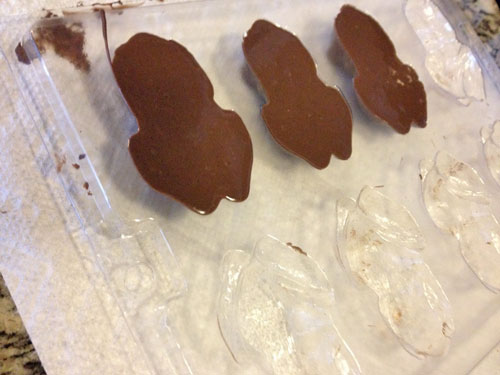 After you have your mold filled, rap it a few times on the counter. This won't hurt your frogs and it removes any air bubbles. Place the mold in the fridge until it is completely cooled which should take around 20-30 minutes. Once the molds are cooled you can flip them over and the frogs will pop out all on their own - just like magic! If your frogs are stuck in the molds, then they will need to cool a little while longer.
Fourth and finally, enjoy your Harry Potter chocolate frogs! Our staff had a great time eating the frogs and trading the cards.
We hope you enjoy creating some magic of your own with these Harry Potter chocolate frogs! And when you're ready to explore the Wizarding World of Harry Potter at Universal Studios Hollywood or Universal Studios Orlando, we'd love to help. Our agents have visited both coasts and are experts at finding you the very best deal for your Harry Potter vacation. You can book your vacation online or call any of our reservation agents at 855-GET-AWAY.

Check out our other great articles: