Christmas came early this year with the recent announcement that The Wizarding World of Harry Potter is coming to Universal Studios Hollywood on April 7, 2016! We've been busy all season long coming up with fun ways to give your family the best gift of all for Christmas... a vacation! With the release of the opening date, we thought it would only be appropriate to create a Harry Potter themed vacation gift giving idea in time to be presented to your family on Christmas morning.

One of the most useful magical objects in the Harry Potter series is the Marauder's Map originally created by Padfoot, Prongs, Moony, and Wormtail. Like the original Marauder's Map, our version carries a powerful secret. However, unlike the original map, we solemnly swear that our version is up to only good... it announces that you're going to the Wizarding World of Harry Potter at Universal Studios Hollywood!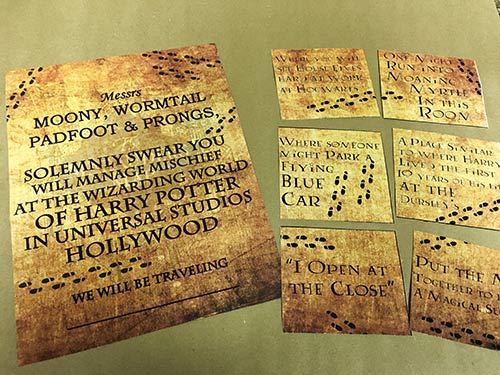 You won't need a magic wand or any spells to make this vacation announcement for your family. All you'll need is our free printable, a pair of scissors, and some sneaky hiding spots, because your family will have to search for the pieces of this Marauder's Map.

Start making your family's vacation surprise by printing our free download of our special Marauder's Map on card stock or a heavy paper:
Harry Potter Marauder's Map Printables:
Marauder's Map Back
Then, you'll cut your map into six pieces that will be used for the most exciting treasure hunt of all. Follow the thin lines to make your cuts.
You'll hide the first piece of your map in the same place you'll want to make your vacation announcement, because the final clue refers to the clue Dumbledore gave to Harry about the golden snitch, "I open at the close," meaning to come back to the beginning. Once your family begins their search for the Marauder's Map, you'll sneak back to the beginning to place your final piece which gives the following instructions: Put the map together to reveal a magical surprise.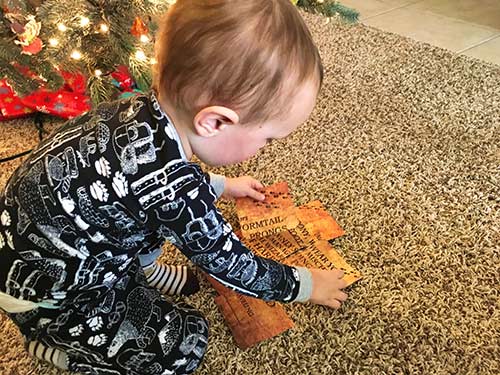 If you're using this map on Christmas morning, we recommend sticking the first piece in your Christmas tree. The other four pieces will need to be hidden in the suggested areas below, and can be done in any order you chose. Just be sure that the first piece starts with one of these four instructions and that the last place on your list has the last clue, "I open at the close," to return you to the beginning of your journey.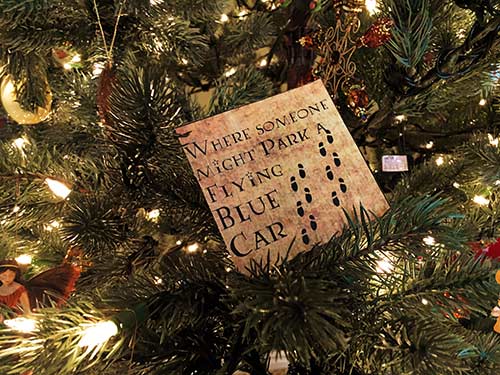 Kitchen - Where you will see house elves at work at Hogwarts
Bathroom - One might run into Moaning Myrtle in the room
Garage/Carport/Driveway - Where someone might park a flying blue car
Closet - A place similar to where Harry lived the first 10 years of his life at the Dursley's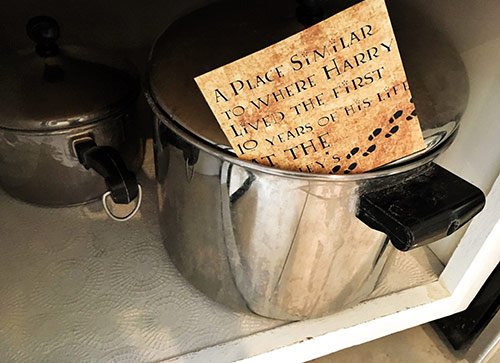 The beauty of this is your family will really have to search, especially if you have more than one closet or bathroom. Each piece of the map will give a clue to where your family can find the next clue.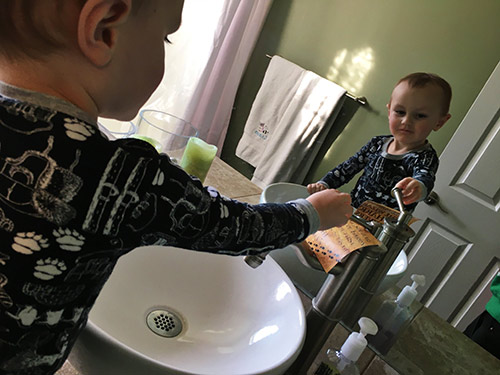 Once all of the pieces of the Marauder's Map have been collected, your family will put them together and discover the map's secret... You're going to Universal Studios Hollywood to experience all of the magic of the Wizarding World of Harry Potter firsthand!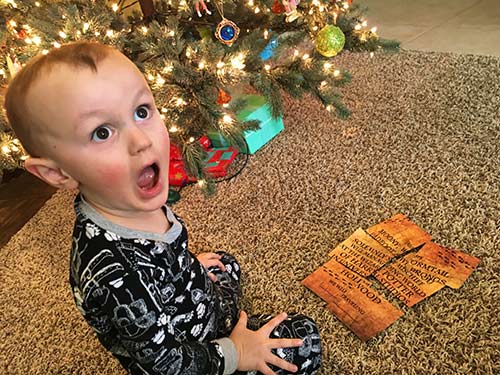 Now that we know the official opening date of the Wizarding World of Harry Potter, you can begin making your 2016 vacation plans! Stay nearby Universal Studios Hollywood at one of our partner hotels, or take advantage of one of our free night hotel specials at select Anaheim area hotels just about an hour away. No matter when you travel, you can book now and lock-in your vacation for just $125 down. Book online or call our vacation wizards at 855-GET-AWAY.

Check out these other great Harry Potter ideas and articles:
The Wizarding World of Harry Potter is Coming to Universal Studios Hollywood
Free Harry Potter Vacation Announcement Printable
Harry Potter: 3 Easy Honeydukes Inspired Recipes
The Best Butterbeer and Golden Snitch Donut Recipes