Last week we shared Part 1 of our guide for How to Make the Most of Your Disneyland Vacation. If you missed any of it, you can read all about the different lands at Disneyland and Disney California Adventure Park as well as the benefits of traveling during the different times of the year. This week we're sharing more detailed tips on how to book, where to stay and some insider tips and tricks. So, now, what you've been waiting for... How to Make the Most of your Disneyland Vacation Part 2:

Ticket Booking Options / Lodging and Transportation

Online booking:
Online booking is available through GetAwayToday.com. You can select your desired number of tickets by the age of each person in your party. Children under 3 years old are free to attend, while children ages 3-9 can attend at an average daily rate of $53-$93. The final cost depends on how many days you plan to stay and which ticket type you choose (Park Hopper tickets vs. 1-park per day tickets). Adults and children ages 10 and up can attend at about $56-$99 per day.
If you decide to purchase 3-day, 4-day, or 5-day passes, you'll receive one Magic Morning admission. Magic Morning gives you park admission to Disneyland one hour before the park opens to the general public on select days. Keep in mind that the Magic Morning only applies to one day of your choosing, and is not available every morning of your stay.
Lodging:
Disney's Grand Californian Hotel & Spa:
One of the best places to stay at Disneyland is Disney's Grand Californian Hotel and Spa. This exquisite hotel features artisan-style decor reminiscent of the 19th century and is right next to Downtown Disney District. It even offers a special theme park entrance to Disney California Adventure Park that's exclusive to Grand Californian guests. Some of the main features of the Grand Californian include:
Themed pools and water slides: Imagine a twisting slide wrapped around a redwood tree at the Redwood Pool, or a circular pool that reflects the Arts and Crafts theme at the Mariposa Pool. There's also the Fountain Pool, a serene getaway complete with trees, stone walls and big boulders. There's also a hot tub and four private cabanas available to rent throughout the day.
Dining: The Grand Californian hosts some of the best tasting food you'll ever eat! Head to the Storytellers Café and meet classic Disney characters while you chat over breakfast. Or dine at the Napa Rose for award-winning cuisine and upscale wine selections.
Spa treatments: The Grand Californian also offers plenty of spa treatments for you to take advantage of during your stay. Choose between a 2-hour treatment, a full day's worth of pampering, and even a couple's spa treatment.
Disneyland Hotel:
The Disneyland Hotel offers a more modern feel with an emphasis on Disney magic throughout the entire property. Guest rooms feature extra touches including a light-up Sleeping Beauty Castle headboard. Other features include 3 retro-themed pools, character greetings, and world-class dining.
Transportation:
There are plenty of airports within close proximity to the park, with many options for rental cars, shuttles, limousines and taxis. Get Away Today recommends the Disneyland Resort Express or Karmel Shuttle Service for those staying at most Disneyland Resort or Anaheim area hotels, and we of course offer discounted tickets to take advantage of these convenient options. There's also public transportation available with the Orange County Transit Authority, Amtrak's Pacific Surfliner, Metrolink, Greyhound, and Los Angeles County Metro Express Line.
Time Management at Disney – Using Smartphone Apps, Fast Passes, and more
When you make it to Disneyland, things can quickly become a bit overwhelming since there's just so much to do. Since the park changes seasonally, managing your time can be tricky, especially for newcomers. Which lands do you visit first? When do certain shows begin? Where are the most desired attractions, dining spots and character greetings? Can you put all the highlights of the parks into the palm of your hand?
To that last question, well …yes! The official Disneyland website is available on your smartphone, tablet or other mobile device. Using the site will help you gain access to park maps, show schedules, and ticketing options. We recommend visiting the site 30-45 days prior to travel to check for show times, park hours and any attraction refurbishments. This will help you make an initial and flexible itinerary for your Disneyland vacation. For a more intuitive experience, search for Disneyland apps using your iPhone or Android to find dozens of helpful applications to help you during your trip.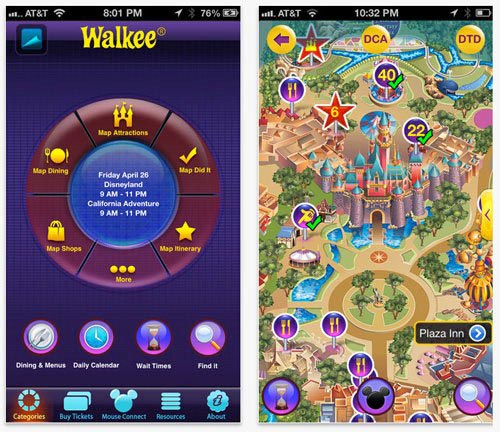 For instance, there are several apps to choose from that let you view attraction wait times, height requirements, and whether a FASTPASS is offered (See below). Some apps display colors indicating which attractions to go to, and which ones to avoid due to long wait times. Some even show you where the largest crowds are and which areas you should visit for a less crowded experience. Check the Android store for more.
There are map apps to help you get around, complete with GPS functions, color-coded park zones, and even search features that allow you to search for restaurants and bathrooms. Some of these apps display attraction pins and your current location, along with your current compass orientation. All of this and you don't even need to be connected to a network!
Other helpful apps include those that guide you through the Disneyland experience with helpful pictures, interesting information and attraction information. Some apps even come with a feature that helps you sort attractions alphabetically or by their distance to you. This comes in especially handy for those wishing to optimize their Disneyland experience without having to walk across the park multiple times.
When it comes to dining, there are plenty of apps to help you find the perfect restaurant. They'll show you specific restaurant locations, photos and descriptions, as well as menus. You can search for restaurants by name, by park or by GPS location. You can also search menus for specific items or types of food, and even call or make reservations online. Getting a great restaurant experience has never been easier.
FASTPASS
One of the great features at Disneyland is the FASTPASS system. The FASTPASS is your ticket to a smoother experience and lets you skip the wait. Simply look for the attraction with a FASTPASS sign.
Once you spot this sign, insert your ticket into the machine. The FASTPASS machine will read your pass, and print out a ticket with the correct time stamp on it for you to return. At the appointed time, return to the attraction, and a cast member will check your FASTPASS and move you inside to the much shorter FASTPASS queue.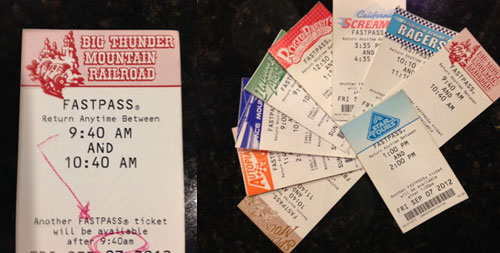 Photo credit: Chris Dallin
Staying on a Budget – Finding Coupons and Discounts
Peak travel season in America comes when kids are out of school for Spring Break, Thanksgiving, Christmas, Easter, and other school holidays. This means more crowds and higher prices. If you're planning a trip to the Happiest Place on Earth but your budget is tight, there are options available.
To avoid larger crowds and higher prices, visit Disneyland Park during the off-season when airfare and hotel accommodations are much cheaper.
Without coupons or discounts, there are still plenty of ways to save. When traveling with children, consider booking only one hotel room with two beds. You can sleep in one bed, and your children in another. The same goes for when you're traveling with friends. Split a room with two beds and you can split the cost as well. For the most comfort, make sure your room comes with two queen beds instead of two doubles. We specify available bedding choices online and our agents can help direct you as well.
Food at Disneyland can add up very quickly. Another money saving tactic is to eat a filling breakfast every morning (take advantage of your hotel's complimentary breakfast if they offer one) and plan your meals ahead of time by packing sandwiches, chips, and fruits and vegetables. Disneyland allows you to bring coolers into the parks, store them in lockers near the main entrance, and take them out when you're ready to eat. Picnic areas litter the park, and it's always nice to eat at Disneyland even if you brought your own food. Also, consider cooking in your hotel room - some hotels even offer full kitchens, and use our coupons for area restaurants.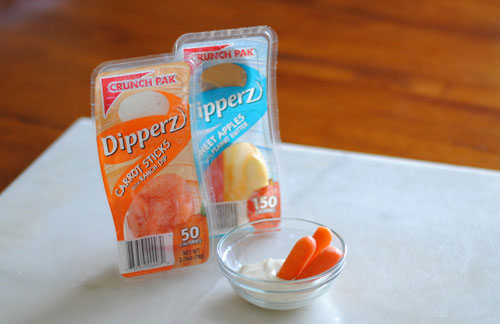 If you're in the market for a new credit card and plan to be a regular Disneyland visitor, consider the Disney Premier Visa Card. You will receive up to a $100 statement credit after your first purchase that can go toward any Disneyland purchase including food and can earn reward dollars for purchases. As an added card bonus there are also private card member locations where you can experience a meet-and-greet with your favorite Disney characters.
Dressing for the Weather – Comfort and Layers
Summer:
When planning your trip to the Happiest Place on Earth, it's important to know what the weather patterns are like for that particular time of year. Summer in California can get a little humid. If you're planning a trip during the summer months, make sure to bring shorts and t-shirts/tank tops. Wear comfortable clothes, but keep in mind that the resort's dress policy prohibits women from wearing swimsuit tops and men from going shirtless. Also, make sure to wear comfortable shoes with all the walking you'll do.
California has abundant sunshine, so pack 100% UVB blocking sunglasses and sunscreen, and maybe even hats for everyone in your party. At night, the humidity fades away and temperatures can even get a little chilly, so remember to pack a light sweatshirt too.
Winter:
Winters in Southern California are mild, with morning temperatures chilling the air. But during the day, things usually heat up, so it's a good idea to wear a t-shirt with a light jacket over top. It's wise to dress in layers and always check the forecast before you head to the parks.
Dress Tips for Kids
When your kids are happy, you're happy, so make sure they're dressed comfortably no matter which time of year you visit. Bring several pairs of shoes for your kids, and water shoes are always a good idea since they are required for children wishing to play in any water zone at the park. It's also a good idea to have kids wear their swimsuits under their clothes, since some rides are sure to get them soaked.
Resources, Links, and More
Disneyland offers accommodations for special occasions, including birthday parties, Fairy Tale Weddings, Grad Night, and quinceaneras.
Disneyland also offers services and accommodations for guests with disabilities, including those with visual, hearing, cognitive, and/or mobility disabilities. For those with photo sensitivity, it's always best to check with a doctor before attending since there are so many visual and lighting effects used throughout the park.
Service animals are also welcome, though they must remain leashed or harnessed at all times and are prohibited from entering certain attractions. Keep in mind that park Cast Members are prohibited from controlling service animals, and if needed, portable kennels can be provided.
For visitor safety, the park features automated external defibrillators, baby care centers, designated smoking areas, first aid stations, kennels, locker rentals, and wheelchair and ECV rentals.
For a complete list of Guest Services, go to the official Disneyland website and click 'Guest Services.' Here you can find a comprehensive list of all services offered by Disneyland, and when you're done you can check out their list of frequently asked questions.
You can always call and talk to our Disney Experts who regularly visit the Resort. We'd love to help you plan your perfect Disneyland vacation and answer any questions you have. You can book any of our
Disneyland packages
online or call us at 855-GET-AWAY.

Check out these other great articles:
How to Make the Most Out of Your Disneyland Vacation Part 1
How to Eat on the Cheap at Disneyland
Top 10 Apps for Your Disneyland Vacation