One of the very best parts of a Disneyland vacation is meeting Mickey Mouse. He started out as a mischievous little black and white cartoon and has evolved to the colorful, friendly and happy character that we all know and love! In fact, Mickey Mouse is one of the most recognizable cartoon characters in the world. If you are traveling to Disneyland, you don't want to miss a chance to meet Mickey in person. Everyone needs a picture with the famous Mouse. Luckily, there are several locations at the Disney Parks in California where you can get a picture with him. We'll be your guide to finding Mickey!
The most well-known place to meet Mickey Mouse is at his house in Toon Town inside Disneyland. Mickey's house is a fun place to explore. The line travels through a variety of rooms with cute decorations and picture spots. Right before you meet Mickey, you can watch a cute early black and white cartoon of Mickey Mouse. It is entertaining for everyone and makes the wait go by more quickly! You can take your own photos with Mickey, or purchase the pictures that the Disney Photo Staff capture.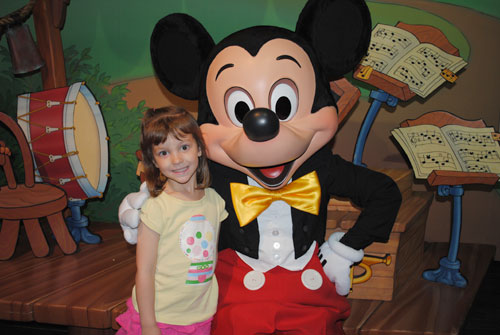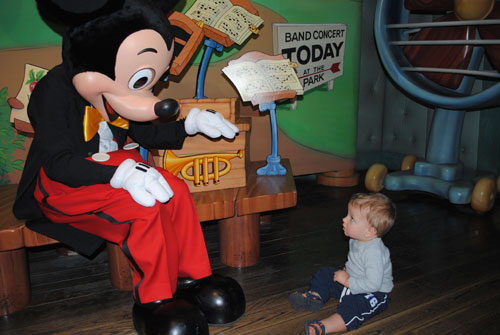 Mickey also has a presence at Disney California Adventure Park. Paradise Pier is one of my favorite places to meet the mouse. It feels so happy with upbeat music, carnival games, and the aroma of cinnamon churros and cotton candy in the air. This is an awesome place to meet and greet Mickey Mouse. Check your park map for the times when Mickey will be available on the Pier. We got lucky and saw him walking along the Pier and were able to get pictures with him without even waiting in line. It is so fun to watch as my kids' faces light up with joy when Mickey is in sight. He gives the best hugs and the best high fives.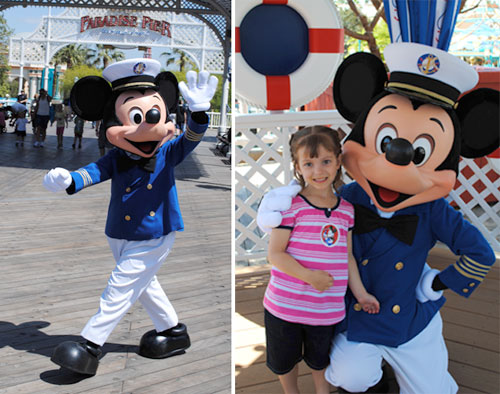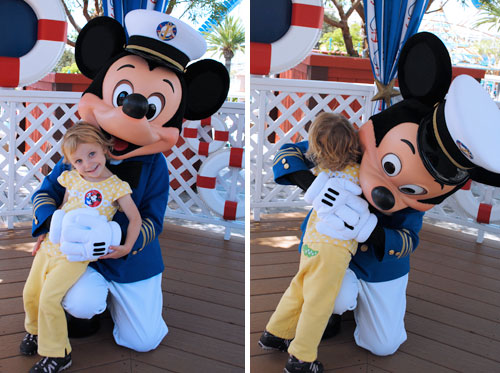 Mickey can also be regularly be seen on Buena Vista Street in his 20s garb. If you're lucky, you may even be able to get a glimpse of the mouse on Main Street U.S.A.

My new favorite place to find Mickey Mouse is at Surf's Up Breakfast with Mickey and Friends. You can meet Mickey and a host of other classic Disney Characters at the PCH Grill in Disney's Paradise Pier Hotel, just outside of Disneyland. You do not need to be staying at the hotel to eat at the restaurant. You will need to make a reservation in advance with Disney Dining to secure a spot, which can be done up to 60 days prior to travel. Mickey and his friends are only there during breakfast hours so, plan accordingly.

Your party will start things off by meeting Mickey Mouse. You can take pictures and say hello! It is fun because you don't need to feel rushed.
Then, the host will take you to a table. The food is served buffet style and is geared towards families. There are Mickey Mouse waffles, a wide variety of breakfast cereal, a build your own omelet bar with a personal chef, tasty desserts, high quality meats and potatoes and so much more. No one will leave hungry! Each table is visited by the Disney characters one at a time while you are dining. While there, we were visited by Minnie Mouse, Daisy Duck, Pluto and Stitch. They all posed for pictures, gave hugs, teased the kids and pretended to eat our food. It was highly interactive and fun. Our kids were giggling the whole time.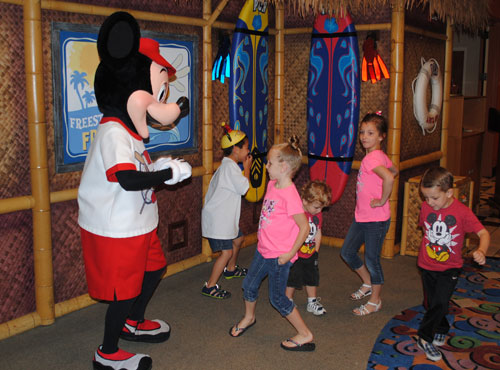 About every 30 minutes, the restaurant plays upbeat music and invites all of the kids to come and dance with Mickey and his friends. Where else can you do the twist with Mickey Mouse? It is so fun to watch and the pictures are priceless. Speaking of price, Get Away Today offers Disney Dining passes at a significant discount. You definitely save money by purchasing your dining vouchers, which include tax and gratuity, in advance from our website or by contacting an agent over the phone.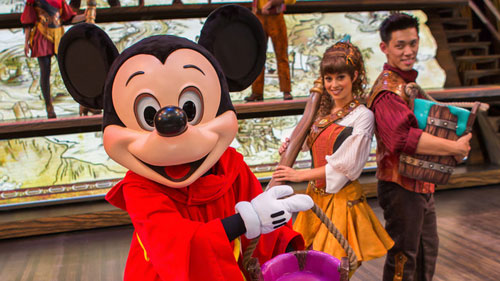 Photo Courtesy of Disney



If you want to watch Mickey in action, be sure to catch the Mickey and the Magical Map show that plays in Fantasyland. It is a live musical production that is fun for all ages and plays multiple times daily. Check your map for showtimes. It is a production that you won't want to miss. And, you'll get a chance to see Mickey on stage! You can also see him star in Fantasmic! on select nights. Just be sure to grab a Fastpass or a Fantasmic! dining package to guarantee the best viewing. You'll also be able to see Mickey as part of the new Paint the Night Parade which will kick-off the Disneyland Resort Diamond Celebration on May 22. We can't wait!

And speaking of the Disneyland Diamond Celebration, Mickey will be wearing his best throughout the celebration. It will make for some once-in-a-lifetime photo ops. You may have noticed from the pictures that Mickey has quite the wardrobe, and his duds for the celebration are pretty spiffy!

Be sure to check your park map or ask a Disney employee at the entrance gates if there are any other places to find Mickey Mouse that day. The schedule changes regularly, so it never hurts to ask. I hope you get a chance to meet Mickey Mouse on your next Disneyland vacation. It is something that everyone needs to do at least once in their lifetime. You can book your next Disneyland vacation online or call our Disney Experts at 855-GET-AWAY. As Mickey would say, we hope to see ya real soon!

Check out these other great articles:
Disneyland 24 Hour Party Details
15 Can't Miss Disneyland Diamond Celebration Updates
Disneyland Diamond Celebration on Studio 5