Vacations are great! Traveling by air is a quick easy way to get your vacation started. At Get Away Today we not only find you the best deals on airfare, we can help you save once you've booked it.  Checked bag fees range from $20-$75 each way and that can add up. However,  you can avoid those fees and save more money for your vacation when you know and follow the rules. There are three main ways to avoid checked bag fees.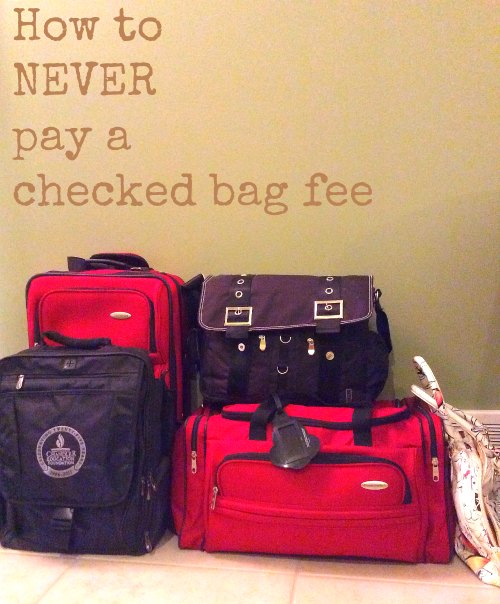 Fly an airline that lets you check bags for free. JetBlue lets you check one bag per passenger for free. Southwest Airlines allows two free checked bags per person, plus one carry on AND a personal item.Just remember, if you are comparing other airlines and insist on checking a bag, you'll need check the fees before booking. If your airline doesn't offer free checked baggage, you'll need to add approximately $50 per person for each roundtrip ticket.


Get an airline credit card. If your preferred airline doesn't allow free checked bags, look into getting an airline credit card. Not only will you normally receive a free flight when you sign up, you'll also earn points for all of your purchases and can check a bag for yourself and a companion for free. The Delta Skymiles American Express even allows up to six companions to check one free bag each! We've compiled a list of the best credit cards to earn airlines points - you can read it here.


The third way to not pay to check a bag is to simply not check one. I mastered packing carry-on luggage only for any trip (including a three week journey across South America) while working for an airline. As FAA regulations have changed, I have tweaked and streamlined my formula. By not checking bags you have everything easily accessible and can get your vacation started the minute you deplane.
Here are my packing tips and tricks so you can take any vacation without checking any bags:
Know what you can bring on the plane.
The most frequently asked questions have to do with liquids.  Each passenger can bring a quart sized bag full of as many 3.4 oz. or smaller liquid containers that can fit. Medications, baby formula and food, and breast milk are exceptions to this rule. You can bring "reasonable" amounts onboard as long as you declare them at security for additional screening.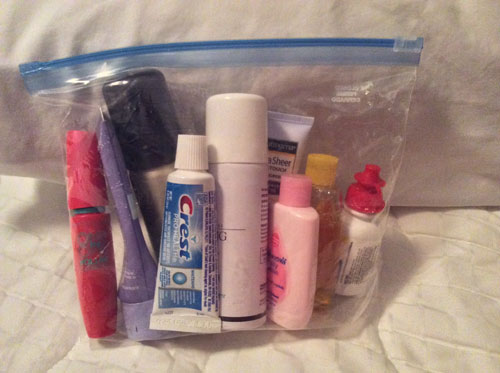 Get travel sized items of products you know you'll use.
We always use the hotel's toiletries and save the mini toothpastes from our dentist visits for our vacations. Also, we only use our travel sized hairspray, mousse, etc. when we're traveling. We keep all of our travel toiletries permanently in our quart sized Ziplock bag so we're ready to go at a moment's notice. If you have a large family and know you'll use more liquid products than you can pack, purchase what you'll use while on vacation at your destination. We always know we'll use over 3.4 oz. of sunscreen on vacation, so that's a destination purchase for us. There's no reason to pay for something twice (once when you buy it at home, and then again when you pay to have it checked).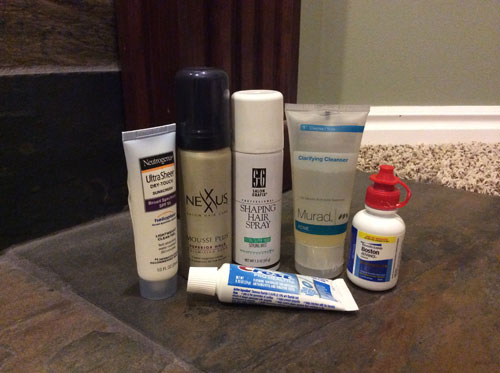 Know the carry-on sizes and measure your luggage
. Almost every airline allows each passenger one personal item like a purse, laptop bag, backpack AND a carry-on item like a duffel bag or small roller bag free of charge. Personal items are normally 7" x 16" x 15" and carry-on items are normally 9" x 22" x 14". More often than not, you can fit more than what you'll actually use in these sizes.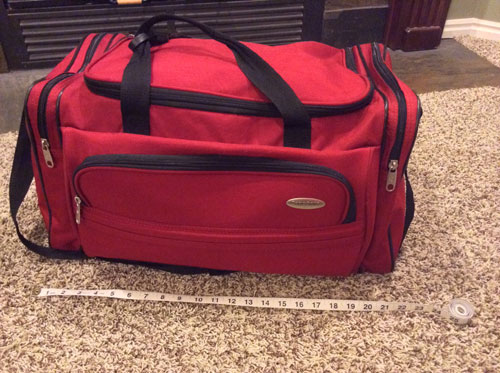 Keep it simple and don't over pack.
Remember, you're going on vacation - you don't need your entire daily regimen and people rarely look their best after riding California Screamin' anyway! For trips that are 2-3 nights, we'll pack a shirt, socks (unless we're wearing sandals) and underwear for each day and one pair of shorts or pants for each traveler. For 4-7 night and longer trips, we'll pack a shirt, socks and underwear for each day and two pairs of shorts or pants. Really small children and babies get a whole fresh outfit for each day. For longer trips, we schedule a laundry day halfway through our vacation. Cruise ships and most hotels have laundry on-site so it doesn't take too much time away from your vacation.
Wear your biggest shoes and pieces of clothing on the plane.
In addition to baggage, each passenger can carry on a coat or jacket and umbrella free of charge. As for shoes, you'll really only need up to three pairs for any trip - one comfortable pair of walking shoes, flip flops for pool and/or beach, and a pair for dress-up if you have a special event. If you don't have any special events, forgo the dress shoes, and you'll have even more room. As a space saving tip, you can use shower caps to keep your packed shoes in. This keeps them separate from the rest of your luggage and doesn't take up extra space.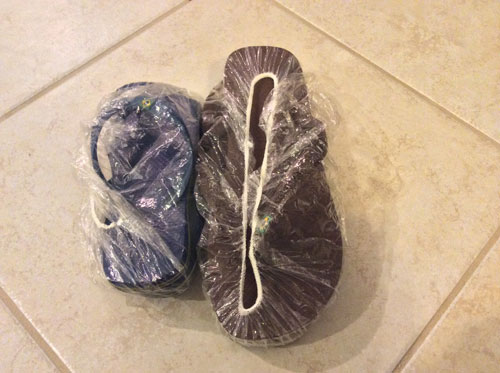 Don't forget the baby!
Most airlines will allow you to check a car seat and stroller for free. You can either check them at the gate or when you check-in for your flight. I've found it's easier to gate check the stroller. Also, most airlines will allow you to bring a diaper bag in addition to your personal and carry-on item. Take advantage of it! If your diaper bag is full of diapers going, that will leave some extra space for souvenirs when you're coming home. The large family rule applies to diapers as well; if you're going to use more diapers than you can fit in your bag, bring enough with you for your travel day (with an extra diaper or two) and buy diapers when you get there. Diapers are expensive enough without paying to check them!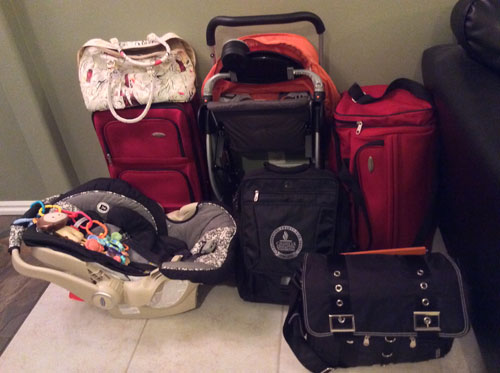 Keep your non-liquid bathroom stuff together and separate.
Don't waste space in your Ziploc for your solid deodorant, Chapstick and other toiletries that aren't gel or liquid. Also, keep in mind, you can carry-on disposable razors, so no need to check a bag just so you can shave on vacation.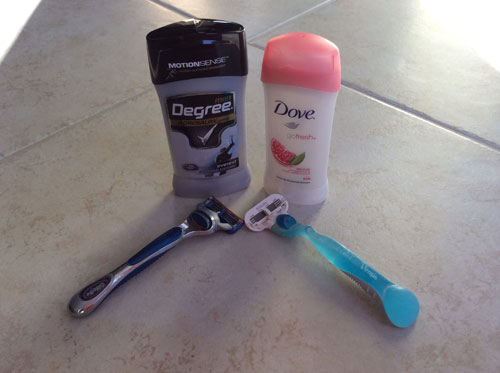 I hope you've found these tips helpful. With a little planning ahead of time, you can have an organized, simplified vacation - even when flying with a family! We'd love to hear what works for your family - feel free to leave a comment with your best flying tip.
As always, our vacation experts would love to help you plan your next trip. Book any of our Disneyland packages or alternate destinations online or give us a call at 855-GET-AWAY!

Check out these other great articles:
Easy Packing Tip For Traveling With Kids
Pre-Travel Checklist: One Week Before Your Disneyland Vacation
Disneyland: Eating Out On the Cheap
7 Ways to Save Money for Vacation