Humphreys Half Moon Inn & Suites in San Diego is one of the most unique properties in the area. Our team recently stayed at this hotel and our Humphreys Half Moon Inn review will tell you what it's really like to stay there.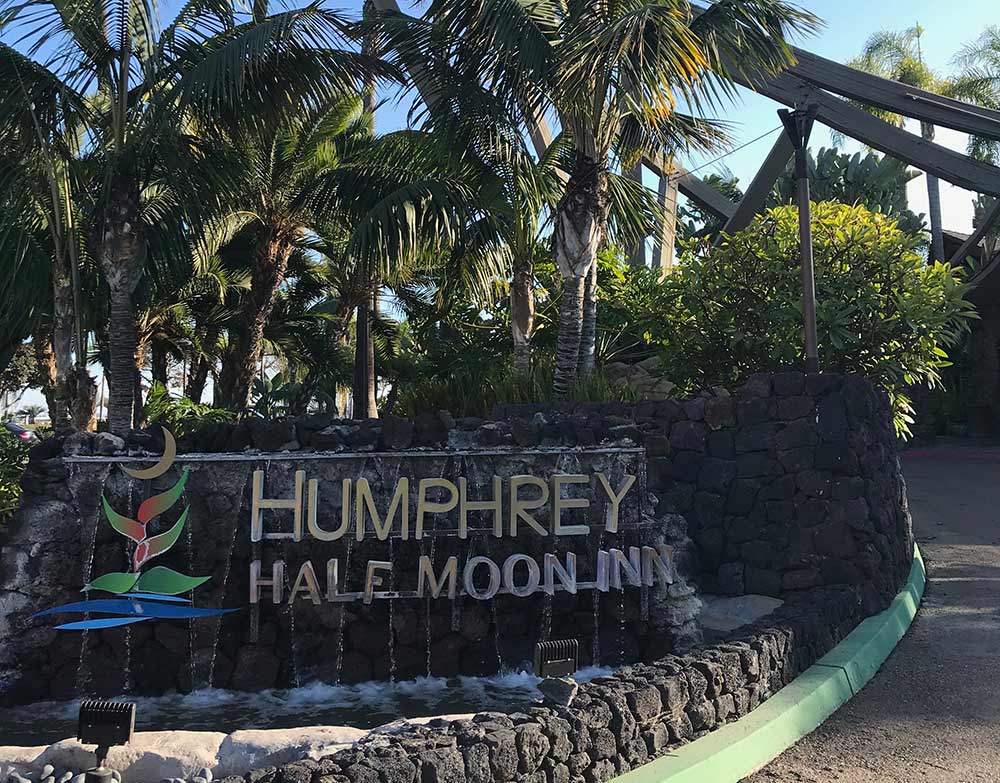 Photo Courtesy of Humphreys Half Moon Inn
At Get Away Today we only work with the best hotels in San Diego. The
Humphreys Half Moon Inn & Suites
is one of those properties. We tour our hotels each year, and this year our staff was able to stay at the Humphreys Half Moon Inn. We'll break down what exactly we loved about the property and what you can expect when you stay here for your San Diego vacation.
Humphreys Half Moon Inn Review
Humphreys Half Moon Inn Review - Rooms
The rooms at Humphreys Half Moon Inn are anything but standard. You can choose from a room with a king or two queens, or a suite that offers a queen and sofa bed. Every room has a microwave and refrigerator, as well as a beautiful view of the grounds, marina or bay. Upper level rooms even have vaulted ceilings - something you don't often see at hotels! Our team was lucky enough to stay in the upper level rooms and felt so pampered. The decor is bright and beachy, and you'll feel like you're in an island paradise.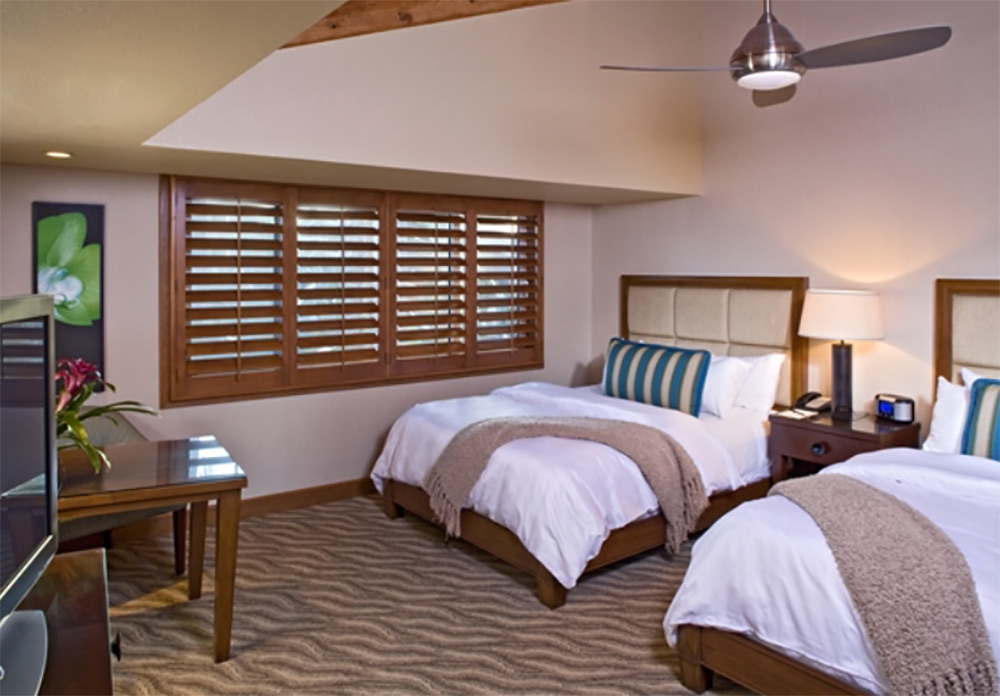 Photo Courtesy of Humphreys Half Moon Inn
Humphreys Half Moon Inn Review - Amenities
The Humphreys is known for their beautiful grounds, large outdoor pool and summer concert series. We loved how the sprawling grounds seemed to transport us somewhere far away from the hustle and bustle. It was perfect for relaxing!
If you're staying at the hotel anytime from May through October, you'll be able to catch a rockin' show during Humphreys Concerts on the Bay series. You can request a room closer to the stage during these months as well - you won't even have to leave your room to enjoy all the music! Just remember that requests are subject to availability based on when you check in. We weren't there when the concert series was going on, but we would love to be. The Humphrey's has hosted some of the most recognizable names in music and performance art in their Humphrey's Concerts by the Bay. Although the summer schedule is typically packed, the hotel will also occasionally host artists at other times throughout the year.
The hotel charges a parking and resort fee, and those encompass some amazing amenities. On top of access to the large pool area, you'll also enjoy a free 2-hour bike rental, high speed internet and no cover charge at Humphrey's Back Stage LIVE. Plus, you'll get discount offers for Humphrey's Restaurant, Backstage LIVE and The Pool Bar!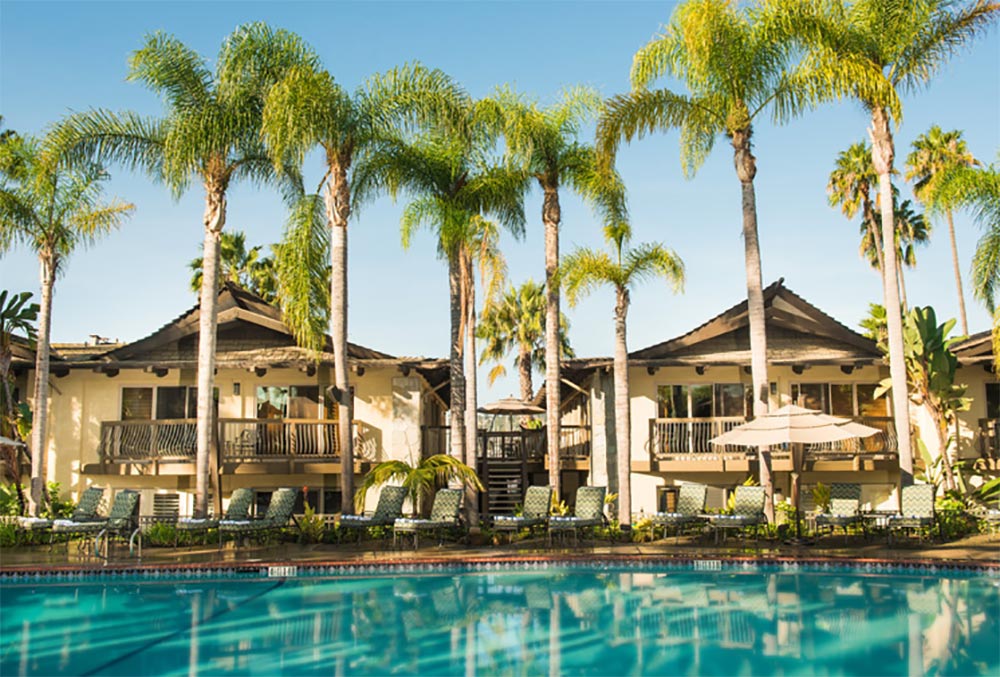 Photo Courtesy of Humphreys Half Moon Inn
And you can always find live music at the Humphreys Backstage LIVE Lounge, no matter the time of year. The lounge has been voted San Diego's Best Live Music Club and always offers cocktails and dancing.
Our staff loved riding bikes along the three miles of waterfront paths, almost more than even relaxing in the pool! We'd have a hard time choosing a favorite amenity, just because we loved all the amenities at Humphreys Half Moon Inn.
Humphreys Half Moon Inn Review - Dining
Another benefit to staying at the Humphreys Half Moon Inn is the amazing dining. The hotel houses Humphreys SoCal Dining & Music, a waterfront restaurant that focuses on California inspired cuisine. The restaurant has won a multitude of rewards for its contemporary fare and ambiance. You'll find breakfast, lunch and dinner served daily, as well as live music on select days. If you're a foodie looking for a San Diego hotel with a restaurant that will meet all of your heart's desires, the Humphreys Half Moon Inn is a fantastic choice!
Humphreys Half Moon Inn Review - Location
If the rooms, amenities and dining didn't convince you, the location of Humphreys Half Moon Inn will. Located on Shelter Island, Humphreys sits on North San Diego Bay. You'll be only minutes from the USS Midway Museum, Seaport Village, Gaslamp Quarter, Cabrillo National Monument and more. It's also only a short drive from SeaWorld San Diego, Old Town and many of the other popular San Diego attractions. Our staff loved that it was so close to the airport, too. We were able to spend even more time soaking in the sun in the pool area before we hopped over to fly home.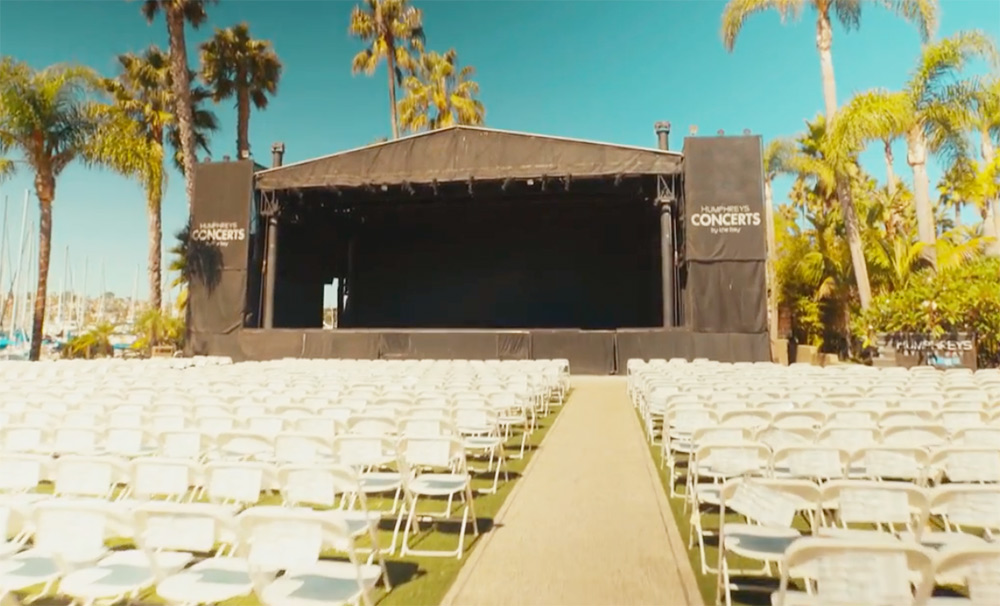 Photo Courtesy of Humphreys Half Moon Inn
Anyone looking for a San Diego hotel that offers gorgeous rooms, above average amenities, spectacular dining and a central location, won't be disappointed with Humphreys Half Moon Inn. And the best part is that you can get discounted rates by booking through Get Away Today. Click here now to view rates at the Humphreys Half Moon Inn and book your next stay.
Don't forget to bundle your hotel stay with discount tickets to some of San Diego's top attractions, like SeaWorld, the Zoo and Old Town Trolley Tours. You can book those online or give our travel experts a call at 855-GET-AWAY. We can't wait to book your next stay at such a tropical paradise!