Make a super hero valentine with this easy Disney INCREDIBLES valentines printable and tutorial. Turn a regular Tootsie Pop into a crime fighting hero in a matter of minutes.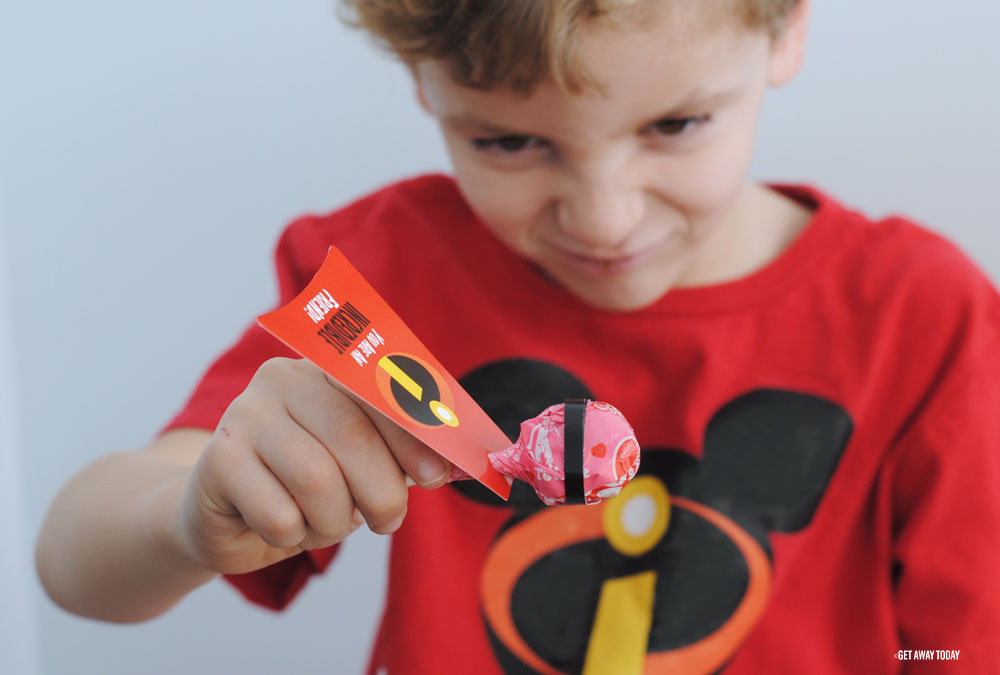 I love Valentines Day! I think celebrating love and friendship is pretty awesome. I have four young kids and we always take plenty of time creating the perfect valentines to take to school on the big day. My daughter made slime for everyone in her class last year. She spent all of Valentine's Eve measuring and packaging her gift. We have also stitched homemade fabric monsters and turned fruit snacks into fancy "birds of a feather!"
INCREDIBLES Valentines
My little kindergartener is pretty obsessed with super hero guys. So, we decided to create our own fun crime fighting super hero INCREDIBLES valentines for his first year at school. When we visited Disney California Adventure Park this past Fall, we were able to test out the new INCREDICOASTER. Wow. It is a fast and crazy roller coaster. The story along the ride makes it way better than before! It is such a fun addition to the theme park. I love how Pixar Pier is evolving into such a cute place.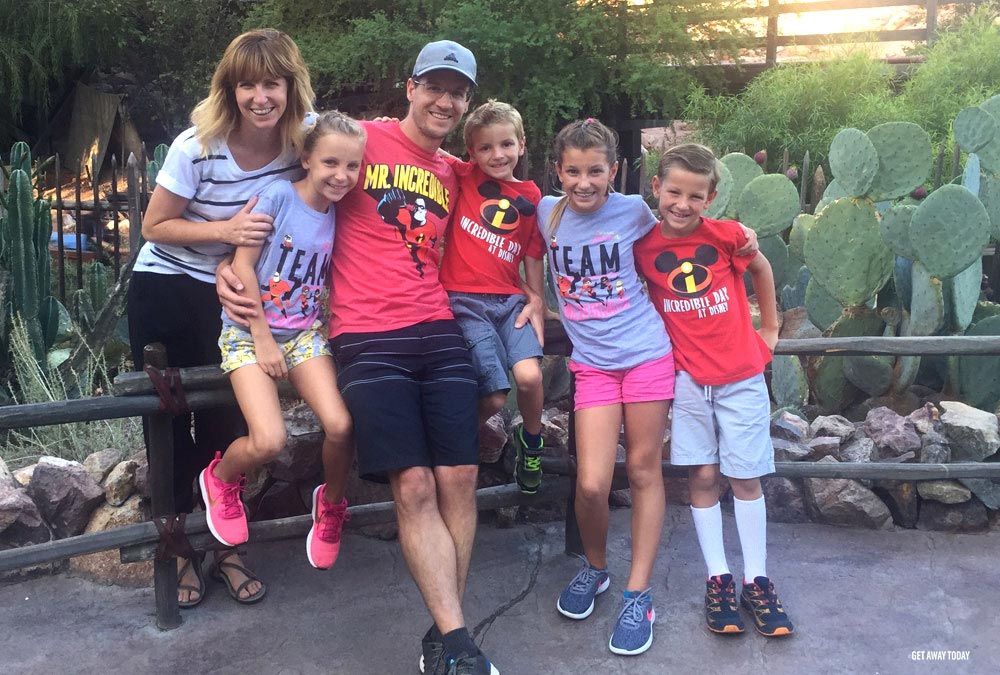 The INCREDIBLES are totally funny and cool. We watched the INCREDIBLES 2 movie a few weekends ago and it reminded me about how awesome the Parr family really is. They inspired this super hero valentine!
I know that Edna Mode would shudder at the thought of making an INCREDIBLES costume with a cape, but it was actually a MUST for this super hero Incredibles valentine. I hope she forgives me.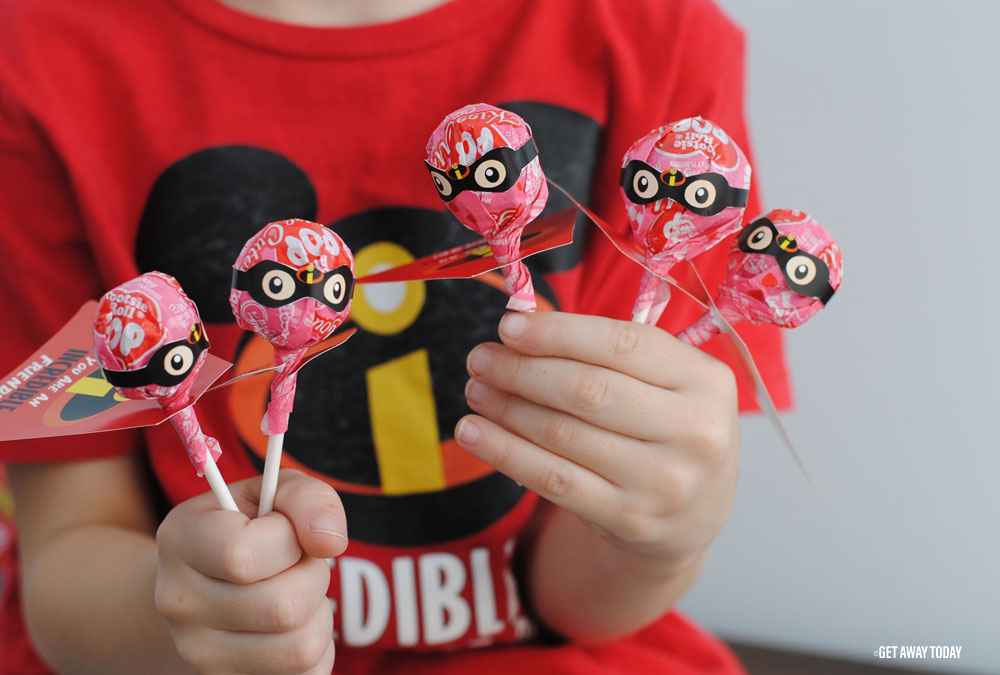 To make your own INCREDIBLES Super Hero Valentine, you will need a few basic supplies.
INCREDIBLES Valentines Supplies Checklist
Super Hero INCREDIBLES Valentines Printable
Scissors
Double Sided Tape
Hole Punch
Tootsie Pop Suckers
Honestly, this project is totally simple to recreate. You won't need super powers to get it finished in a flash. Download the template here. Print the file onto card stock paper in color ink. There are enough capes and masks to create six super hero valentines for every paper you print.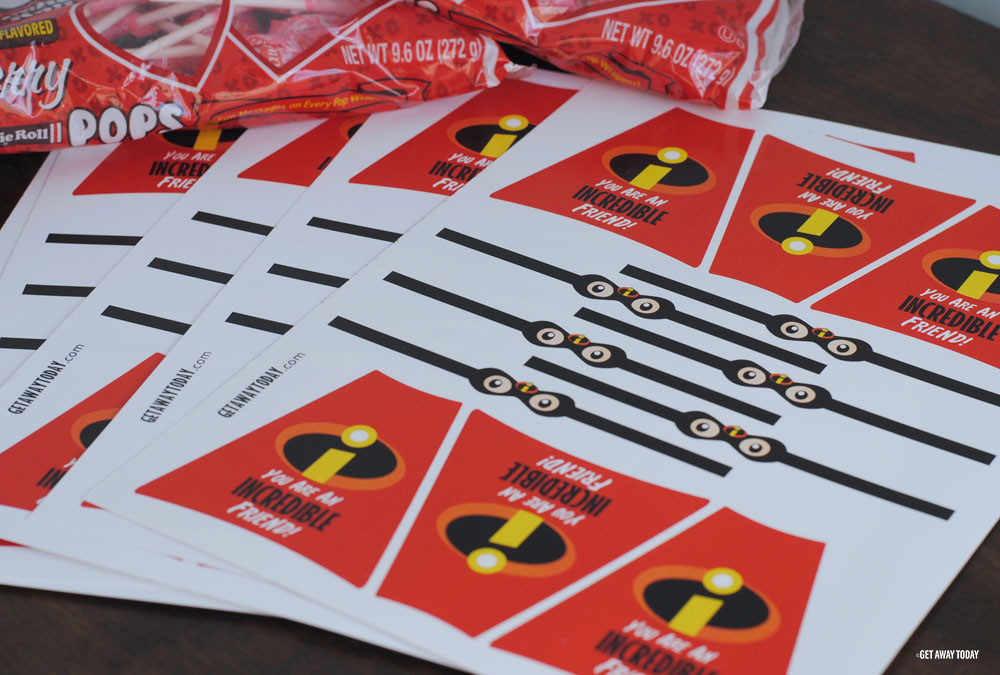 Buy a bag of Tootsie Pop Suckers at the store. I got mine in the valentines candy section at the store. A bag of 16 suckers was only about $2.50! Not too shabby!
Cut out the capes. They say, "You are an INCREDIBLE friend!"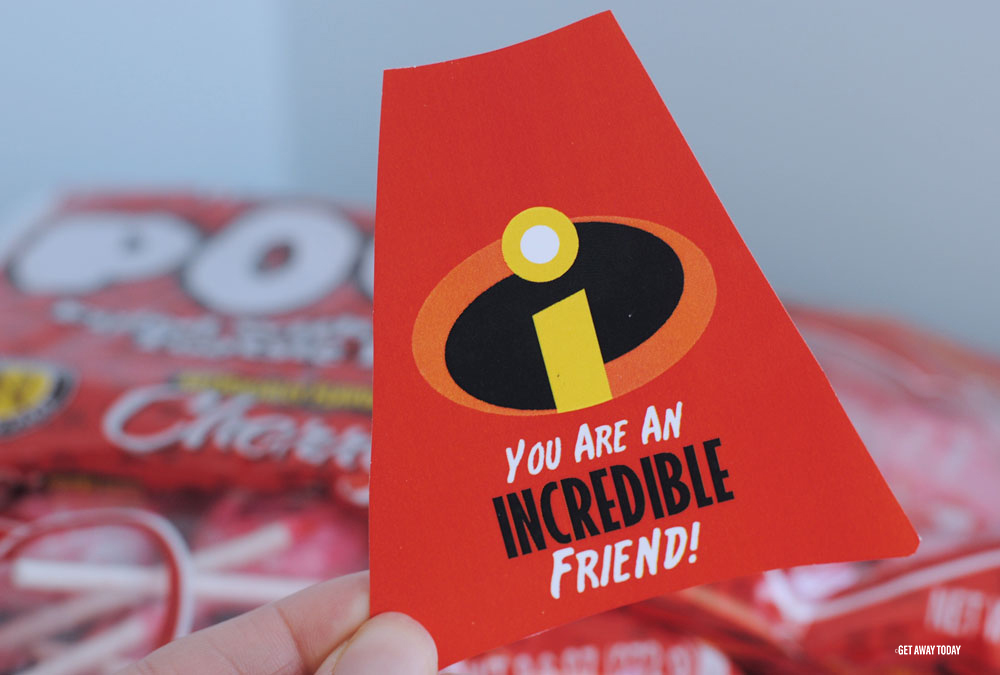 Then, cut out the little masks. The Parr family doesn't ever go out on a job without protecting their identity. Gotta have a mask!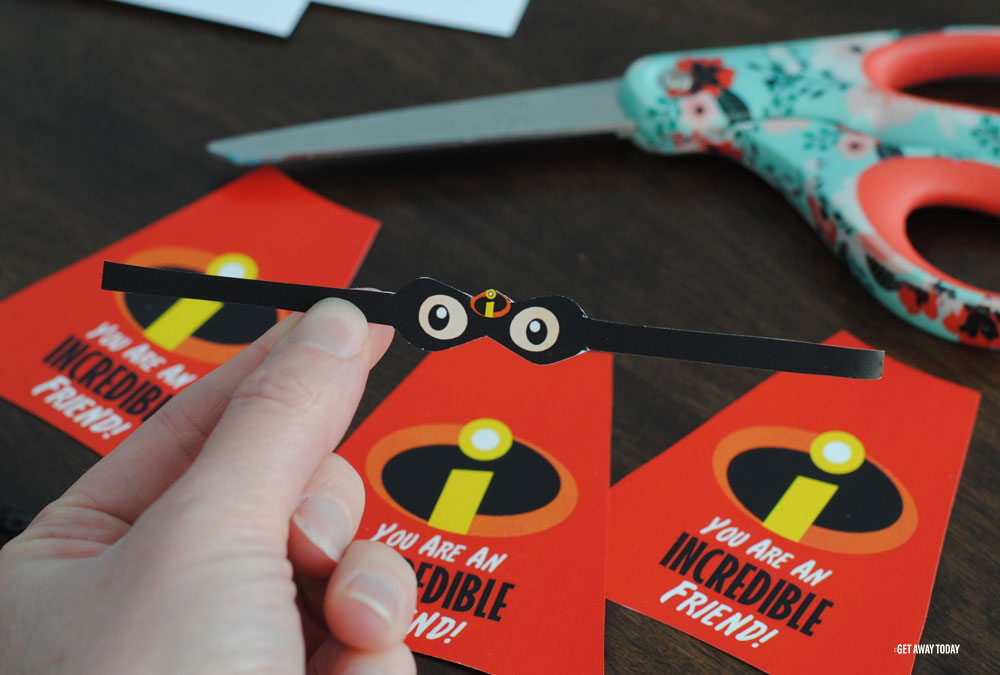 Each super hero valentine will need these three things: mask, cape, and sucker.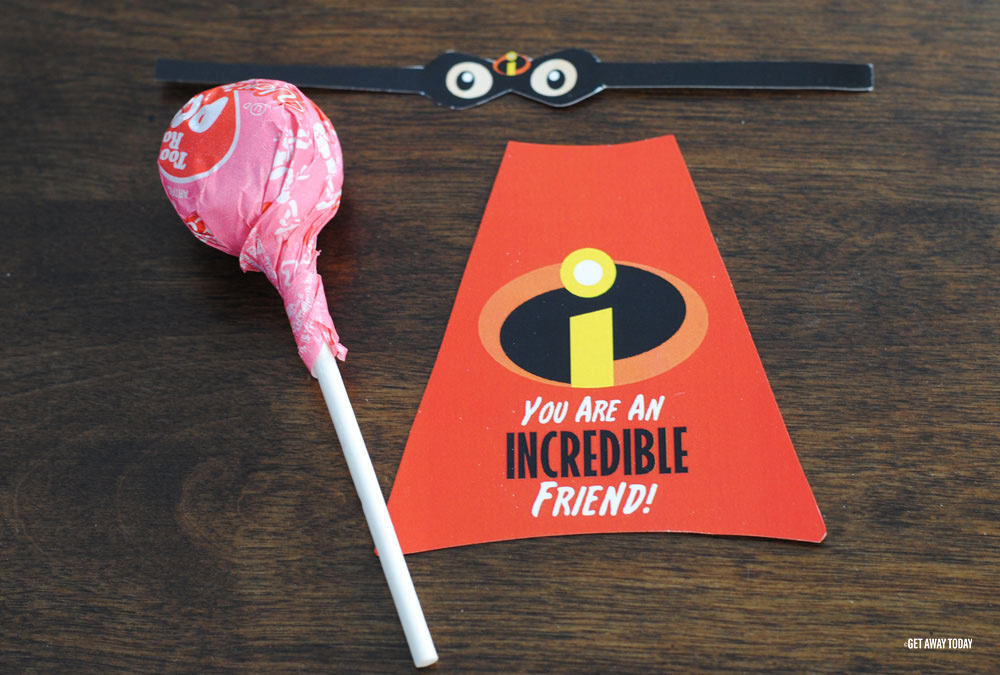 Assembling the INCREDIBLES Valentines
Now you get to start building! Put a little piece of double sided tape onto the end of one of the mask straps.
Wrap the straps around the sucker and stick them together with the tape. I noticed that tape doesn't stick to the waxy covering on the sucker. It only sticks to the paper. So, make sure to secure the two ends together with some pressure to keep the mask on the super hero!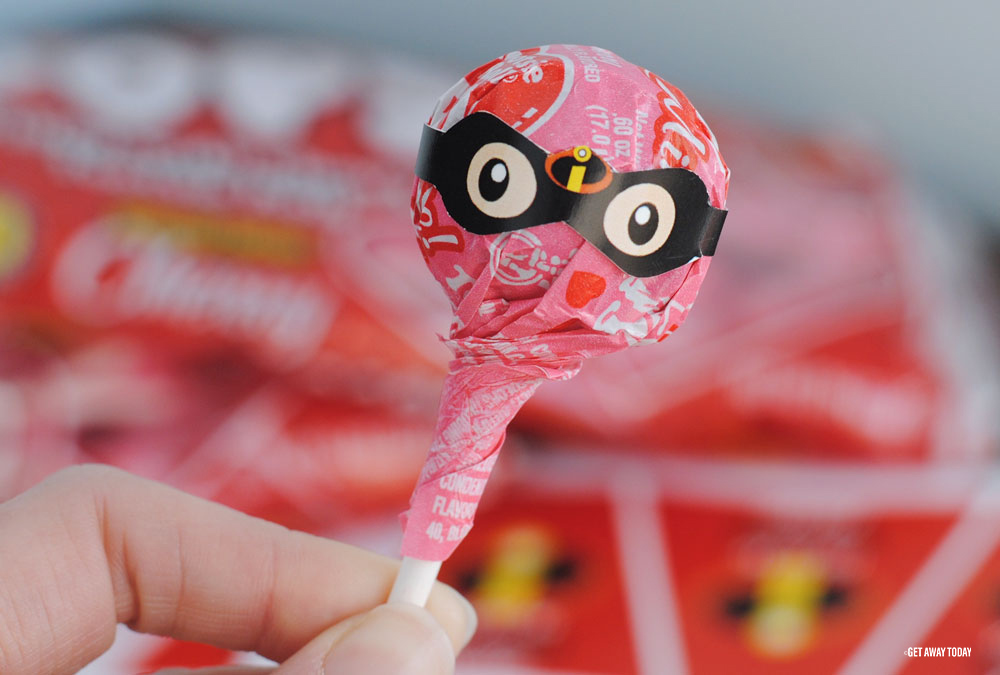 Do you think it might be Dash? Or, maybe Violet! It is up to you. Let your little super hero write his or her name on the back of each cape. There is plenty of room for a signature!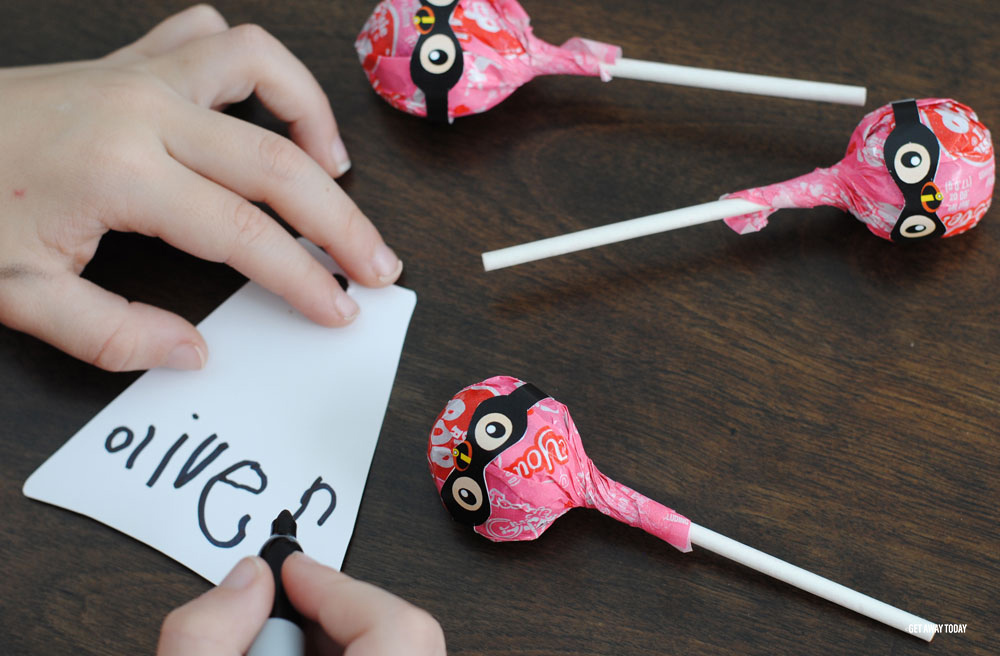 Then, punch a hole in the cape just about 1/4 inch below the edge. Try to make it in the center as well. This is a job that little kids can help with!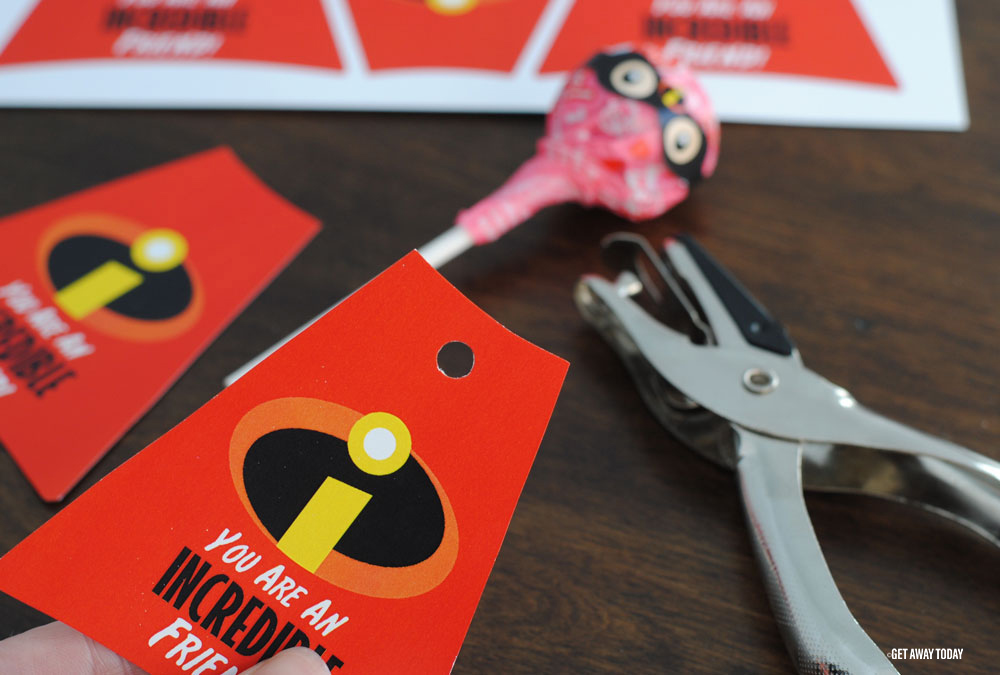 Slide the sucker stick through the hole in the super hero cape. The wrapper on the sucker stick might need to get wound up again to allow the packing to slide through the hole. Give it a little twist to tighten it up and then it slides through pretty easily.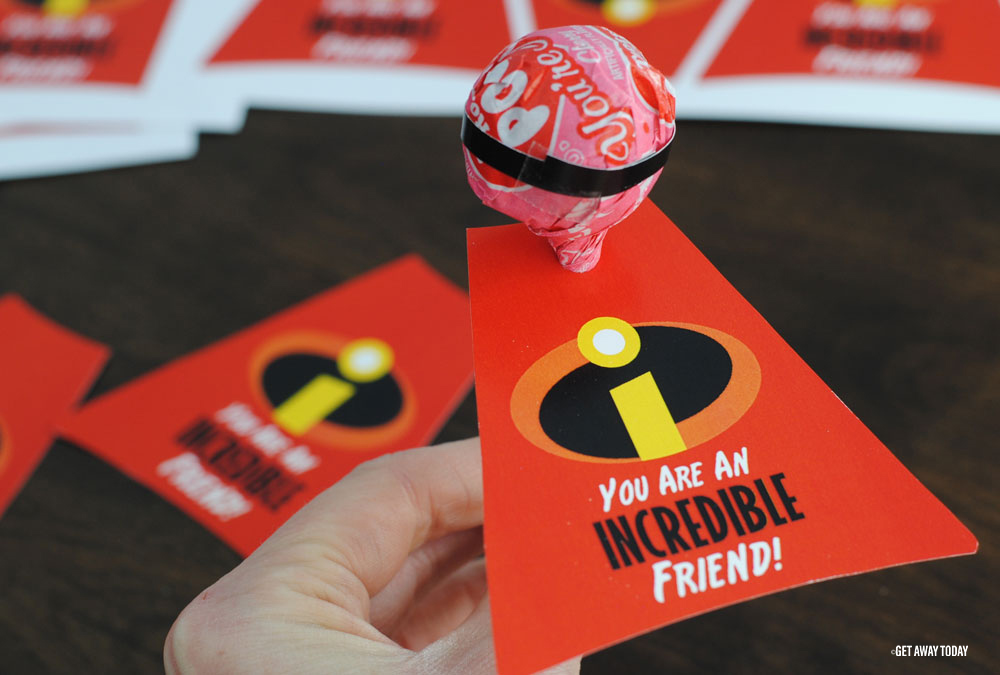 That is all it takes! Your Super Hero INCREDIBLES Valentines are ready for action. Not only are they a yummy treat...but they are pretty fun to play with too!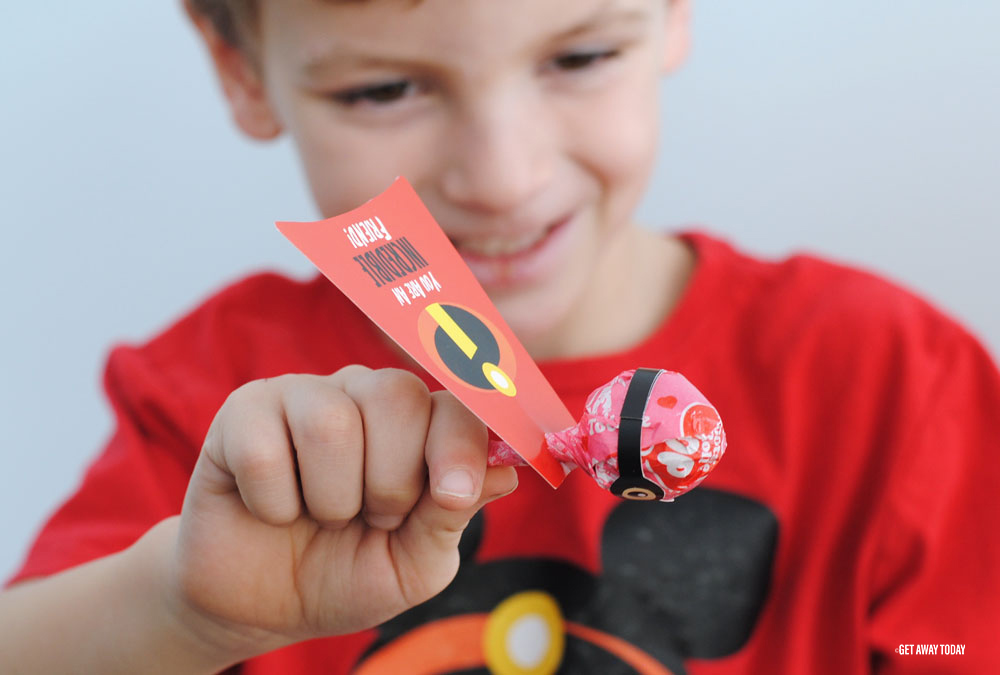 My little guy loved making his super hero sucker fly. He is pretty excited about taking them to class on Valentines Day. I think your kids will be SUPER excited too!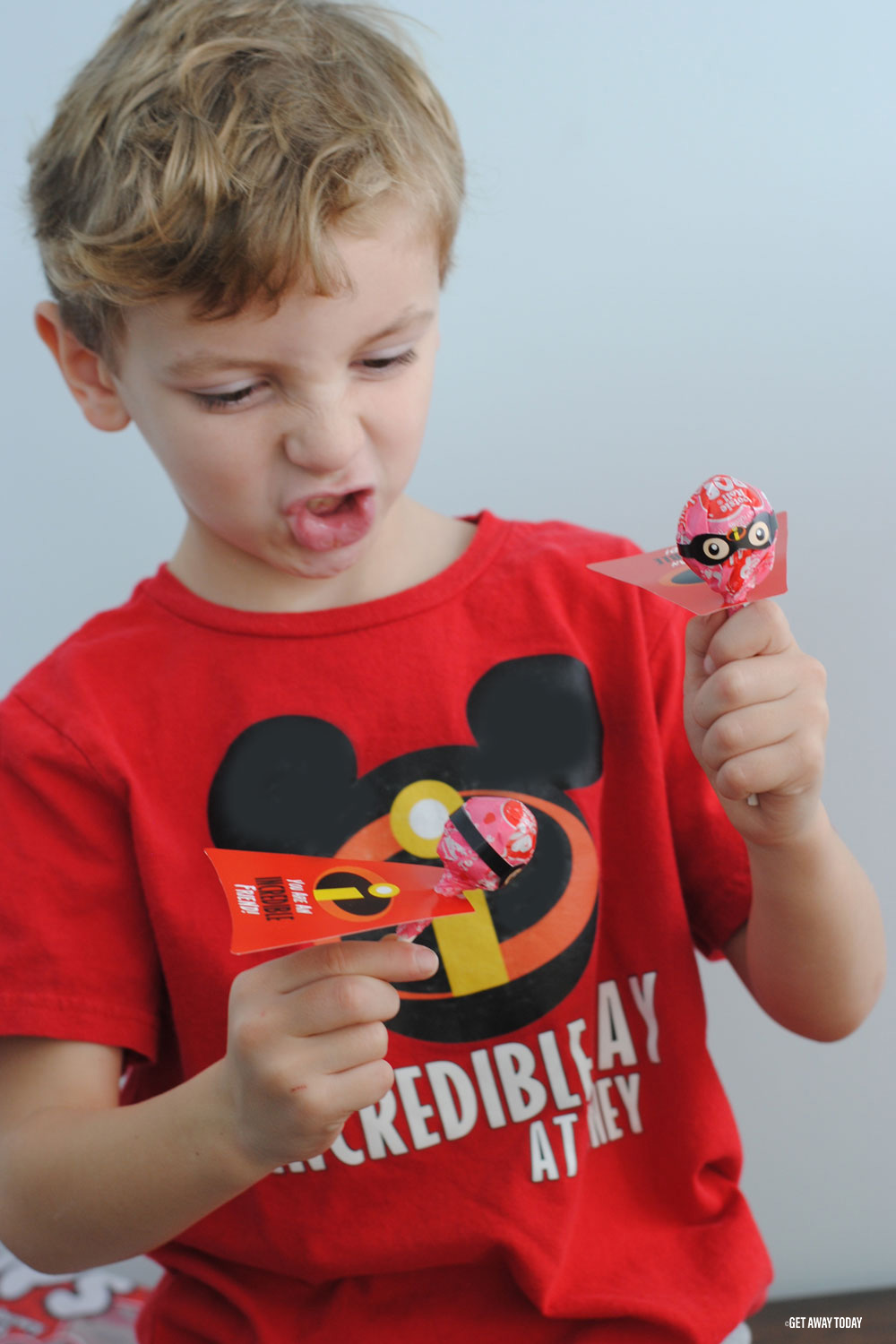 If you're ready to take your family to ride the INCREDICOASTER for themselves, then talk with our agents at Get Away Today to book your next Disney vacation! You can take advantage of our incredible Layaway Plan to lock in savings now, and pay up until you travel. Book online at www.getawaytoday.com, or call us at 855-GET-AWAY.