On today's blog, we show you how to make these tasty and spooky Jack Skellington chocolate covered strawberries. These treats are just the way to get into the Halloween spirit!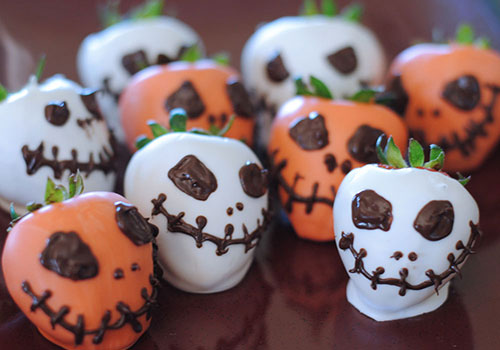 Halloween Time at the Disneyland Resort screams into action tomorrow, September 9th and continues through Halloween night! Festive decorations, spooky attractions, scary snacks and costumed characters can be found everywhere. It is the most bewitching time of the year.
One of the most popular Halloween characters is Jack Skellington. He and his bride can often be found greeting guests outside of the Haunted Mansion Holiday, which his crew has completely taken over for the Halloween and Christmas seasons.
Get into the Halloween spirit with these Jack Skellington chocolate covered strawberries. They can be found at special events during Halloween Time at Disneyland. You can create them at home with just a few basic ingredients - no magic necessary.
Jack Skellington Chocolate Covered Strawberries Ingredients
Fresh Ripe Strawberries
Vanilla Dipping Drops
Orange Dipping Drops (if desired)
Chocolate Chips
Piping Bag with Small Round Tip
Wax Paper
Jack Skellington Chocolate Covered Strawberries Instructions
To start, wash your strawberries. Let them dry completely. The quality of the strawberry you use greatly affects the final product. You want them ripe, but firm.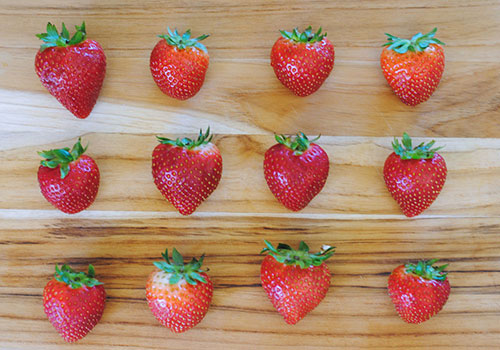 Line a cooking sheet with wax paper and set it aside. Place about one cup of the dipping chocolate into a small deep bowl. I like using chocolate that is made for dipping. You can get it at baking shops or online. It makes the process a breeze! Microwave the drops on high for one minute. Stop every 20 seconds to stir the chocolate drops.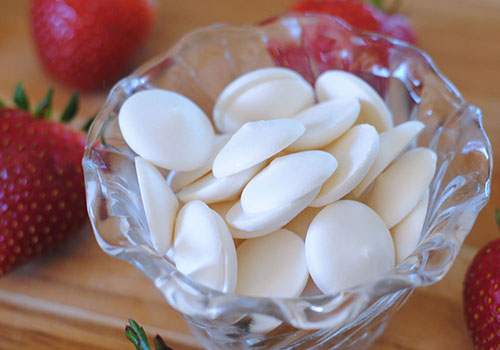 Dip the strawberries into the chocolate one at a time. Make sure to rotate the fruit in a full circle to let the chocolate cover the entire thing. Allow any excess chocolate to drip off the end of the strawberry and then place it on the wax paper to set up.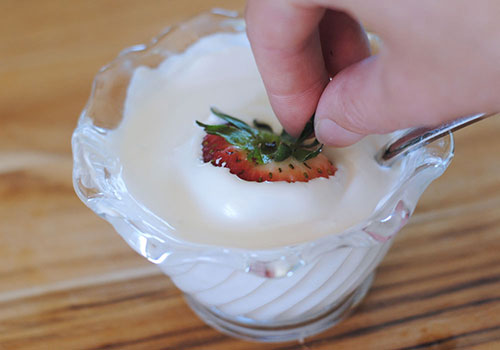 Repeat the dipping process until all of the strawberries have been covered. I used two different colors of chocolate to make the dessert extra festive. I figure that Jack Skellington chocolate covered strawberries can come in orange too. He is the Pumpkin King afterall!
If you are dipping a lot of strawberries, you might need to heat up additional batches of melting chocolate as the process moves along. I have found that I like working with small quantities of chocolate when dipping. Only melt about one cup at a time and repeat when needed.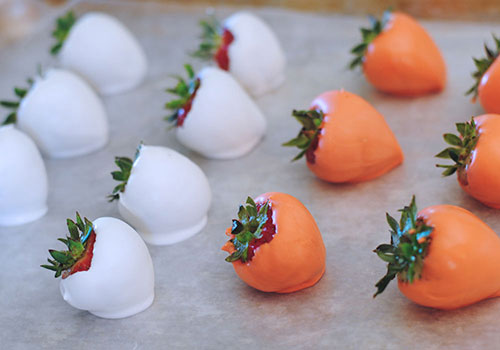 It doesn't take very long for the chocolate to get firm. Once it is solid, melt about 1/2 cup of brown chocolate for 30 seconds in the microwave. Stir it until it is smooth and thick. Then, place it in a piping bag that has been set with a small round frosting tip.
Use the chocolate to draw the Jack Skellington face onto each berry. I started with the eyes, then moved to the nose and finished with the mouth. It is a very basic design.
And the good thing about Halloween treats is that they are supposed to be scary! So, don't feel bad if your face ends up looking quite creepy. I got better after a few attempts.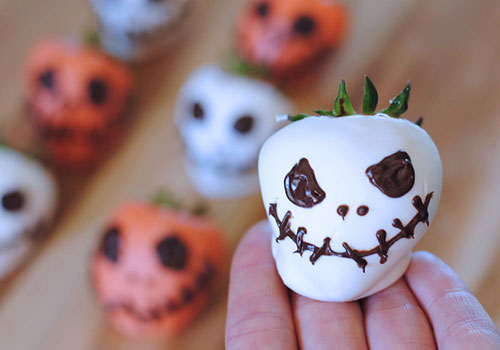 I hope you have a chance to visit Disneyland during Halloween Time. It really is a spooktacular time to go! Make sure to drop by the Haunted Mansion Holiday to say hello to Jack Skellington...if you dare! In the meantime, enjoy these Jack Skellington chocolate covered strawberries and leave the tricks to the villains in the park.
When you're ready to book your trip, check out our Disneyland packages online or call our agents at 855-GET-AWAY. We'll help you find the best deal with our reduced hotel rates and discount ticket specials.

Check out these other great articles: