Merry Christmas Charlie Brown! 
Knott's Merry Farm is back and bringing the joy of the holidays to Knott's Berry Farm! Full of the excitement and cheer of the season, this winter wonderland has everything to get you in the Christmas spirit. With new shows, attractions, crafts and food, Knott's Merry Farm 2014 is a whole new experience with something for everyone in your family. All of this on is top of everything you already love about Knott's Berry Farm!

Brand new this year, Merry Christmas Snoopy! is a spectacular ice show in the Charles M. Schulz theatre. Snoopy and friends take audiences on a magical and heart warming journey through their favorite parts of the holidays. World class ice skaters and everyone's favorite Peanuts characters put on a performance that will dazzle and delight adults and kids of all ages. Show are only on select days now through January 4th, so plan accordingly to make sure not to miss this incredible program.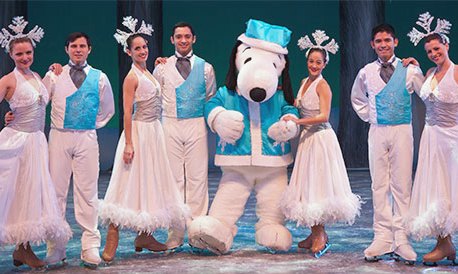 Image credit: Knott's Berry Farm



On Engine 41, guests can climb aboard the vintage rail car to meet and chat with the residents of Ghost Town. And while you are there, check out the amazing selection of holiday treats including made to order maple lollipops, churros, cookies, cakes, muffins, gingerbread and so much more! You will not regret trying a little of everything.

If you are in the mood for a show, Knott's Merry Farm has plenty of options. Check out live performances of the classic Charles Dickens' A Christmas Carol or the wonderful O. Henry's A Gift of the Magi both at the historic Bird Cage Theatre. Or you might catch the sounds of the magnificent Dickensian Vocal Quartet around the park. Join in on the dancing and singing at Lucy's Wish List live show in the Camp Snoopy theatre.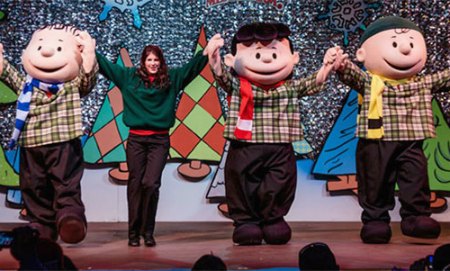 Image credit: Knott's Berry Farm

In Knott's Christmas Craft Village you can see the exquisite glass blowing demonstrations and hear the roar of chainsaws sculpting marvelous word carvings. There are plenty of holiday themed shops with one of a kind gifts anyone you are shopping for would enjoy. And admission to the Craft Village is completely free with your daily theme park ticket!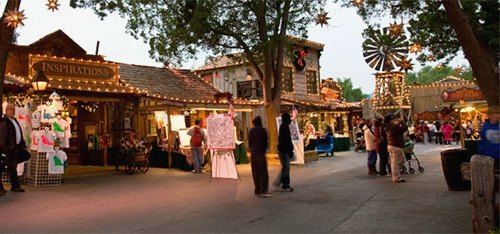 Image credit: Knott's Berry Farm



Of course, Knott's Merry Farm 2014 would not be complete without Santa's Christmas Cabin. Located at the Wilderness Dance Hall in Ghost Town, Santa can't wait to hear what is on everyone's wish list and snap photos to take home with you. Santa also made some of his famous homemade cookies which are a must try.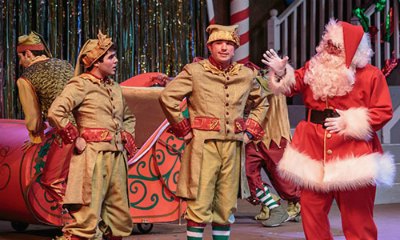 Image credit: Knott's Berry Farm


After all the incredible festivities and night has come, Snoopy's Merriest Tree Lighting illuminates the park. With the help of the Toy Soldiers, Snowmen, and of course, Snoopy, together they light the enormous Christmas tree in Calico Square. But the holiday magic doesn't end there. Every night on Main Street thousands of lights light up the sky and are choreographed to music while it gently snows. It is truly the perfect way to end your wonder filled day at Knott's Merry Farm.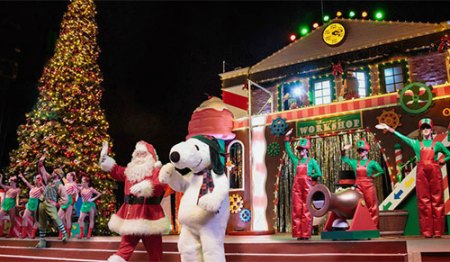 Image credit: Knott's Merry Farm
The atmosphere and experience at Knott's Merry Farm is electric, filled with holiday spirit, and is the perfect place to make Christmas memories and traditions with your family. Let us help you get there! A visit to Knott's Merry Farm 2014 is a great addition to any of our
Disneyland packages
, or as fun quick getaway. We have great deals on hotels in Buena Park and the nearby Disneyland Resort Area. Book online or call our travel experts at 855-GET-AWAY.

Check out these great articles: