Family friendly may not be the first words that come to mind when you hear "Las Vegas," but they can be when you pick the right hotel. Located just a 4 1/2 hour drive to Disneyland, Las Vegas is a perfect overnight stop for families making the trek from Northern Utah. In fact, when you pick the right hotel, your overnight stay in Las Vegas will become a fun-filled part of your vacation. We've tested and tried out many Las Vegas hotels and have put together our list of our favorite family friendly hotels.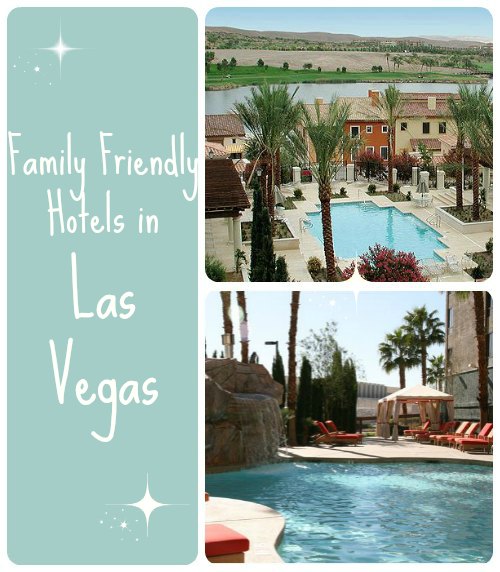 So, in no particular order, here they are with highlights of what makes them perfect for kids:
Trump International Hotel Las Vegas:
If you want to be near the Strip, but not right on the Strip, the Trump Hotel is a perfect choice. This casino free, smoke free hotel is located just off of the North end of the Strip right across the street from Fashion Show Mall, where there are tons of restaurants and awesome shopping. Its rooms are spacious and feature a full kitchen. The rooftop pool is located on the fourth floor and the pool attendants provide everything - including sunscreen!
JW Marriott Las Vegas Resort & Spa:
Located in Summerlin, the JW Marriott is a perfect resort that never requires you to step foot in Las Vegas - unless you choose to. This is another smoke free, casino free resort with incredibly spacious rooms. The resort features a large zero entry pool with waterfalls and 24-hour hot tubs. It offers golf nearby and you can often spot desert rabbits hopping along the sprawling grounds.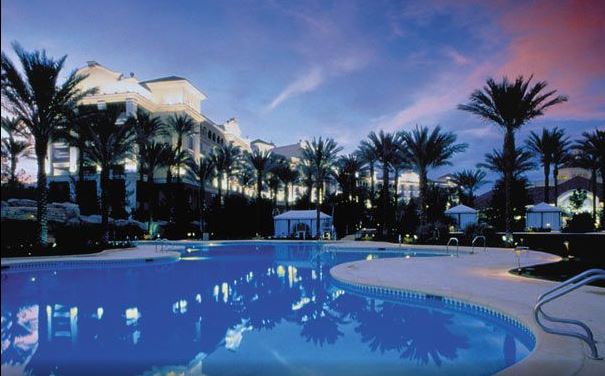 Image Credit: Marriott.com
South Point Hotel, Casino, and Spa:
The South Point Hotel is just off of I-15 making it a quick stop. The fact that it has nine restaurants, a free form swimming pool, a bowling alley and movie theater means you don't have to leave the resort to get your vacation started!
Lake Las Vegas:
You would never know there's an Italian village set on a gorgeous lake located just 30 minutes from the busy Las Vegas Strip, but it's true! And to make it better, there are four hotels located on the lake and all are family friendly.
The Hilton, Westin, Aston MonteLago, and Lake Las Vegas Resort
are all fantastic options. In fact, they're so great, you may want to plan a vacation back just to stay on the lake. For longer stays, you may want to consider the Aston MonteLago, which is a condo property that features full kitchens in every room.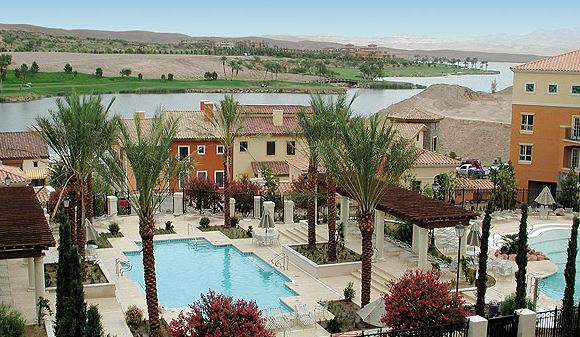 Image credit: Aston.com
Green Valley Ranch Resort and Spa:
This all-suite hotel has spacious, comfortable rooms and an amazing pool with a beach area that kids love. It's another property that allows you to completely avoid the Strip if you'd like to.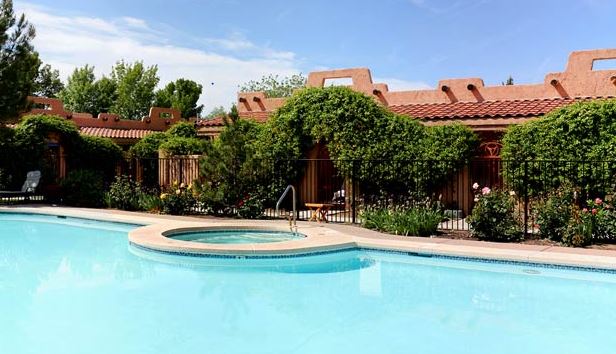 Image Credit: GreenValleyRanchResort.com
Suncoast Hotel and Casino:
The SunCoast is another popular choice for families because it is located in Summerlin, meaning you don't have to go into Las Vegas. The rooms are huge, the swimming pool is fantastic and it has really reasonable hotel rates.
Hampton Inn:
There are a few Hampton Inns around the Las Vegas area, but one of our favorites is the
Hampton Inn Tropicana
(pictured below). It's located right off the Strip. The Hampton Inns in Summerlin, Henderson and by the airport are great as well. All feature classic Hampton standard rooms and suites with microwaves and fridges, plus it's one of a few Las Vegas area hotels that offer a free full breakfast daily.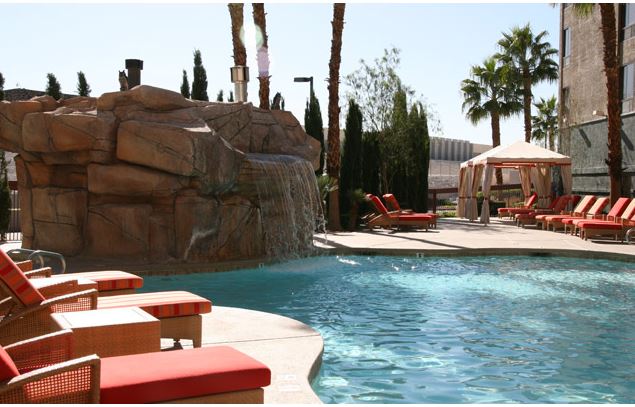 Image Credit: HamptonInnTropicana.com
The Signature at MGM:
The Signature at MGM Grand is a great option for families that want to be near, but not on the Strip. It's located directly behind the MGM Grand where you can grab a bite at the Rain Forest Cafe. Then, it's an easy walk back to The Signature where you'll find huge guestrooms with a full kitchen. Plus, the hotel is all non-smoking, doesn't have a casino, and each of the three towers has a swimming pool.
We hope this hotel list will help you narrow down your choices of where to stay in Las Vegas. Whether you're looking for a way to break up your road trip to Disneyland or looking for a quick getaway, we'd love to help! Book online or call our vacation experts at 855-GET-AWAY.

Check out these other great articles: