UPDATED JANUARY 2019 The moment we have been waiting for has arrived; Disneyland announced the official dates for the return of the Main Street Electrical Parade! The nostalgic parade will be returning to the Disneyland Resort on January 20, 2017 and will run nightly through August 20, 2017.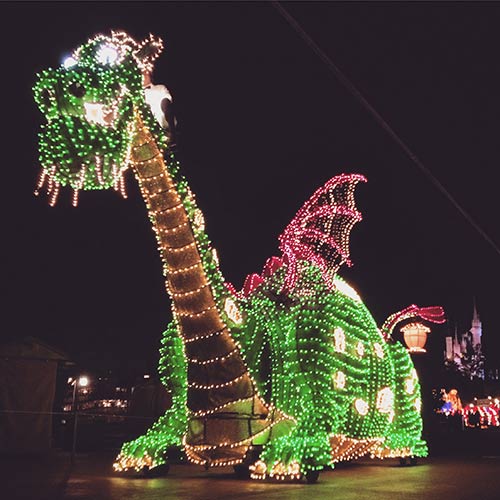 Disneyland's Main Street U.S.A. is where the parade began back in 1972. It astonished the young and old all down Main Street until 1996. After a short hiatus, the parade was re-named Disney's Electrical Parade and debuted in Disney California Adventure in 2001. It continued to run at Disney California Adventure Park as the nightly entertainment until 2010 when it made the move to the East Coast.
The parade was once again named the Main Street Electrical Parade and ran nightly (sometimes multiple times) at Disney's Magic Kingdom in the Walt Disney World Resort. It continued wowing Disney World guests until October 9, 2016. No matter where the parade ran, it always reminded guests of the true magic of Disney.
If you haven't seen the parade, or you want to relive the last time you did, here's a quick video of the parade as it passes through Main Street in Disney's Magic Kingdom:
We are so excited that the Main Street Electrical Parade is returning to the Disneyland Resort for a limited encore engagement from January 20th to August 20th. It's a chance for both young and old to experience the magic of the first time the parade ran in 1972. Whether you grew up with the Main Street Electrical Parade or will be seeing it for the first time, it's something you don't want to miss!
A future Disneyland vacation is never a bad Christmas gift idea, either. If you haven't already, you will want to book your 2017 vacation now to lock in the best prices! The best part is that you only have to put $175 down when you use our layaway plan. Just imagine how excited your family will be when they find out they'll be able to see the original Main Street Electrical Parade back in Disneyland!
All of our Disneyland packages can be booked online or by calling our travel experts at 855-GET-AWAY.

Check out these other great articles: