Make these simple Minnie Mouse Oreo Cookies for Halloween to celebrate all things spooky Disney at home! This recipe is so easy it feels like magic.
Halloween Time at Disneyland is one of my absolute favorite times of the year. To start, fall is amazing on its own. It has to be one of the best seasons with its cool crisp air and delicious food like pumpkin bread and apple pie! Disney takes fall and makes it even more fantastic with Halloween Time at Disneyland. The streets are filled with pumpkins. The shops are stocked with festive Halloween apparel and accessories. The bakery shelves are layered with spooky treats and tasty sweets. Villains walk the streets. Mickey pumpkin faces glow at night. The Haunted Mansion gets transformed! Halloween time is just too bootiful to pass up!
If you love the fall season as well, then this easy recipe is perfect for celebrating a little bit of Disney Halloween Time fun at home. Minnie Mouse Oreo Cookies for Halloween are the perfect treat. Give Minnie a new haunted look, with orange chocolate and black sprinkles. One of Minnie's most popular Halloween costumes is a witch. This treat is a tribute to her iconic witch costume. Have you had a chance to catch Minnie when she is dressed up? It is pretty fun.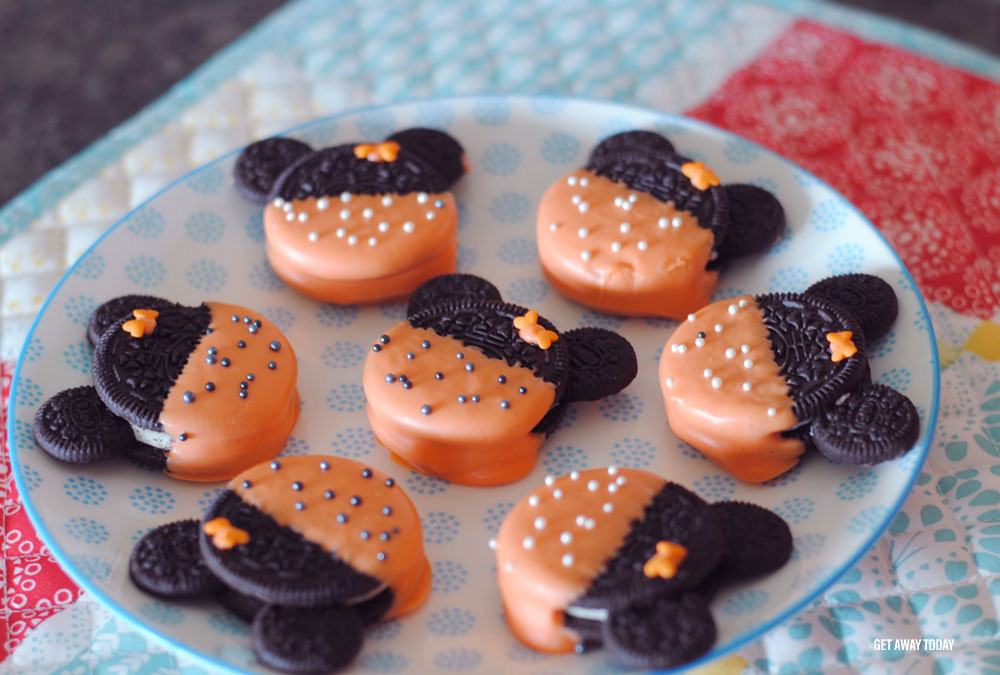 To brew up a batch of your own Minnie Mouse Oreo Cookies, you will need:
1 Package Double Stuffed Oreo Cookies
1 Bag Orange Melting Chocolate Pieces
1 Package Mini Oreo Bites
Small Candy Decorating Pearls (White and Black)
Orange Candy Hearts Sprinkles
Wax Paper
Tooth Pick
Baking Sheet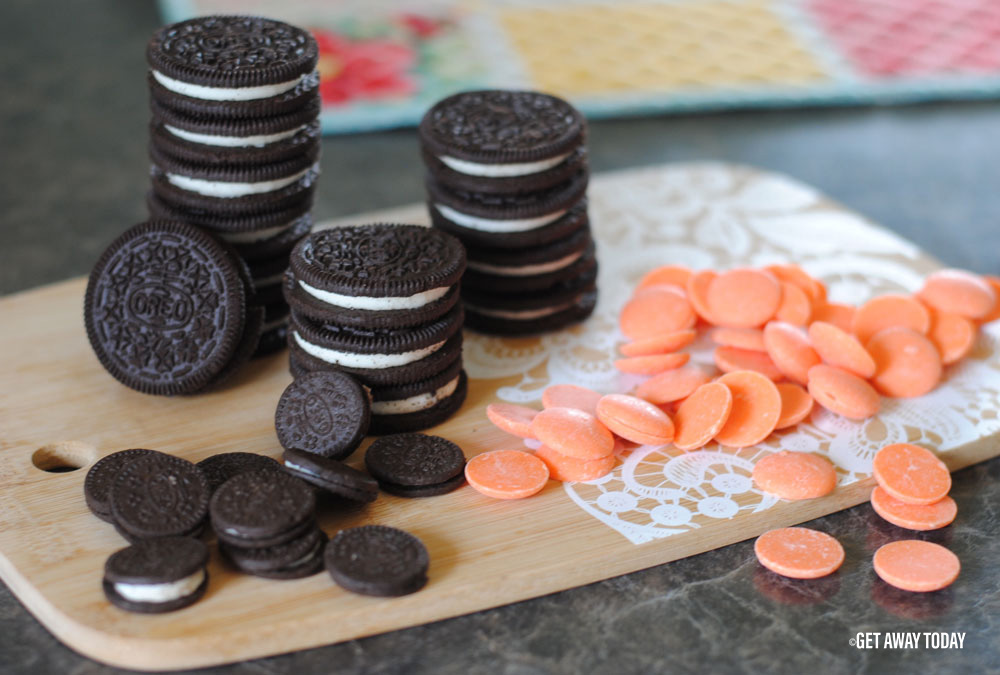 These Minnie Mouse Oreo Cookies for Halloween are so easy to make you can call in your little witches and magicians to let them help. I love a project that I can do with my kids. Their cookies might not look like they belong on Pinterest, but the experience of making them together is much better than magazine-worthy results.
Open the package of Double Stuffed Oreos. I like to use the double stuffed kind, because the space between the cookies is bigger than in the regular Oreos. It helps when you move on to the next step to have that wide gap. Have you ever noticed that some people like the cookie part of Oreos and some people like the filling? What is your favorite part? I have one daughter that licks off the frosting and then gives the cookie away. I think she is crazy because I like the cookie part the best.
Open the package of Mini Oreos. Pull the two sides of the mini cookies away from each other. Scrape (or lick) off the frosting.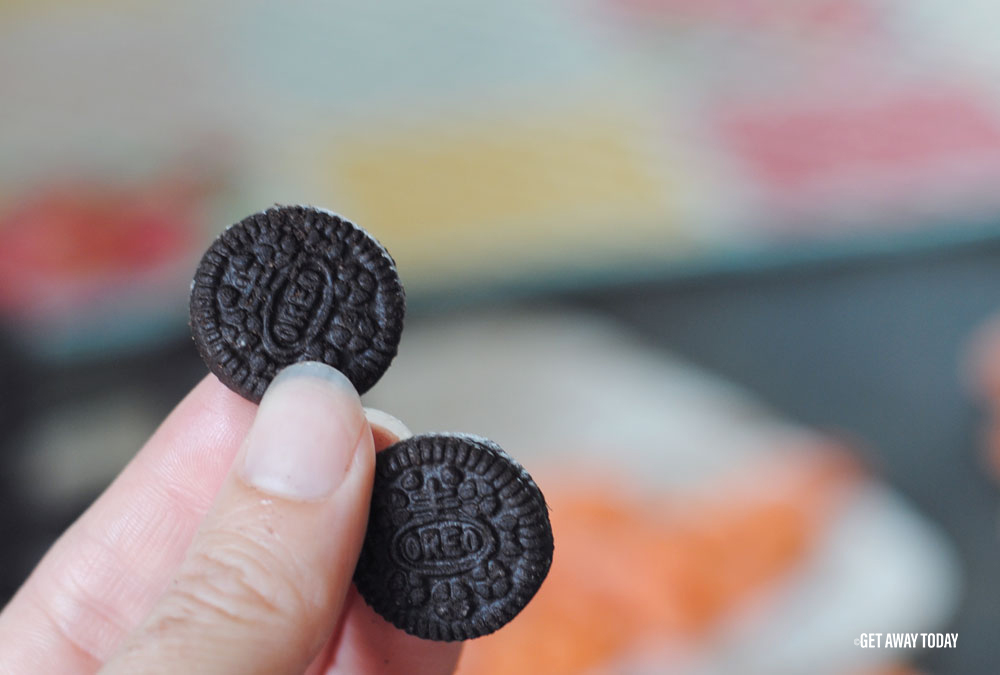 Slide the little round cookies into a full size Oreo. Arrange them so that they look like Minnie Mouse ears. Isn't it cute? Continue adding ears to each of the cookies, until you have enough.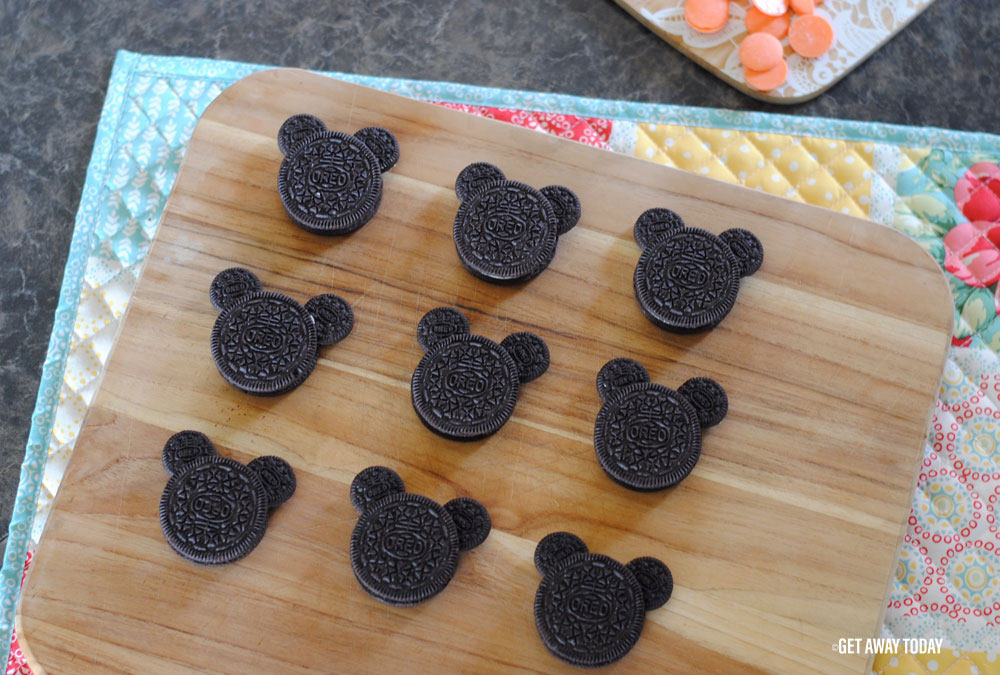 Line a baking sheet with wax paper. You don't really have to cook them, but the sheet is handy for when the chocolate needs to set up. Get your little decorating pearls ready. I used black and white for mine because that felt nice and Halloween-ish. Place a cup of orange melting chocolates into a microwave safe bowl. Melt the chocolate for about 30 seconds. Stir. Melt it again for 30 seconds. Stir. If the chocolate needs a little bit more time, you can do an additional 20 seconds. The trick with melting chocolate is to not over cook it. If you cook it too long, the chocolate gets hard and lumpy.
Dip the bottom half of the Minnie Mouse Oreo Cookies for Halloween into the melted chocolate. Let the excess drip off and then lay the cookie flat on the wax paper. Quickly place the decorating pearls onto the soft chocolate. The pearls make Minnie's dress look like Minnie! She can really pull off those polka dots. Continue dipping the Oreos until you have covered each of the little Minnie Mouse cookies.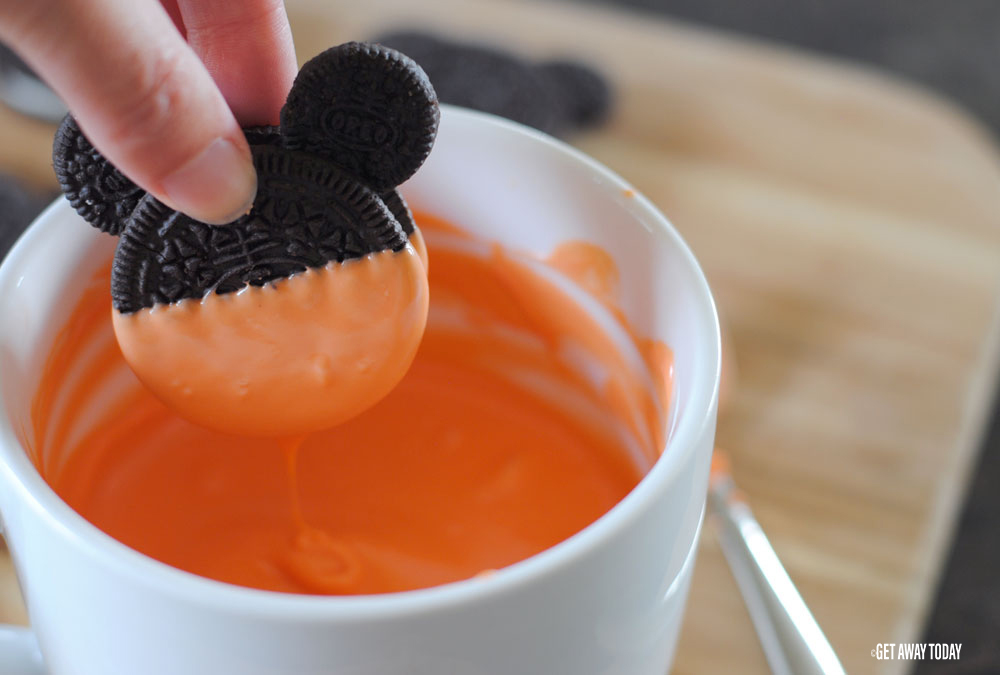 Get the heart shaped decorating sprinkles out. You can select just orange hearts, or I thought afterwards that I could have used purple ones too! Wouldn't that be cute?! Place a dot of soft chocolate onto the top right side of the cookie. Then, lay the pointed part of a heart on one side of the dot. Add a second heart on the opposite side to make a bow. It's really just not Minnie Mouse without a bow!
When all of your Minnie Mouse Oreo Cookies are accessorized, you are finished. Pair them with a glass of cold milk and you are set to have a pretty wicked snack.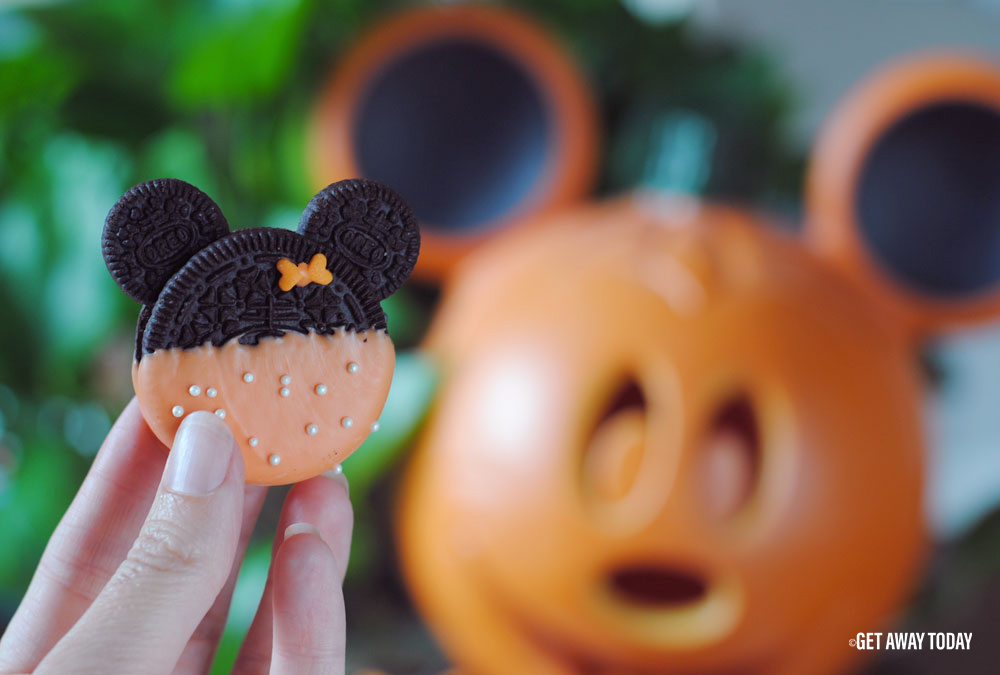 Remember to watch for all of the amazing Halloween treats at the Disneyland Resort this fall. What is your favorite?
There's still time to book your spooky Disneyland vacation! You can book any any of our Disneyland packages online or give our travel experts a call at 855-GET-AWAY. With discount Disneyland tickets, reduced hotel rates and all the best tips, you'll be on your way to the most bootiful and magical vacation yet.