Find the way to make your Moana party a success with this Disney inspired party idea roundup. Guests will enjoy making hula skirts, decorating Maui with tattoos, drinking Dole Whips, playing Moana games and enjoying delicious Heart of Te Fiti cupcakes.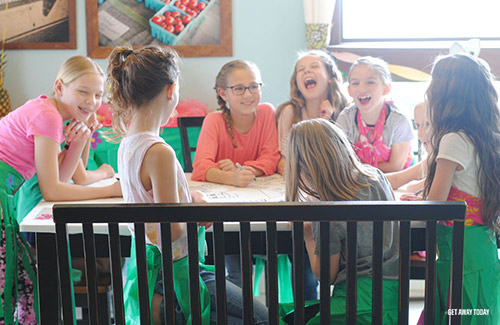 How much do you love the Disney movie Moana? It is one of my favorite animated films! It appeals to the eyes, ears, heart and funny bone. The storytelling and characters are lovable and inspirational. Moana is a strong female lead that will have you rooting for her as she faces underwater monsters, ocean storms, a prideful and stubborn demigod, and her own self-doubts. It is Disney at its finest!
My daughter loves Moana and she asked if we could do a Moana party for her birthday. We couldn't wait to start planning. Moana is such a great role model for girls and her crazy animal sidekicks are a favorite around our house. We honed in on the Heart of Te Fiti powers and created a Moana party that was adorable, creative, fun and magical. All of our favorite party elements!
Moana Party Ideas
This post will help you find your way through planning and executing your own Moana party. The work is already done. All you need to do is put the plan into action! "Hey, it's okay, it's okay, you're welcome!" You're going to have a blast.
Hawaiian Hula Skirt Craft and Dance
Start the Moana party by getting into character. Let your little island girls make and decorate their very own grass hula skirt. You can find the full tutorial here. With just a few basic supplies and a little Disney magic, your party guests will truly get into the spirit of Hawaii with their adorable hula skirts.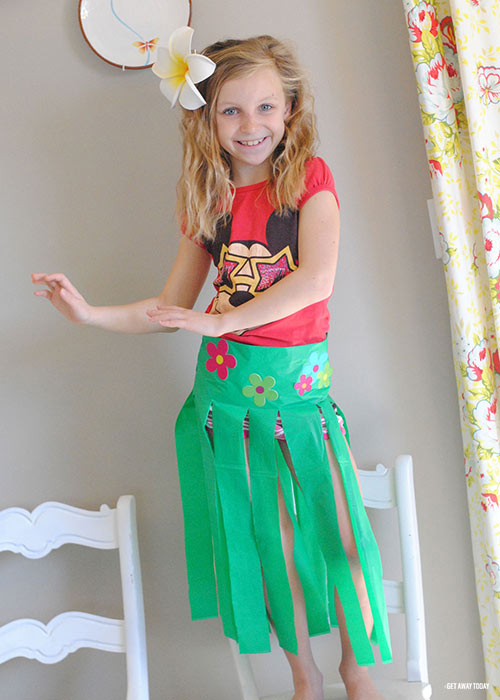 Play the Moana soundtrack and let your Moana party guests hula along to the amazing songs from the movie. You could even give them a little hula dance class like they do at Aulani, a Disney Resort and Spa in O'ahu. Hula thinks that sounds fun? I sure do!
Draw Tattoos on Maui
Maui is a strong, muscular demigod. He is pretty full of himself! To be fair, he has done some pretty amazing things for humans. The stories of his feats are magically etched onto his skin in the form of tattoos. Let your Moana party guests draw their own magical tattoos onto Maui's body.
Before the party begins, purchase a roll of white butcher paper (I found mine on Amazon). I did a double layer of paper on my table to make sure the marker didn't bleed through onto the tabletop. I recommend following suit. Cover the table in the paper, fold the edges over the tabletop and tape it in place.
Then, draw Maui. I'll be honest, it took me about 45 minutes to draw Maui onto the butcher paper. I am not really an artist, so I had to be careful. If I can do it, you can too!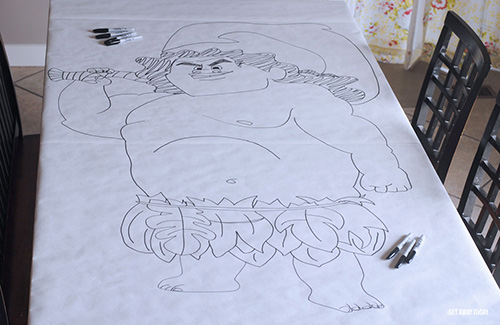 Break down the image into sections. I first drew the skirt. Then I added the legs, body, arms, head and face. The hook was very last. Draw the outline in pencil. This gives you the liberty of making changes. I did a few alterations as I drew. When you are happy with your sketch, go over your pencil lines with a black Sharpie.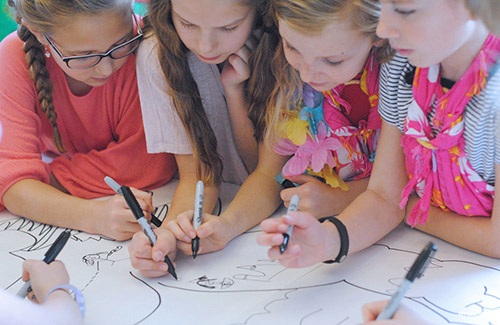 I bought a bulk pack of black Sharpie markers before the party so all of the girls would have their own marker for the activity. You can find them online here!
The girls at our party were so creative. I loved seeing all of the adorable artistic stories they came up with. I know it's a lot, the hair, the bod when you decorate a demigod! But, it sure is a blast!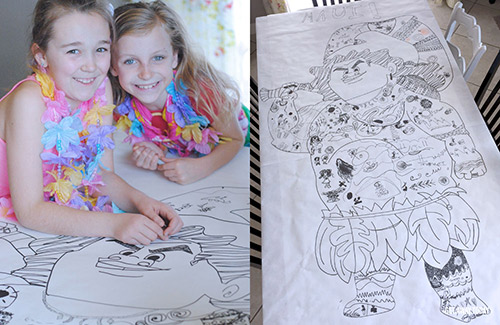 Who Has the Heart of Te Fiti? Game
The Heart of Te Fiti is a pretty central focus in the story of Moana. Moana and Maui have to deliver the magic stone back to the goddess Te Fiti to stop destruction from ruining Moana's island. The Heart of Te Fiti in this game can be a painted rock, turquoise jewel or emerald stone. It needs to be small enough to hide inside the players' hands without being detected.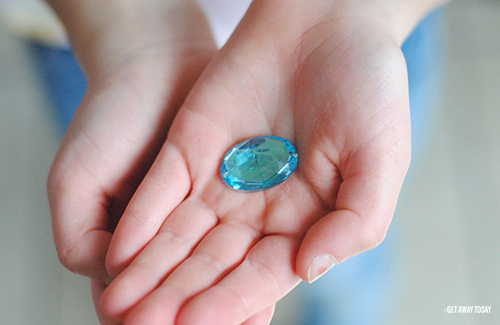 This game is like the classic game of "Button, Button, Who's Got the Button?" In the Moana party version, you will have one person act as "The Ocean." The Ocean will hold the Heart of Te Fiti in his or her hands. The rest of the players sit in a circle around the Ocean with their hands clasped together out in front of their body.
Then, the Ocean slides his or her hands through each of the other player's hands, one at a time, as he or she travels around the circle. The Ocean picks one person to secretly drop the Heart of Te Fiti into their hands. They want to be very sneaky, so the other players do not know who the Ocean chose.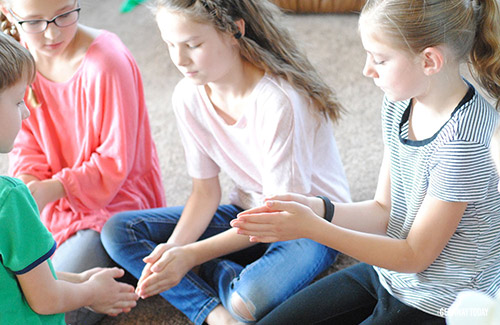 After the Ocean has touched every player one time, the group tries to decide who has the Heart of Te Fiti. The player that guesses correctly gets to be the Ocean for the next round of play. It is pretty cute to watch!
Dole Whips
My favorite flavor of Hawaii is pineapple! Disney teamed up with Dole to create the tastiest soft-serve on the planet, known as the Dole Whip. The Dole Whip has even been voted the best treat at Disneyland. You can find the recipe and tutorial for this dreamy dessert here.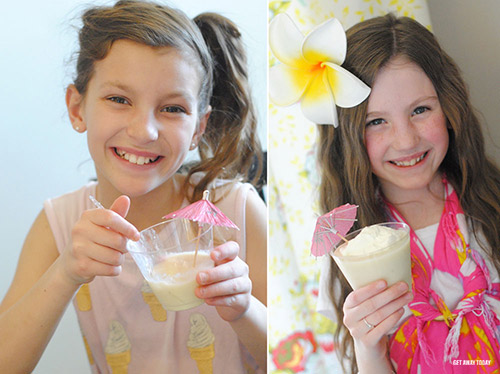 Whip up a batch for your Moana party guests. We bought clear plastic cups and mini umbrellas to add an extra island touch.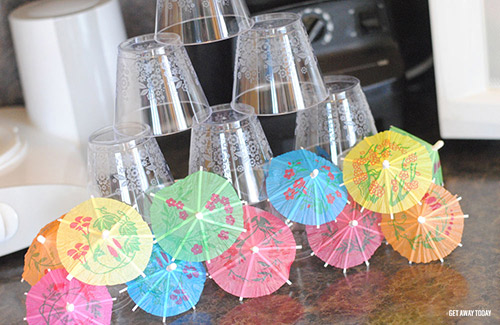 Heart of Te Fiti Cupcakes
You cannot have a Moana party without cake! Make a batch of these bright and colorful Heart of Te Fiti cupcakes. The Heart of Te Fiti belongs on a lush, green Hawaiian island right where Moana and Maui place it!
Create a green frosting island. Sprinkle it with colorful candy flowers. Then, top it off with a magical Heart of Te Fiti treat! Learn how to make these cupcakes in more detail here.
I hope your Moana party is a success. There are so many ways to add special Disney touches to your event. Be sure to play the movie soundtrack and have a magical time at your Moana party! I know you will find the way to make special birthday memories that will last forever.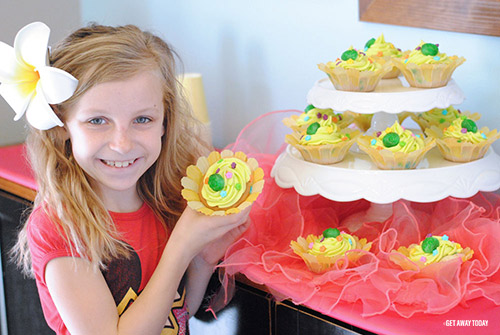 For an extra magical birthday, why not spend it in Disneyland? You could enjoy a delicious Dole Whip in Adventureland before meeting Moana! Wouldn't it be amazing to have a picture with the master wayfinder herself? Book any of our Disneyland packages online or by calling our travel experts at 855-GET-AWAY. We can't wait to see how far you'll go with your next Disney vacation!