These Monsters Inc. Ice Cream Cones aren't too scary, but they will make you scream...for ice cream! Make your own yummy chocolate eyes and sweet treat with this easy tutorial.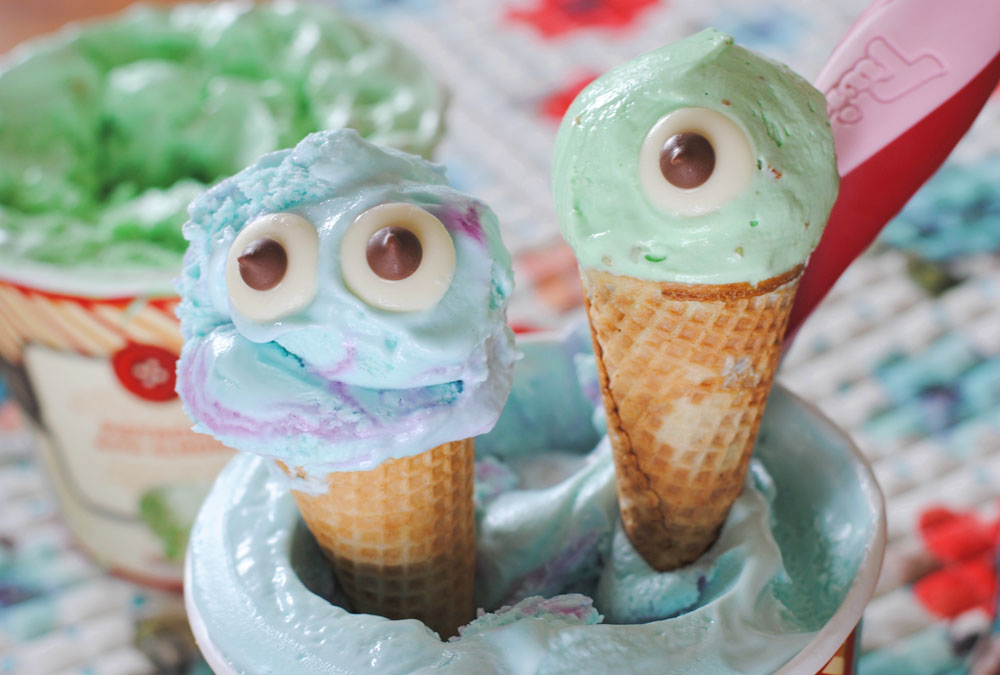 Have you ever heard the expression, "I scream, you scream, we all scream for ICE CREAM?" These fun and silly Monsters Inc. Ice Cream Cones will certainly make you scream for more. With just a few simple steps, you can transform regular ice cream into "EYE Scream."
I know that Mike Wazowski and Sulley aren't supposed to be lovable, but they just can't help it. Last time we visited Disneyland and Disney California Adventure Park, my son was about two years old. He refused to take pictures with any of the Disney characters. They made him nervous. He was terrified of Minnie Mouse! How can you be scared of Minnie? She is the sweetest.
We happened to be by the Monsters Inc. ride in California Adventure when Sulley came out for a meet and greet. I thought that my little boy would cling to me out of fear, but I was wrong. He loved Sulley. He wanted to hug him and touch him and stand right next to him in the picture. It was so funny. Sulley really is like a giant kitty. Their interaction was one of my favorite memories from our entire trip. Monstropolis didn't get any added scream power from my little boy that day.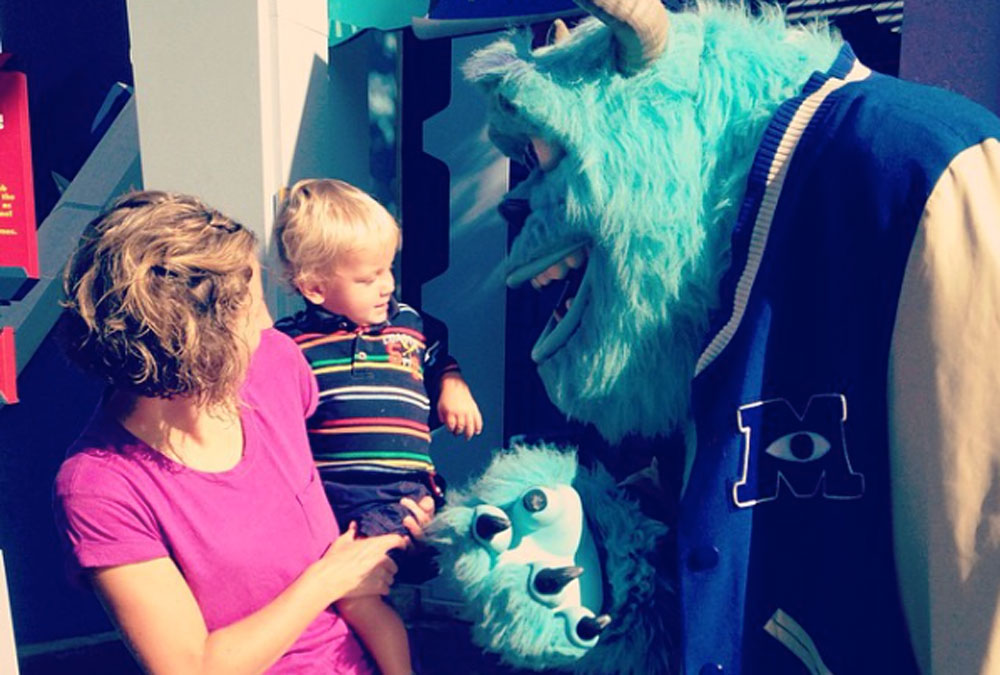 You can make your own Mike and Sulley inspired sweet treat with this Monsters Inc. Ice Cream Cones tutorial. Let your little monsters help in the kitchen. They will love it.
Monsters Inc. Ice Cream Cones Supplies
Regular Milk Chocolate Chips
Sugar Cones
Green Ice Cream (like Pistachio, Lime Sherbet or Mint Chocolate Chip)
Blue Ice Cream (like Cotton Candy or Play Dough)
Monsters Inc. Ice Cream Cone Tutorial
First, preheat the oven to 350 degrees.
Start by making chocolate monster eyes. I am a big fan of food being cute AND tasting good. There is no sense in working hard on a project and then letting it go to waste because it isn't yummy! Store bought candy eyes are not usually very good. So, I decided to find a way to make them better. I succeeded! Chocolate monster eyes are delicious.
Place the large white melting chips onto a baking pan lined with parchment paper. They don't need a lot of extra space but do need a little bit of breathing room around each chip for melting purposes.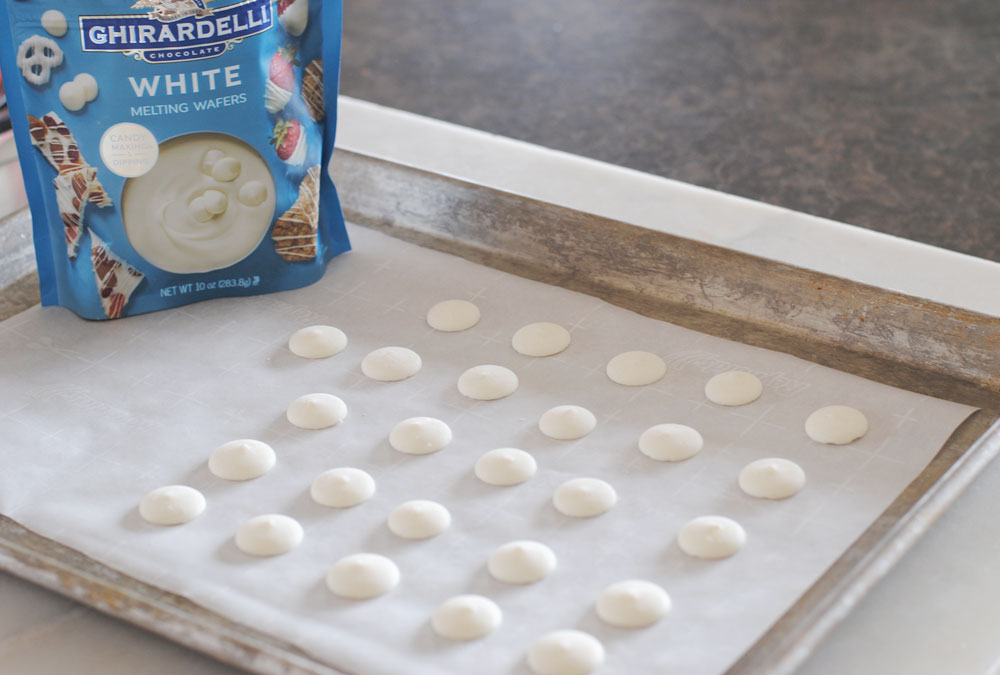 Set one chocolate chip in the center of each of the white melting chips. If they aren't centered, the monsters will just have silly eyes. That is ok too!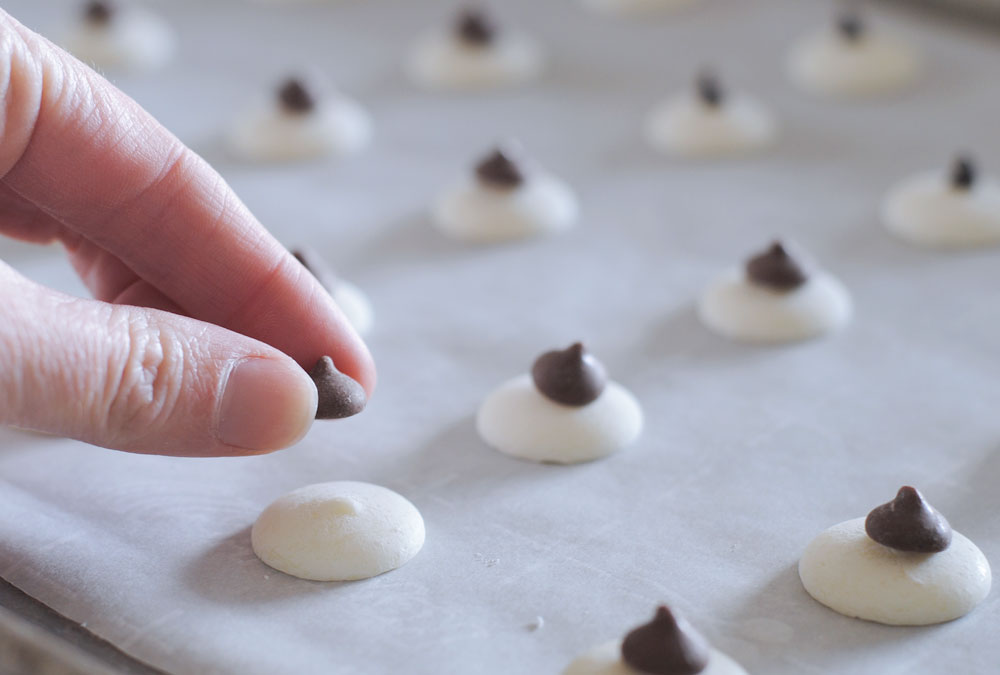 Place them in the preheated oven. Let the two chocolates melt together for about 5 minutes. The chips will get a little bit gooey. Don't overcook the chocolate. If you leave them in the oven for too long the white chocolate will get brown and start to dry out.
When the eyes are nice and melty soft, take the pan out of the oven and put it into the refrigerator. I just put mine on our deck because it is freezing outside right now! It will take about 10 minutes for the chocolate to reset to room temperatures. Once it is cool, the chocolate monster eyes will easily pop off of the parchment paper.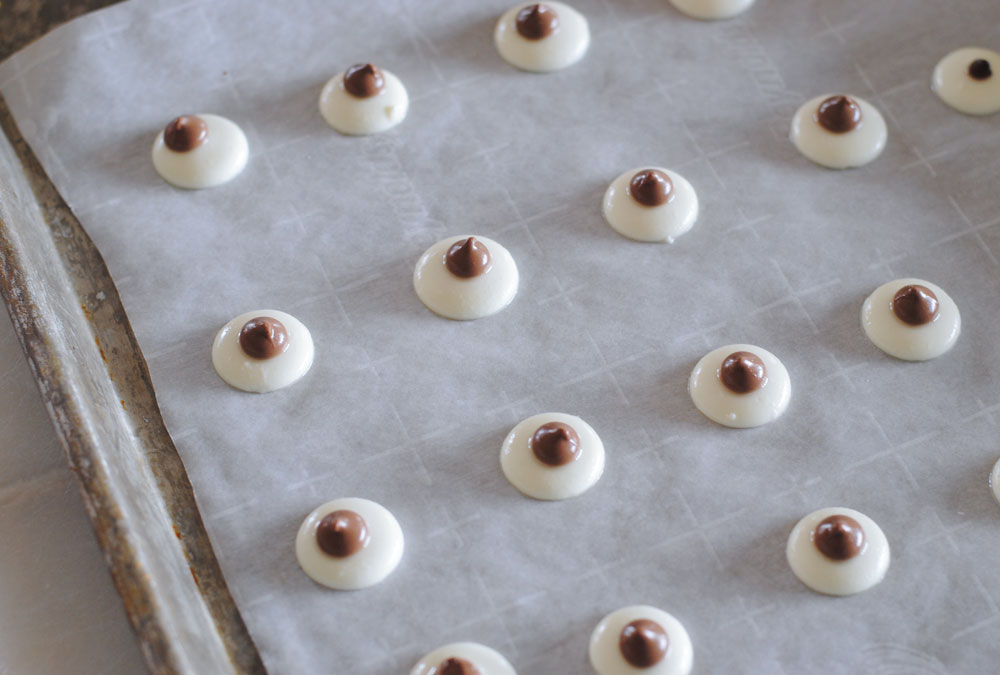 I found some fun bright ice cream at the grocery store. There were several options to choose from in the monster colors. I wanted to represent Mike and Sulley from the Monsters Inc. movie, so green and blue were on the list. I was so excited when I found Cotton Candy flavor. It was blue with a purplish swirl - just like Sulley! Score.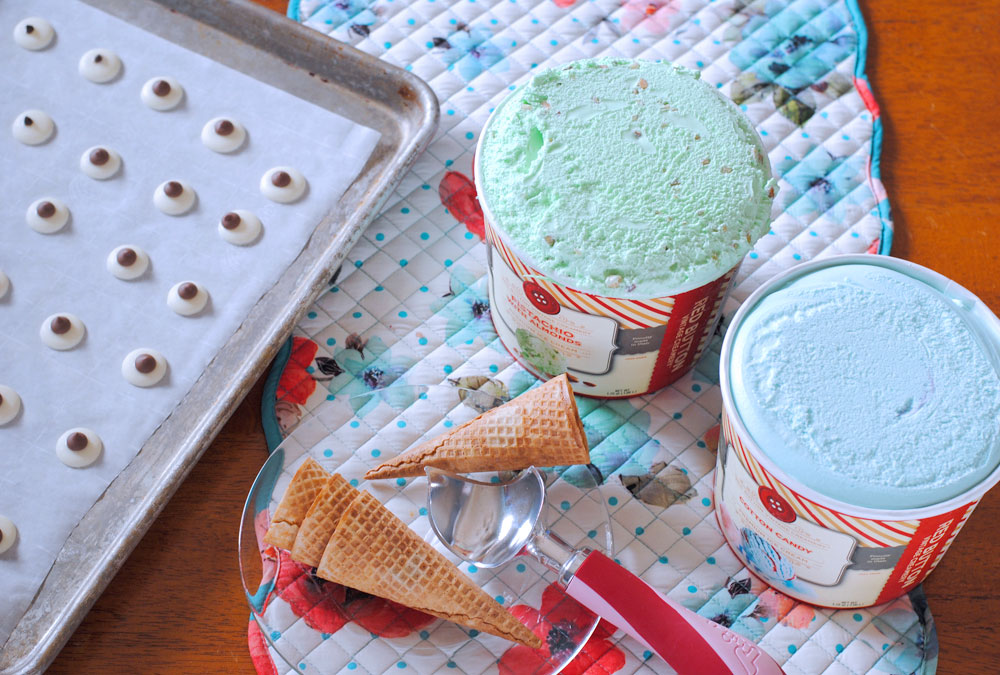 Scoop the ice cream into a cone.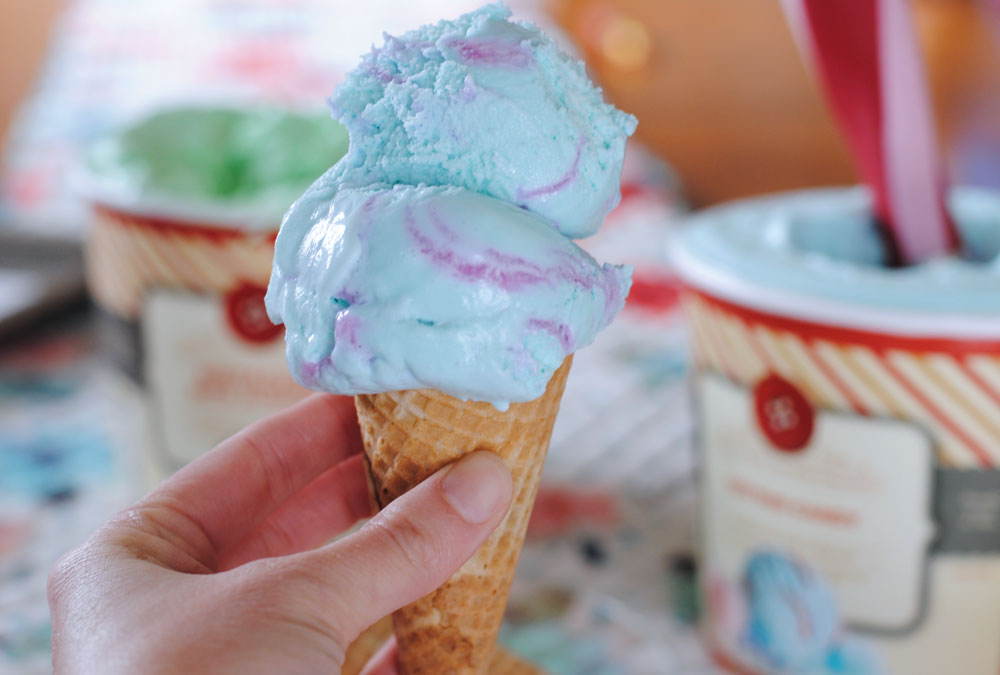 Add one, two or ten chocolate monster eyes to the ice cream. It will instantly become Eye Scream!
We couldn't decide what flavor was tastier. If you make these Monsters Inc. Ice Cream Cones at home, make sure to let us know which flavor was your favorite in the comments below!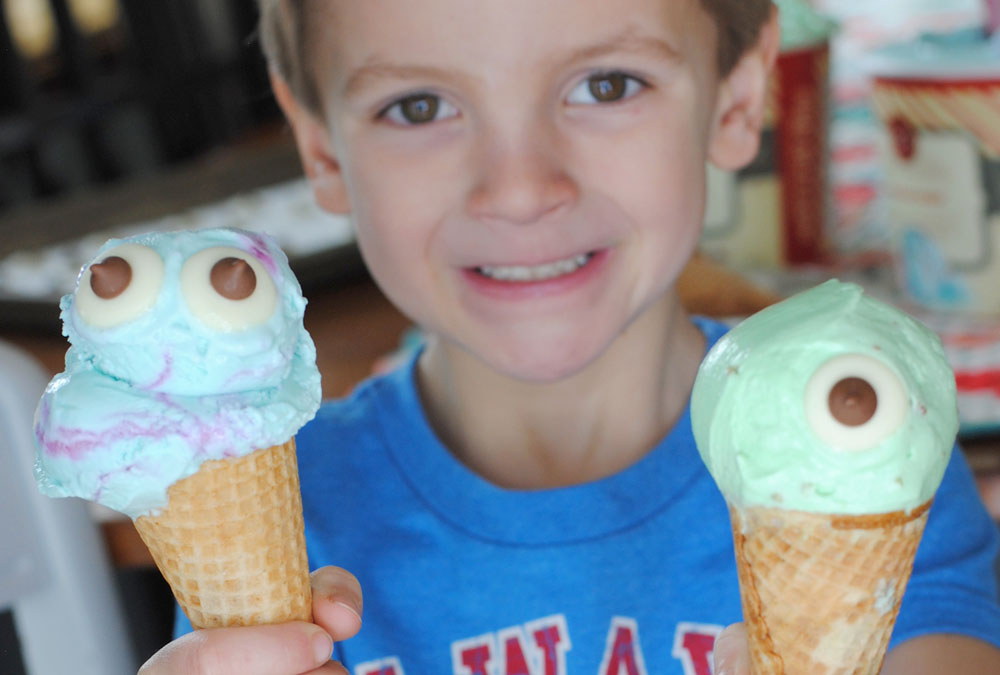 You could add the yummy monster eyes to any regular ice cream to make them Monster Ice Cream Cones. Let your kids help with the decorating to add to the fun! And remember to say hello to Sulley next time you are at Disney California Adventure Park. He is a scream!
To make your next Disneyland vacation less scary and more fun, let Get Away Today help. Our discount Disneyland tickets and reduced hotel rates help make your trip affordable, while our Disney expertise will make sure you have all the tips for the best vacation ever. Book online now or give our agents a call at 855-GET-AWAY.

Check our more Disney-inspired crafts and recipes: