This Mr. Potato Head Game is perfect for little kids and families! Make your own Mr. Potato Head game with this free printable and tutorial. You can play at home or on a road trip to entertain children of all ages.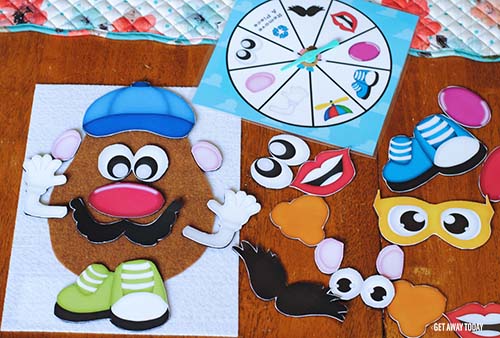 Mr. Potato Head is more than just a classic children's toy, he is a famous character from the Pixar Toy Story movies. His character is sarcastic, moody, and funny. He often gets cast as the villain when all of the toys are playing a game with Andy. Mr. Potato Head seemed to cheer up quite a bit when Mrs. Potato Head is added to the toy box. So, he must be a romantic underneath all that sass.
He is also the host of the Toy Story Midway Mania! attraction at Disney California Adventure Park. It is my favorite ride in the whole park! Just in case you didn't know, last year Toy Story Midway Mania! got a FastPass. You'll want to make sure to grab a FastPass for this ride, since it's so popular. Especially while Disneyland is celebrating Pixar Fest and the soon-to-open Pixar Pier. And keep your ears open while you are in line for Mr. Potato Head's jokes!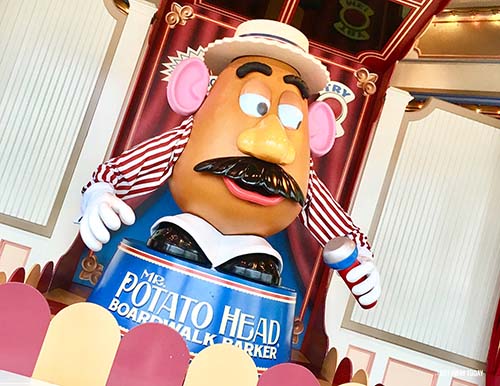 Mr. Potato Head Game Tutorial
You will need:
Mr. Potato Head Game Printables:
Mr. Potato Head Supplies
Mr. Potato Head Game Tutorial
To start, download the five pages to the Mr. Potato Head Game. There are three pages of accessories, one sheet with the potato body and one game board spinner. Make sure to print all of the pages onto cardstock paper.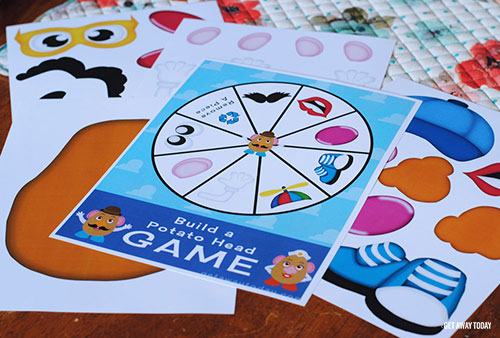 Cut the bottom end off of the spinner board. That part is just a label. If you have access to a laminator, then laminate this part so it can survive hours of spin time!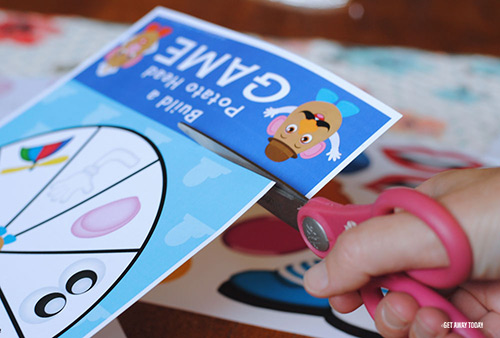 There are a few options for making a spinner. You can actually buy real game board spinners at the craft store or on Amazon. I think they are fun to have around the house. Can you imagine all the fun uses that kids could find for game boards? I am considering making one with chores on it. Ha!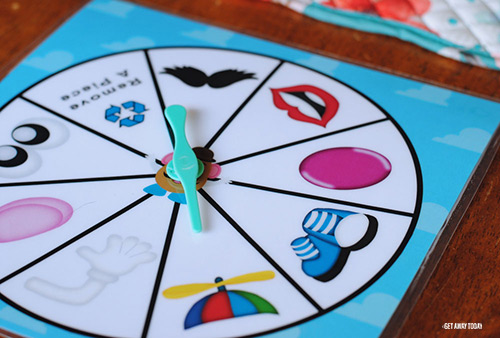 The other option is to poke a metal office brad though the center of the game spinner board. Wrap a paper clip around the brad as the "spinner." It is a cheap and handy way to make it work.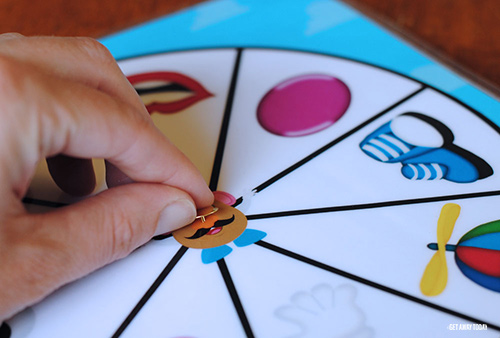 Each of the triangle slots on the spinner board correlate to a piece of Mr. Potato Head. Some of the categories have several versions. For example, there are three different noses to choose from, but the spinner only shows one of the noses. So look at the category, not just the item pictured.
Next, find the template that has the Mr. Potato Head body. It looks a lot like a....potato! Cut out the potato and then trace it onto a brown sheet of felt.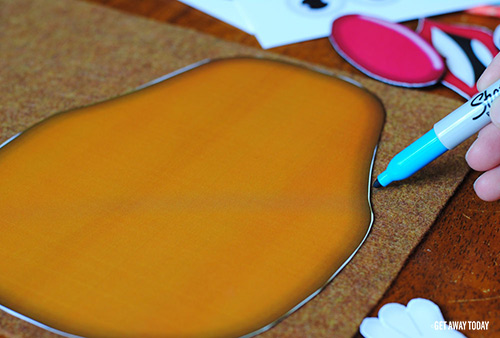 Cut out Mr. Potato Head's body from the traced felt.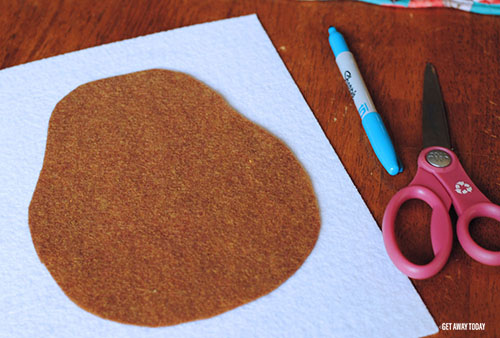 The last part of the Mr. Potato Head game is to make all of the parts and pieces to Mr. Potato Head. There are three pages of accessories. I printed them each twice to give lots of options for multiple players. If you just have one or two players, then printing them each one time is just fine.
I decided that I wanted the Mr. Potato Head game to be travel worthy! So, I backed all the pieces with felt. There is sticky felt that is made just for this purpose! It is so easy to use. It's like a giant felt sticker.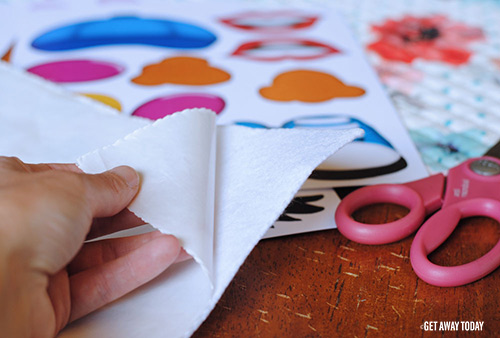 Peel the back waxy sheet off of the back of the felt and stick the entire piece to the back of the accessories paper. Cut around each item.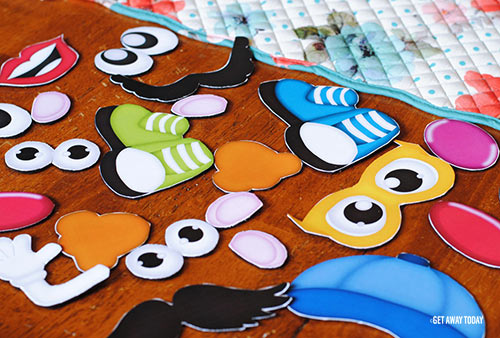 The felt on the back of the body parts sticks to the felt potato body. I also laid the body onto a firm sheet of felt to give a little "travel table" for playing in the car!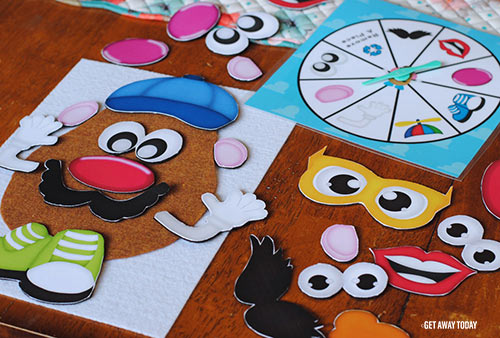 To play the Mr. Potato Head game, take turns spinning the board. Put the item on your potato body that the spinner lands on. You could play the CRAZY way, where you have to put the item that is shown. Even if you have 4 sets of eyes.
Or, you could play that you have to build a "normal" Mr. Potato Head and if you land on an item you already have, then you skip your turn. The first person to build a full Mr. Potato Head---wins!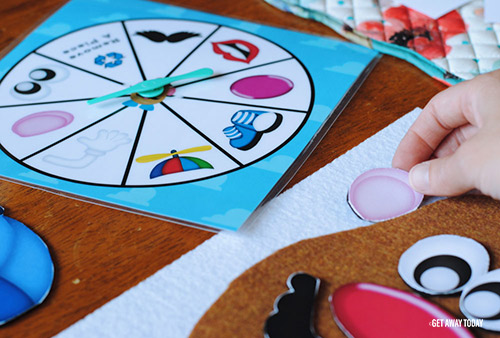 I hope you enjoy this fun Mr. Potato Head game. It is pretty inexpensive to make and is pretty silly to play! Keep an eye out for Mr. Potato Head and his Toy Story friends at Pixar Fest this summer at Disneyland and Disney California Adventure Park. And make sure to visit the Toy Story neighborhood when Pixar Pier opens June 23rd.
To plan your Pixar-inspired vacation to Disneyland, check out our discount Disneyland packages and tickets. Get Away Today will make sure you get the best price on your vacation, along with providing the best customer service. Book online now or give our travel experts a call at 855-GET-AWAY.

Check out these other adorable Pixar crafts: