"We love Disneyland history and looking back at memories over the years. This article is no longer being updated, but is a great way to look back and see what was happening at Disneyland when this was originally published."
Something extra fancy is coming to The Disneyland Hotel. Next week, beginning January 22, Steakhouse 55, will offer afternoon tea service. This is the only tea service offered at the Disneyland Resort, and it is sure to be a unique way to unwind from the hustle and bustle of the parks. Steakhouse 55, which is normally open for breakfast and dinner only, is known for its swanky feel and gourmet food. The restaurant was inspired by Walt's early years in California and themed after Old Hollywood. White tablecloths, dark mahogany, and classic photos from days past will make you feel like you've stepped back in time. We are so excited that guests at the Disneyland Resort will now have even more opportunities to enjoy this hidden gem! Three different tea party offerings will be available at Steakhouse 55. Although they won't quite be mad, I'm sure that Alice would approve!

The Classic Tea Party

Just like in a traditional high tea, you'll find an assortment of scones, tea sandwiches, miniature desserts, teas and herbal infusions at the Classic Tea Party. The Classic Tea Party is available for $50 per person.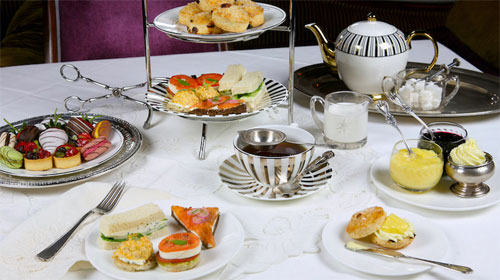 Image credit: Disney Parks Blog

The Premium Tea Party

If you really want to indulge, make a reservation for the Premium Tea Party which includes everything that the Classic Tea Party serves, plus Mickey-shaped scones, salad, sparkling wine and a farewell truffle. The Premium Tea Party at Steakhouse 55 is available for $65 per person. Guests 21 and older will also be able to order aperitifs, wines by the glass, ports and cordials for an additional charge with either the Classic or Premium Tea Party.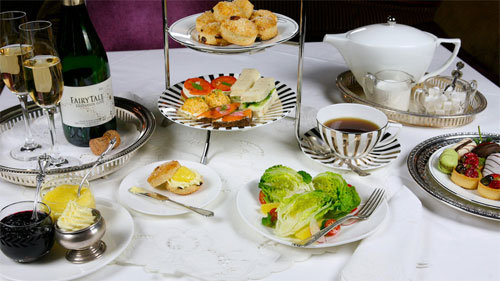 Image credit: Disney Parks Blog

The Kids' Tea Party

Small princes and princesses will have the opportunity to practice their manners and feel extra fancy with their own tea party. The Kids' Tea Party includes scones, Mickey shaped tea sandwiches, desserts, herbal infused teas, milk or hot chocolate. The Kids' Tea Party is available for $35 per person.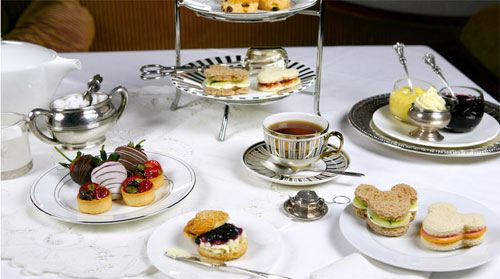 Photo credit: Disney Parks Blog

Reservations for this exclusive event, are available daily at Steakhouse 55 from noon until 3pm. It is a practically perfect way to spend an afternoon. And of course, it's Disney, so they are happy to accommodate vegan and gluten-free diners. Just be sure to mention any dietary requirements when booking your reservation, which can be done up to 60 days in advance online at Disneyland.com/dine or by calling 714-781-DINE.

You don't have to be a guest at the Disneyland Hotel to enjoy High Tea at Steakhouse 55, but we definitely recommend staying on property for a truly magical vacation. Disneyland Hotel guests receive so many perks including early entry into Disneyland or Disney California Adventure Park each day of their stay, themed swimming pools, magical extras in the guest rooms, and being right in the middle of the magic for your entire vacation.

If you haven't booked your stay at the Disneyland Hotel or your Disneyland vacation, let us help! You can book any of our Disneyland packages online or call our agents at 855-GET-AWAY. Watch for specials and save up to 20% off premium rooms at the Disneyland Hotel for select dates this spring. But, don't be like the White Rabbit, lock-in your special before it's too late!

Check out these other great articles: