Some changes have been put into action at one of Disneyland's favorite night time shows. On December 12th, Disneyland's ever popular Fantasmic! was upgraded with some all new viewing options. The viewing area now features reserved and stand-by seating sections (similar to World of Color) along with new dining packages and a FASTPASS system.
If you want to see Fantasmic! from a reserved viewing area, you will need a FASTPASS which you can pick up on the Big Thunder Trail in Frontierland. They will be distributed on a first come first serve basis up until an hour before the show starts (or while supplies last). Your FASTPASS will have when you should arrive, your designated showtime, as well as your reserved location. You will still be able to view the show without a FASTPASS, but you must stand in a non-ticketed viewing area.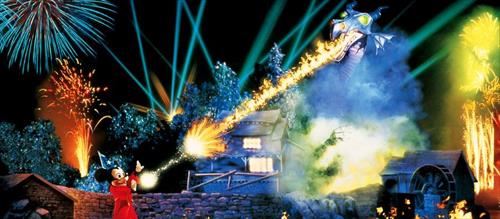 Image credit: Disney
blog ©Disney
Now with the all new dining packages, you not only get a delicious meal, but a Fantasmic! FASTPASS is included with each dinner ticket purchased. With different options ranging from sit down table service meals, to dessert parties, to an on-the-go package, there is something that works best for every family!
Dinner Packages:
Reservations are available at either the Blue Bayou Restaurant or the River Belle Terrace.
You will enjoy a 3 course meal including a starter, entree and dessert with different options for adults and kids.
This is a dinner only option and tax and gratuity is not included.
Blue Bayou Restaurant will begin serving at 4:00 pm and is $61.00 per adult and $23.00 per child. The River Belle Terrace reservations open at 3:00 pm and is $41.99 per adult and $21.99 per child.
On-The-Go Dining Package:
You can eat the on-the-go dining option at Aladdin's Oasis in Adventureland.
You have a selection of three different entrees you can choose once you get there.
If you are short on time, you just pick up your food and eat on the go!
Prices are $19.99 per adult and $13.99 per child (Tax not included)
Dessert Party Package:
This tasty option is available only at the Hungry Bear Restaurant
You will be treated to a sweet dessert sampler, coffee, tea and soft drinks.
It is $29.99 per guest (Tax is included)
After you purchase your meal with any of these packages, the cashier will give you your FASTPASS ticket. You will receive a FASTPASS for every dinner ticket purchased. To enjoy these delicious foods y
ou will need to make your reservation before hand, which you can do online or over the phone through Disneyland directly. The FASTPASS ticket must be used on the same day and time on the ticket. Printed directly on the ticket is the location of your viewing area, time you should arrive, and the performance time of Fantasmic!. These dining areas are all
separate
from the viewing area, so allow enough time to head over to your reserved section at the Fantasmic! show

after your meal or snacks

.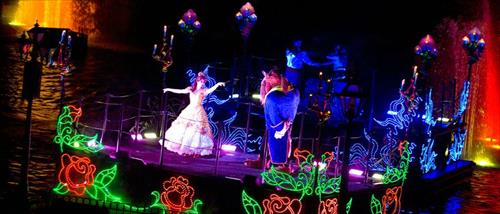 Image credit: Disney blog ©Disney
With these great options for Fantasmic!, as well as the all-new
Frozen Fun area coming soon to Disney California Adventure Park
, now is the perfect time to visit the Disneyland Resort! Our Disneyland experts are happy to help you put together a
Disneyland package
that works best for you and your family! Book online or call our agents at 855-GET-AWAY.
Check out these other articles: