We love Mondays at Get Away Today! They not only mean the start of a great week, but also that we're sharing a new glimpse of one of our favorite destinations with #MovieMonday. Today's movie star is Aulani, a Disney Resort and Spa. Make sure to watch our One Minute Guide to Aulani below to get the most out of your upcoming Hawaii vacation!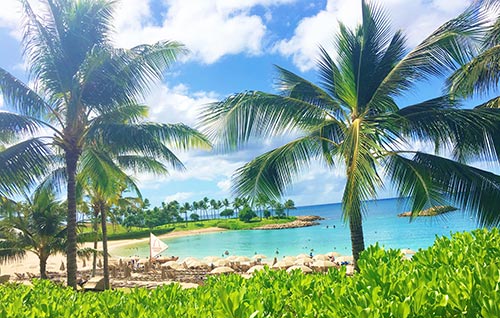 Aulani, a Disney Resort and Spa, opened in 2011. Although Aulani is a newer property, they've already received numerous awards and achievements naming the resort a top choice on the island of Honolulu.
Located on the beach of Ko'Olina, Aulani is only an hour from the Honolulu airport and island favorites like the Polynesian Cultural Center and North Shore. It's the best way for families to experience Hawaii while still feeling that touch of magic that only Disney can provide. Watch our One Minute Guide to Aulani for a quick look at some of the best tips for your stay at Aulani - A Disney Resort and Spa:
Aulani makes it a priority to base everything they do from the Hawaiian culture. You'll be amazed at how fast you'll be learning the Hawaiian language and tales just from having fun at the resort! Plus, like our guide to Aulani highlights, you won't even need to leave the resort with everything you can do on property.
The resort offers multiple pool and splash areas for your 'ohana - as well as an adults only pool and hot tub. The Shake-A-Shaka Pool Party mentioned in our quick guide to Aulani is the best pool entertainment you can find. Your family will get to play games and dance off with their favorite characters so don't forget your camera!
Aulani sits on a protected lagoon, so your family will be able to jump from the pool to the ocean and back every day! You can always rent snorkeling gear or paddle boards to use on the beach for even more family fun too.
After all the pool and beach fun, you can finish your night by learning about Hawaiian culture around the fire pit with the famous Uncle. Your kids will be amazed as he controls the fire and spins tales of Hawaiian ancestors. It's a nightly experience you won't find at any other resort!
Our guide to Aulani includes one of the most important tips: getting the Daily 'Iwa. This resort newspaper highlights all the activities and entertainment for the day, meaning you won't miss a thing. Plus, it gives you the hours and daily fun for Aunty's Beach House.
Aunty's Beach House is one-of-a-kind child care included in your stay! The fun kids camp only allows children during operating hours and includes so many fun things like crafts, story-telling and games. You'll be able to let your kids have a blast while you relax on the beach without a worry.
You can see why Aulani, a Disney Resort and Spa, has been named one of the best Hawaiian resorts by so many people. Our One Minute Guide to Aulani doesn't show you just how beautiful and fun the resort truly is. The only way to experience the stunning views and entertainment is to stay at Aulani yourself!
Visit our website or give us a call at 855-GET-AWAY to get your Aulani vacation booked. We'll make sure to find the best deal for you and a surprise vacation to Hawaii is always a great family Christmas gift!

Check out these other great articles: