A trip to San Diego wouldn't be complete without visiting SeaWorld. We've put together our best tips for SeaWorld San Diego to make your visit as smooth as possible. Our tips and tricks will make your time at SeaWorld the best yet.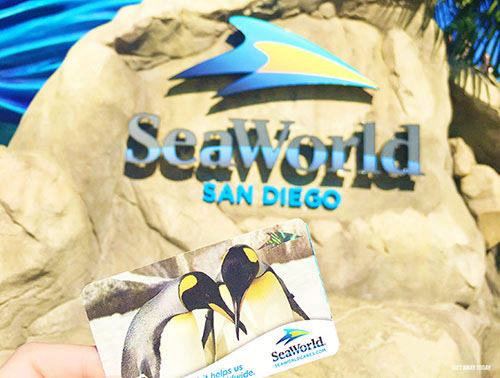 San Diego is one of our favorite vacation destinations and SeaWorld San Diego is always on the top of our itinerary. There is so much to see and do, and you'll want to experience it all! We've put together our top tips for SeaWorld San Diego. Find out what you need to do before and during your trip to SeaWorld to make it the best yet.
1. Get there early. If you can be among the first to arrive at SeaWorld San Diego, you will likely walk on any ride. If you have young kids, I recommend starting your day at the Bay of Play. This area is perfect for a little ones. You can find out Everything You Need to Know About the Bay of Play at SeaWorld San Diego here. If you have older kids, you can pretty much go straight to Manta, Journey to Atlantis and Shipwreck Rapids. Another fun thing about getting to the park either right before or when it opens is that the park opens with the National Anthem. We were just about to go through the front gates when it began and everyone stopped, put their hands over their hearts and listened to the Star Spangled Banner. It was a special moment and that alone would make it into one of our top tips for SeaWorld San Diego.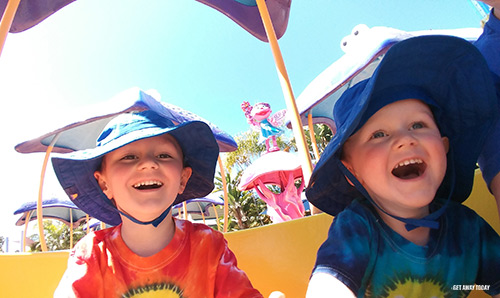 2. Bring a water bottle. Better yet, bring a fancy, vacuum sealed insulated water bottle like a Hydro Flask, Fifty/Fifty or Yeti. Fill it with ice in the morning and it will keep your water cold. All. Day. Long. It's so easy to get distracted with all of the fun things at SeaWorld that you don't want to forget to drink. We've put links at the bottom of this page so you can try these water bottles out for yourself. This isn't just one of our best tips for SeaWorld San Diego, it's one of our best tips for life. You'll never use another water bottle again.
3. Know what festivals or special events will be going on during your visit. The last time we visited we were able to take advantage of the Seven Seas Craft Beer and Food Festival. It was awesome! You could get passports for discounted food and drink items throughout the park. The idea was to try as many food and drink items from around the world and fill your passport. We were able to enjoy some fun snacks while listening to live music. But SeaWorld also has a summer festival, holiday festivals and so much more. By knowing what's going on during your visit, you can make a good game plan for your trip.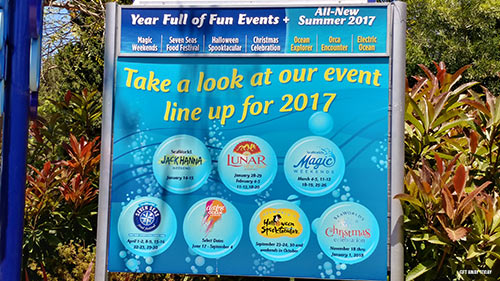 4. Remember to apply your sunscreen! There are so many ways to stay out of the sun at SeaWorld, but keep in mind that most of the stadiums do not provide shade. If you are watching any of the shows, which are incredible, you'll likely be in direct sun. Another thing to remember is that even if it is overcast, you can still get sunburned. Make sure you don't get sunburned by applying and reapplying sunscreen and wearing sun hats. Again, not just one of our tips for SeaWorld San Diego, but something that can be applied (pun intended) all the time.
5. Get a map and get the app! SeaWorld provides paper maps as you arrive at the park. It will list everything available at the park the day you were there, times for shows and character meet-n-greets, and any special information you need to know. Additionally, you can download the SeaWorld app while you were in the park. Not only does it include the map, it can give you GPS walking directions to wherever you are trying to go. My kids loved using the map, but I loved using the app.
6. Ride attractions during the popular show times. Check the show times even if you aren't planning on going to a certain show. These are ideal times to ride some of the more popular attractions like the Manta and Journey to Atlantis roller coasters.
7. Speaking of shows, don't miss them! Each of SeaWorld San Diego shows are so different and so amazing. The Pets Rule show's cast is made up of all animal rescues. You will be amazed when you see rescue dogs, cats, a potbelly pig and even an emu participate! Dolphin Days, Sea Lions Live and others are all memorable experiences as well. The Shamu show has evolved over the years and will provide a new Orca Encounter experience coming this summer. Seeing the shows is for sure one of our best tips for SeaWorld San Diego.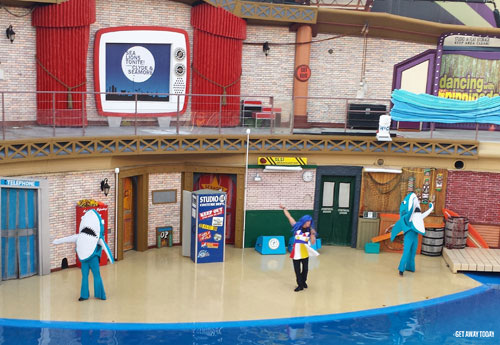 8. Prioritize or stay longer. We prefer the latter. Even with the most careful planning, it would be impossible to see absolutely everything at SeaWorld San Diego all in one day. If one day is all you have, you'll need to make sure to prioritize what you want to do the very most and do that first. Plan around show times, otherwise, you will likely miss out. If possible, take advantage of our 7-days for the price of 1 SeaWorld San Diego tickets. By spreading it out over a couple of days, you can enjoy the exhibits, watch all of the shows, ride attractions as often as you wish, and experience any festivals taking place during your vacation.
When you're making your San Diego vacation plans, be sure to include our best tips for SeaWorld San Diego! We'd love to help you book your vacation. You can find our San Diego ticket deals and hotel specials online, or you can call our agents. Our agents visit San Diego annually to give you first hand recommendations and our site has real guest reviews to help you make your decision. Either way, we would love to help make your San Diego vacation a reality!

Check out these other great articles: