UPDATED JANUARY 2019 Paint the Night is easily the most talked about nighttime spectacular at the Disneyland Resort. People start lining Main Street U.S.A. hours before the parade begins to get a good spot for it. Families also make their way along the parade route near "it's a small world" for a less crowded view. But, for the first time ever, beginning January 11, 2016, new dining packages with reserved viewing for the new Paint the Night parade will be available! You have the choice of two amazing restaurants to receive a delicious meal and reserved viewing area of the parade. Disney California Adventure Park currently has dining packages for World of Color, and these packages will replace the currently available Fantasmic! dining packages when Fantasmic! temporarily closes in January to make way for the new Star Wars Land. It is super exciting as this is the first time that Disneyland has ever created special reserved viewing areas for a parade - and if you've seen it, you know that this is no ordinary parade.

While pricing and exact menu items have been released yet, Disney has announced an overview of what families can expect as far as which restaurants are to be included and where the viewing areas are. There is one that is more of a basic package, and one that is more deluxe.
At Aladdin's Oasis, you will have the choice of three different entrees to enjoy on-the-go or in the Aladdin's Oasis seating area. These packages will be the casual option and your reserved viewing with the Aladdin's Oasis package for Paint the Night will be located near "it's a small world."
You can also reserve your dining package at Blue Bayou Restaurant, one of the most popular restaurants at Disneyland. Located inside the Pirates of the Caribbean, the Paint the Night Dining Package at the Blue Bayou includes a three course meal and reserved viewing on Main Street, U.S.A.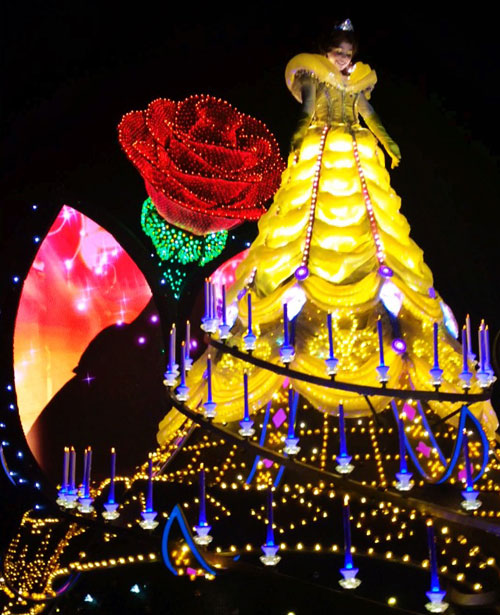 Paint the Night has become one of the highlights of the Disneyland Resort Diamond Celebration. Over 1.5 million LED lights, catchy tunes and your favorite Disney characters larger than life, make this one of a kind parade a must see.
It is impossible to describe the scope of the technological feat of a parade; you truly have to see it to understand the magic of Paint the Night.
The Diamond Celebration ends September 5, 2016! You do not want to miss your chance to see this larger than life parade that lights up the streets of Disneyland. You can get reserve your 2016 Disneyland vacation for just $175 down with our layaway plan! Plus, the earlier you book, the better availability you have for our free night specials and reduced hotel rates. Book your Disneyland package online or call our agents at 855-GET-AWAY.

Check out these great articles: