San Diego is full of non-stop fun and adventure and there is so much to do that you are going to want to take another trip, possibly multiple trips, to see this amazing city. The weather is wonderful year round, the people are incredibly nice and laid back, you have the beach and there are so many activities for your family to enjoy! Honestly, what could be better?
I have been lucky enough to travel to San Diego several times. I usually like to change up what I experience each time I go, but after I discovered San Diego's Speed Boat Adventures, it is a must visit for me and my friends or family whenever I visit San Diego!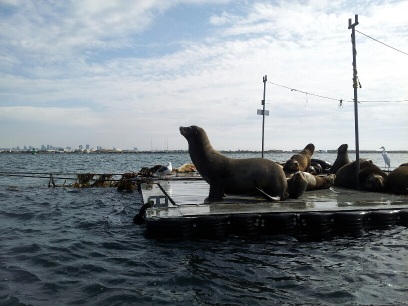 The Speed Boat Adventure tour is a narrated mini speed boat tour of the San Diego Harbor. You get an up-close view of Navy Ships, the Coronado Bridge, The USS Midway Aircraft Museum, Seaport Village, an amazing view of the downtown skyline and plenty of wildlife- especially sea lions! Speedboat Adventures now offers two tour options for you to enjoy.
The first option is the original Speedboat Adventure Tour where you receive your own two-man mini speed boat. This is fun because you are able to drive your own boat for the entire tour while you follow a trained guide. Each boat can carry up to three people and is incredibly easy to navigate. While driving your speed boat, your guide will talk to you through speakers on the boat and give you an informational tour of the harbor. The times I have gone, we were able to view lots and lots of seals; one even swam right along-side out boat! On one tour I was able to see a military hovercraft, and even dolphins in the military training facility! Of course, each experience will be different- what will you see?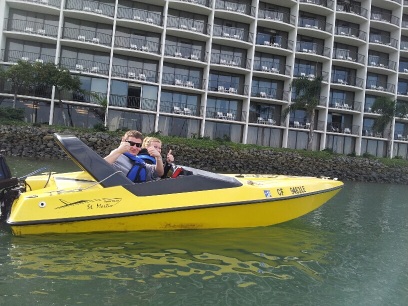 Another thrilling tour that Speed Boat Adventures offers is the all new Sea Rocket. I have not had the chance to experience this one yet, but it is definitely on my to-do list! The Sea Rocket holds up to 16 passengers, so you can keep your whole group together for a 40-minute boat ride inspired by powerboat racing. You will also receive incredible views of the harbor and coastline with this tour, but at much faster speeds - up to 50 mph! This adventure is great for the entire family and I've heard is as entertaining as it is thrilling.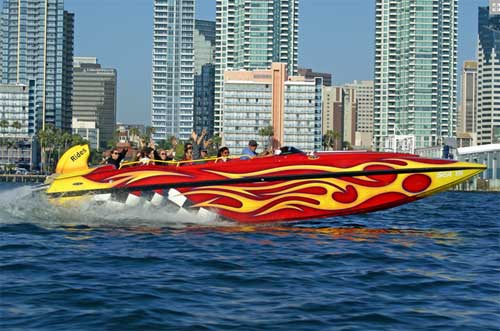 Both of these tours are something that I believe are a must-do for any
San Diego vacation
. If you have questions about the
Speed Boat Adventure tours
or would like to make a reservation, book online or call our incredible reservation staff at 855-GET-AWAY.

Check out these other great blog articles:
Top 10 Things to do in San Diego
Get Away Today Goes On a Speedboat Adventure
San Diego: SeaPort Village, Balboa Park, Old Town and more!