Ever wondered what a Sandals vacation is like? One of our guests recently returned from a honeymoon at Sandals Halcyon on the gorgeous island of St. Lucia. When you stay at one of the three Sandals Resorts in St. Lucia, you can play at all three! Here is a brief review from one of our guests of the three resorts and just some of the area activities:
"Hello there. The island of St. Lucia is amazing and the resort is amazing. Of the three Sandals resorts on that island, I'm glad we stayed at the Halcyon. The Grand is very nice but looks like a giant hotel. We went there a lot to spend time on the beach, because they did have the best beach, and to eat at their restaurants but the Halcyon is small stone buildings that has a resort feeling to it instead of a hotel feeling.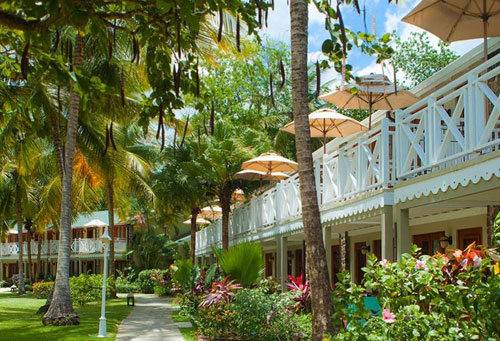 Sandals Halcyon ©Sandals
We made it over to La Toc once and it was amazing. It has a mixture of a giant hotel feeling to it, but it also has rain forest feeling to it. I would be very happy to stay at this resort and enjoy it more. We ate at the sushi bar here and it was amazing. It's basically on a cliff over looking the ocean with no wall separating you from the cliff. Best sushi I've ever had simply for the view.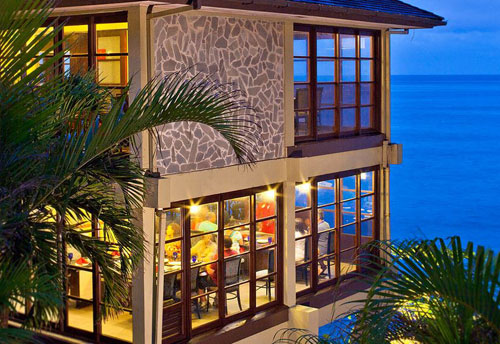 Sandals La Toc Kimonos: ©Sandals
We went scuba diving almost every day and the day they were going to dive on a ship wreck was the same day as our volcano tour. I tried cancelling the volano tour, but I would lose the money since I paid in advance. We did the rain forest zip line tour while we were there. It was fun but you fly so fast that you really don't get to enjoy the rain forest. If I did it again I would do it just for the fun of zip lining and not for the rain forest experience.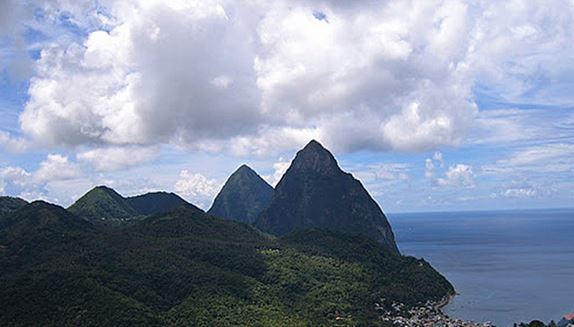 ©Sandals
The tour that everyone must do when they're there is the "Joe Knows" tour. It's a lot of fun. They picked everyone up at the lobby, drove down to the harbor and loaded us up on a little speed boat. It's only big enough for 12 couples so it's not over run with people. They took us to a nice small bay area to do a little shopping, then to do some snorkeling, then to the volcano for a mud bath. Getting to the volcano from the water is a much faster easier way to get there, so I would recommend that over the volcano tour. They had vans pick us up from where we docked the boats and took us on a short drive up the hill to the volcano. You don't really get to see the volcano because you stay on the downhill side of it instead of going up top to look down into it. It seemed like there wasn't a ton to see "inside" the volcano, so we still felt this was the best way to experience the volcano. While at the volcano, we covered each other in hot mud head to toe and our tour guide named Big Al took pictures of us with our own camera. Then we washed our bodies off right there but kept mud on our faces. We drove over to an incredibly beautiful tropical waterfall and washed the mud off our faces. The mud made our skin softer than it's ever been. It was awesome. I didn't know mud could do that. Then they drove us down to a restaurant where the boats were docked and fed us local food which was very tasty. We climbed back into the boats and they took us back to our resort. It was one of the high points of the whole trip. I would say it's more for younger people though because they serve alcohol on the whole trip and play very loud hip hop music the whole time so it's a rocking good time. Out tour guide Big Al was very funny and entertaining. If people do this tour they need to request him as their tour guide or see which days he's working.
There were a lot of young couples there on their honeymoons and the resort has a honeymoon night where they feed us and play a newly wed game. It was a lot of fun and I'd recommend anyone going on their honeymoon play the game.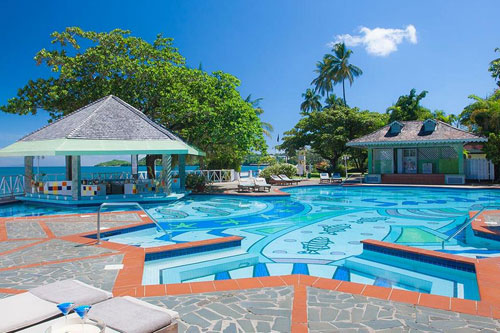 Sandals Halcyon Pool Area ©Sandals
The scuba diving there is amazing. The reef is beautiful and crawling with fish. There are no sharks or large fish so you have nothing to worry about, even though I really wanted to see a shark. Anyone going here needs to get scuba certified before they go since the dive trips go every morning and are already included in the package.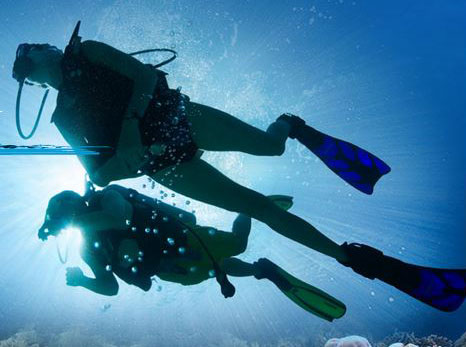 ©Sandals
It was an amazing time and we really hope we make it back to that island some day. Thank you very much for recommending it.
-Jeremiah"
We love the Sandals Resorts throughout the Caribbean and would love to help you book one! We send our agents to the resorts to experience them firsthand so we can help you plan the perfect vacation. Whether you're planning a honeymoon, anniversary, or just need a vacation, give us a call at 855-GET-AWAY or book online.

Check out these other articles:
Sandals and Beaches Spotlights: We Just Got Back!
Sandals Royal Bahamian Resort: Photo Blog